If you'll be exploring the UK capital at some time in the future, then you really should make a list of all the London foods you want to try while you're there! Eat London and you can sample cuisines from all over the globe – as well as plenty of popular traditional foods from the UK.
From a full English breakfast to kick off the day to a traditional British dessert like sticky toffee pudding, there's plenty of favourite traditional foods to try. Due to having an incredibly multicultural population, though, it doesn't stop there. Dishes like chicken tikka masala have also developed as a result of the city's huge south Asian population, and this curry in particular is regarded as a British creation.
Whether you visit the street food stalls of Borough Market, take a London food tour, book afternoon tea at a top hotel or visit a traditional pie and mash shop, there are lots of places where you can taste these ultimate traditional British foods. Plus a few local drinks you shouldn't miss out on.
As with places like New York City and San Francisco, you can sample foods from all over the world when in London. So without further ado, here are 23 of the best London food and drink options to add to your city hit list.
23 best London foods and drinks to try
Full English breakfast – Try at a traditional 'greasy spoon' cafe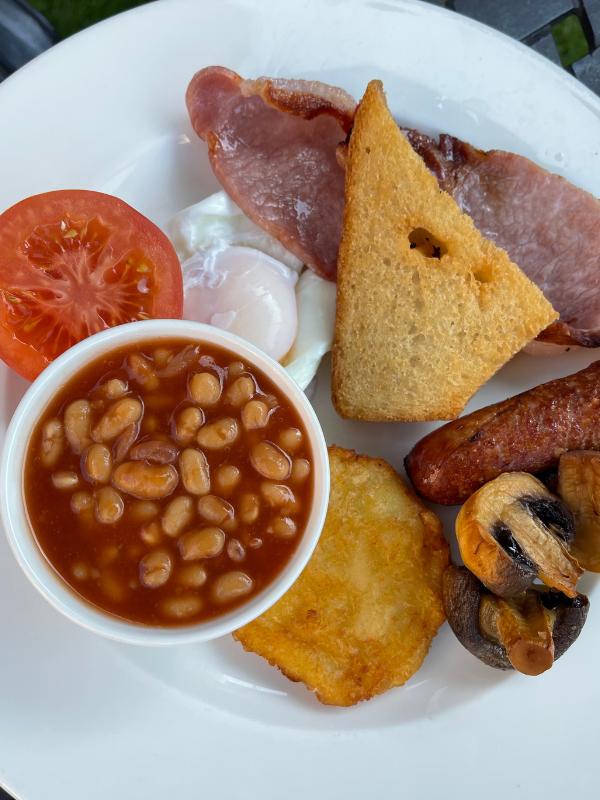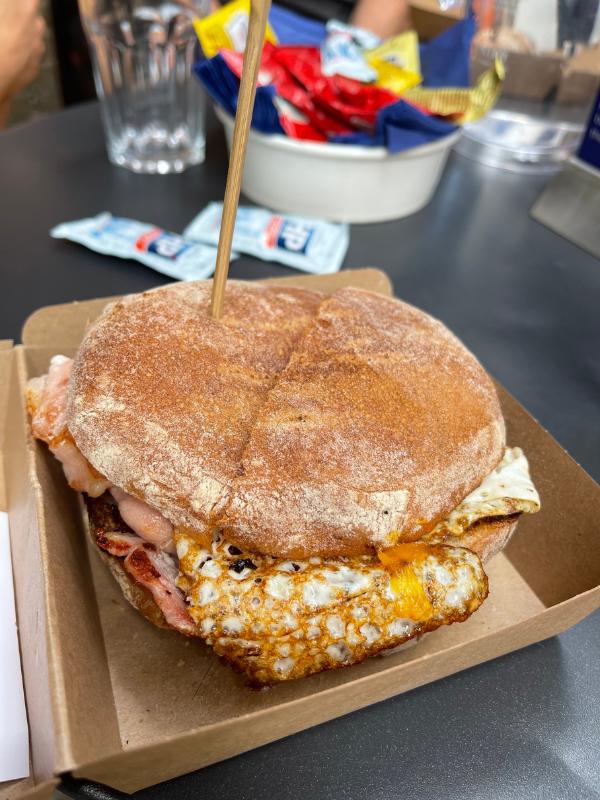 Bacon, eggs, sausages, baked beans, tomatoes, mushrooms and more… what's included in a full English will vary – sometimes widely – from one cafe, pub or restaurant to another. Other additions you might come across include a potato item such as hash browns, chips (french fries) or fried potato slices. Plus regular or sourdough toast.
In some places, you'll be offered black pudding as part of your cooked breakfast. This is basically a blood sausage, and thus not for everyone. If you don't eat meat, don't worry, though: plenty of eateries offer vegetarian and vegan alternatives to fill up your plate.
Ploughman's lunch – Try at a traditional London pub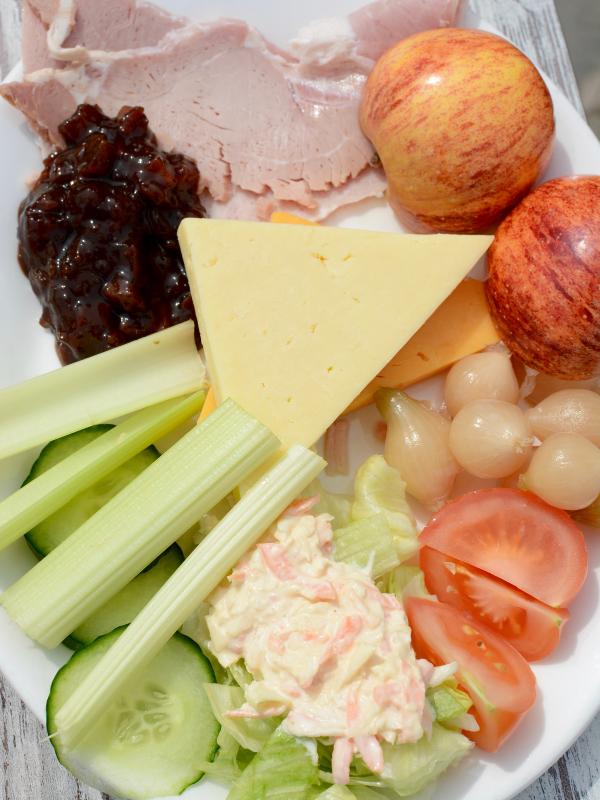 A Ploughman's is a staple of many a British pub menu. It comprises a cold platter loaded with bread-and-butter, cheese, pickled onions and other edible items.
Ham, hard-boiled eggs, salad, apple and pickle are popular accompaniments.
Afternoon tea – Try at a top London hotel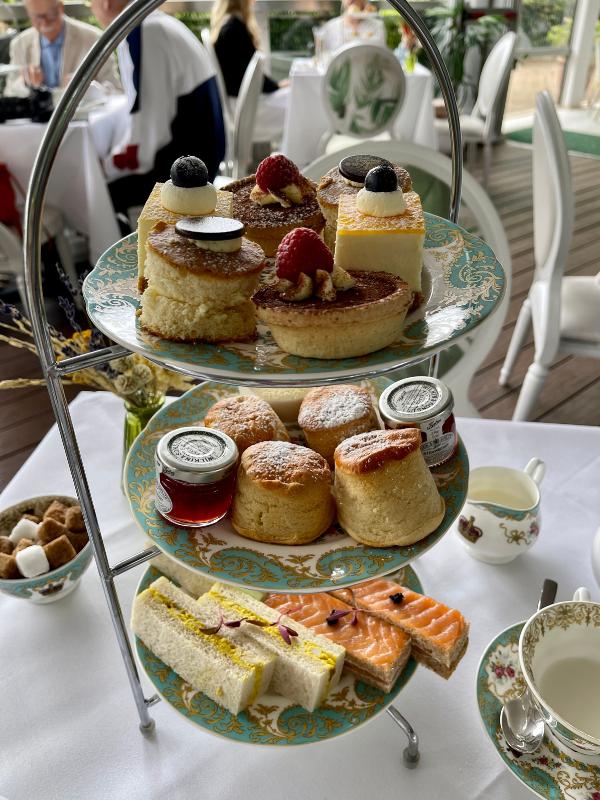 For many, the best food in London is the afternoon tea. Partaking is also to sample a great British tradition. You'll typically be served a selection of finger sandwiches, other savouries, cakes and of course scones to slather with generous amounts of jam and clotted cream.
Book a table at a leading London hotel for the best experience. The tinkle of cutlery on fine china, a pianist, opulent surroundings and impeccable service make for a most memorable meal.
Fish and chips – Try at the seaside (time permitting) or a pub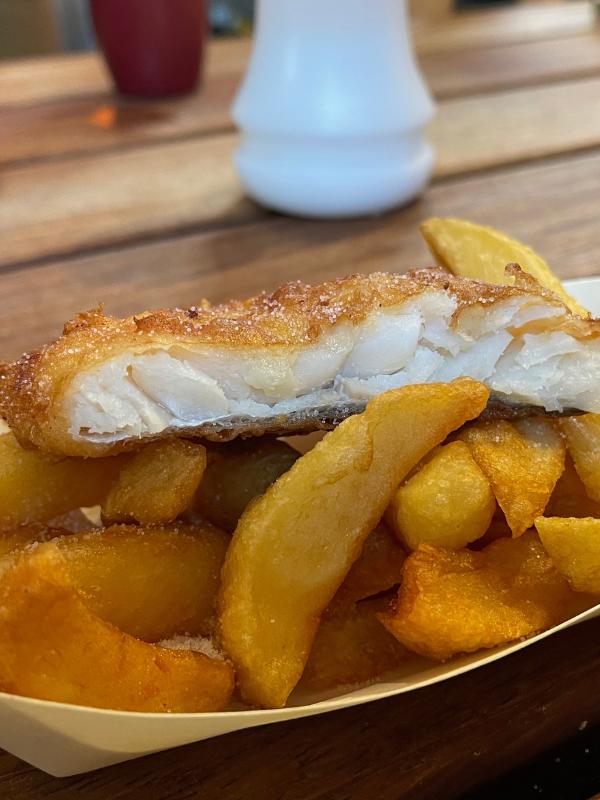 Fish and chips is seen by many Brits as the national dish. It comprises thick cut French fries, plus a generous helping of deep fried battered or breaded fish. Often this is cod or haddock, or another, cheaper white fish such as coley or pollock.
If you have time, take the train to a seaside resort such as Bournemouth or Brighton for the best experience. Otherwise, any decent London pub should feature fish and chips on the menu. Often a beer-battered version.
Bangers and mash – Try at a local cafe or pub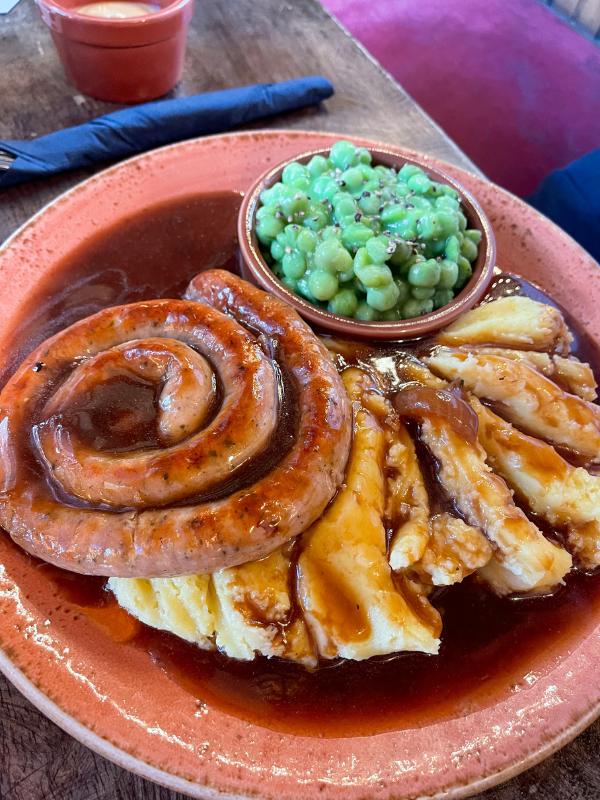 Bangers – or sausage – and mash is another staple found all over London in pubs and cafes. Expect a heap of buttery mashed potatoes, plus fat, juicy sausages and gravy. Peas or fried onions may also be added.
Wherever you eat, look out for good quality sausages with a high meat content. That makes all the difference, trust us.
Toad in the hole – Try at a London pub or cafe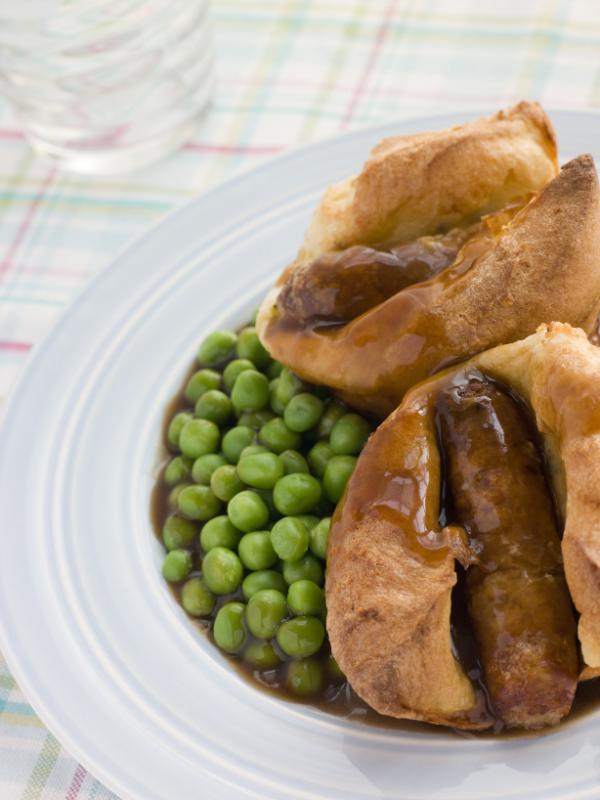 An alternative to the sausage and mash option is toad in the hole. This incongruously named dish includes Yorkshire pudding as well as sausages. Yorkshire pudding is made from a batter containing eggs, flour and milk, and is then baked so that it rises.
In the case of toad in the hole, the sausages are 'hidden' within the batter, before the entire dish is baked and served.
Scotch egg – Try at a London gastropub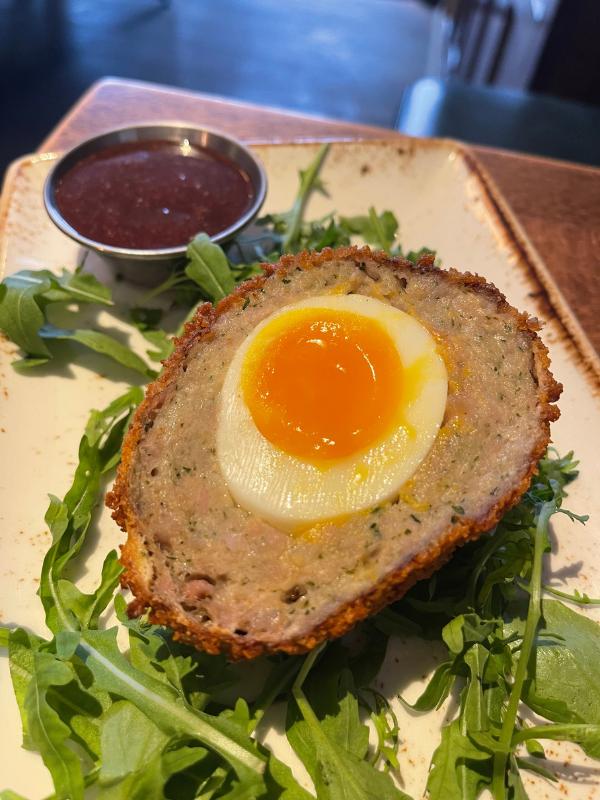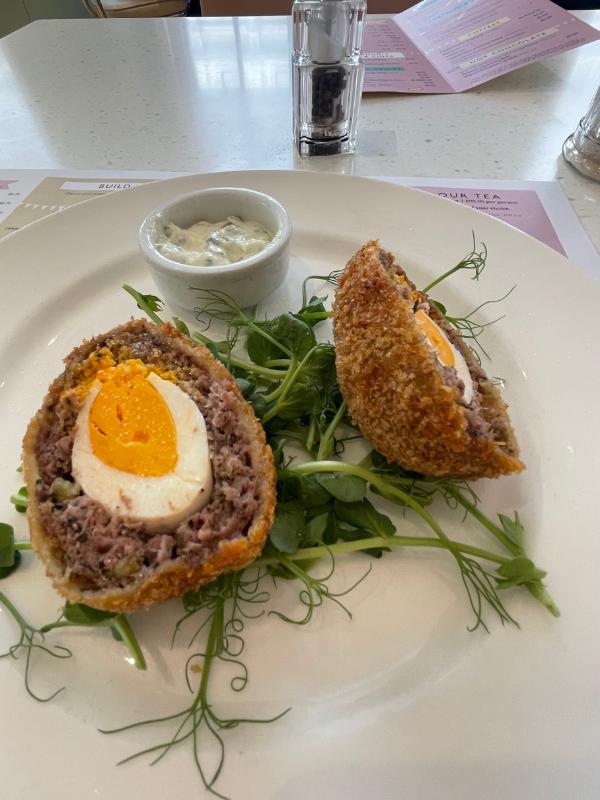 Say what? It may not sound very London-esque, but Scotch eggs have long since been adopted all over the UK. These consist of a hard-boiled egg surrounded by sausage meat and coated in breadcrumbs.
Gourmet Scotch eggs are now popular, and they pop up on pub menus all over the land. They're usually served as a snack or starter.
Pork Pie – Try at a London gastropub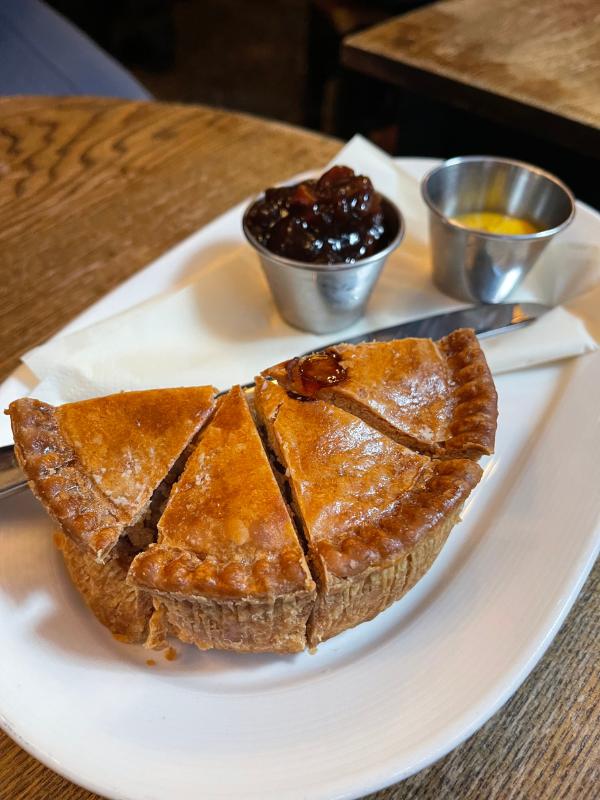 Pork Pie is a favourite British addition to a ploughman's or just as a snack in between meals. Served with Branston pickle and washed down with a pint or two this traditional meat pie is best eaten cold.
The pastry encases a filling which consists of chopped pork which is surrounded by a jellied substance made from pork stock.
Sausage roll – Try at a local London bakery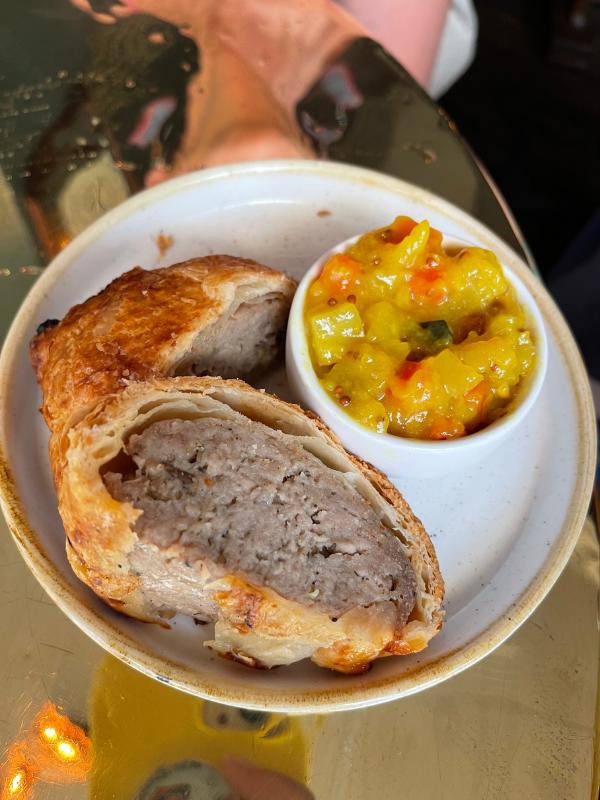 Another type of finger food you can try in London is a sausage roll. This is a sausage coated in a blanket of pastry before being baked. Pick one up at a bakery as you explore the city – it makes a tasty on-the-go snack.
Jellied eels – Try at an East End shop or stall
Let's be honest – jellied eels aren't for everyone. But they're such a quintessential British dish from the East End of London that we couldn't possibly miss them off this list. The dish contains chopped eels cooked in stock, which then cools to form the jelly.
Try them in the East End, at a pie and mash shop or market stall. Goddards of Greenwich is also always a good bet, if you're visiting this lovely part of south London.
Oysters – Try at Borough Market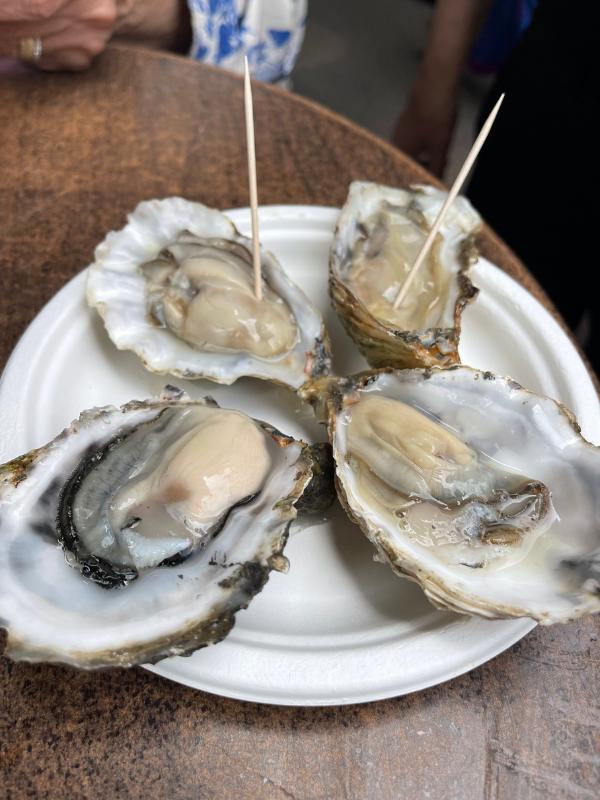 Oysters were a popular food in London in days gone by. The shells (with a hole punched in them) were apparently used as proof of payment for transportation across the city and give their name to the modern-day Oyster Card (used as proof of payment for transportation across the city!)
Pie and mash – Try at a pie and mash shop
Though there aren't so many of them around these days as in the past, pie and mash shops are still a London thing. Here you can try a pie with the filling of your choice, served with a heap of mashed potatoes. On the side you can also have liquor – a green sauce made with parsley. If you're feeling less brave, simply ask for gravy as a substitute.
Again we can recommend Goddards of Greenwich as a decent, long-established pie and mash shop.
(Cornish) pasty – Try at a city bakery
Like the Scotch egg, the Cornish pasty isn't originally a London thing. Due to strict rules around food origin, this item can only be sold as a Cornish pasty if it was actually made in Cornwall. So it may simply be described as a pasty.
Either way, it contains diced or minced meat plus potato, swede and sometimes some carrot. This is flavoured with pepper, so it can be slightly spicy. Again this makes a good snack or light meal while you're on the go – or something to take to a picnic.
Chicken tikka masala – Try at a Brick Lane Indian restaurant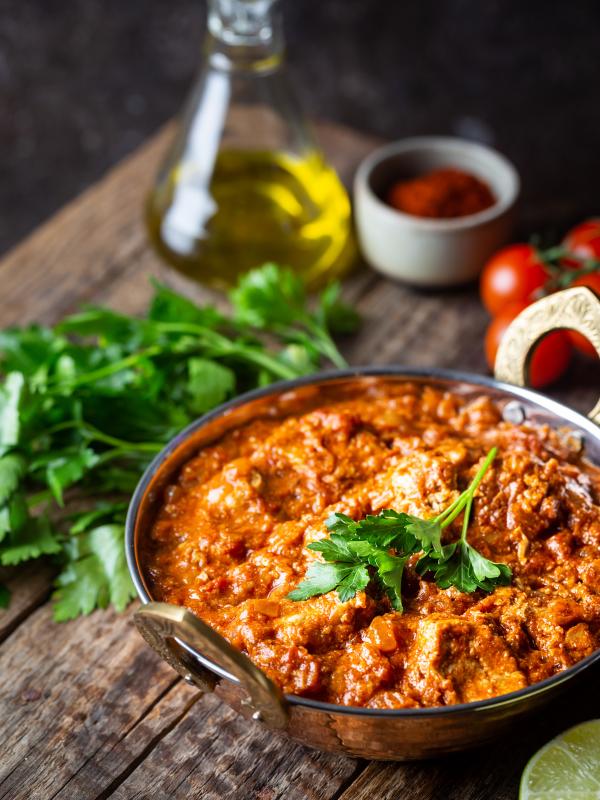 Chicken tikka masala was apparently invented in the British Isles, by Indian chefs who wanted to create a dish to suit the local palate. It comprises chunks of chicken in a pink, red or orange-toned sauce rich in tomatoes plus cream or yoghurt.
An Indian restaurant is the best place to try chicken tikka masala. Brick Lane in the East End is lined with these, so you can take your pick from some of the city's best ethnic eateries here.
Sunday roast – Try at a classic or contemporary London pub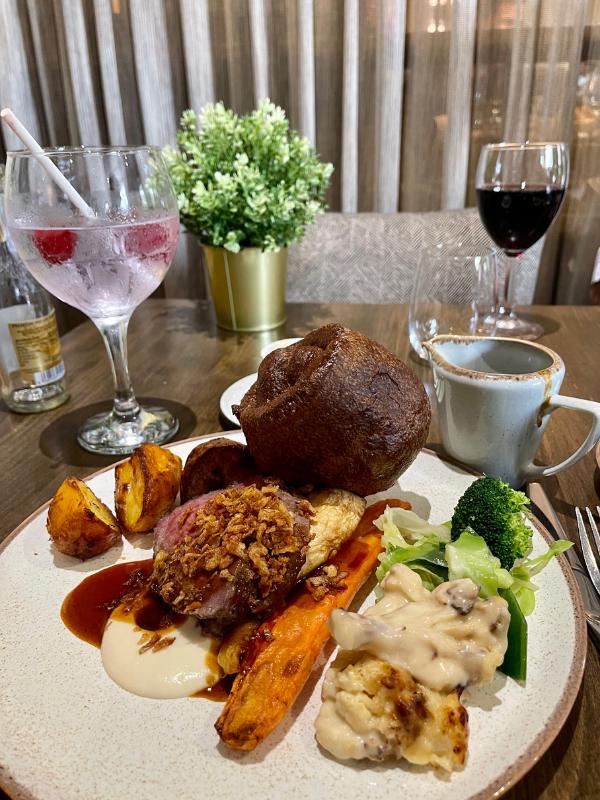 The ubiquitous Yorkshire pudding again makes an appearance on the traditional Sunday roast. Typically this includes roast chicken, beef, pork, lamb or gammon, plus all the 'trimmings'. These might include stuffing and vegetables cooked every which way. Plus lashings of gravy.
Beef Wellington – Try at a fine dining restaurant
Beef Wellington is a classic British dish consisting of a joint of beef. This is rolled in pastry, and in-between there's a layer of a delicious mushroom mixture. How rare to serve the beef is a matter for debate: if you prefer it more well done, then it's always wise to mention this when ordering.
Sticky toffee pudding – Try at a pub for pudding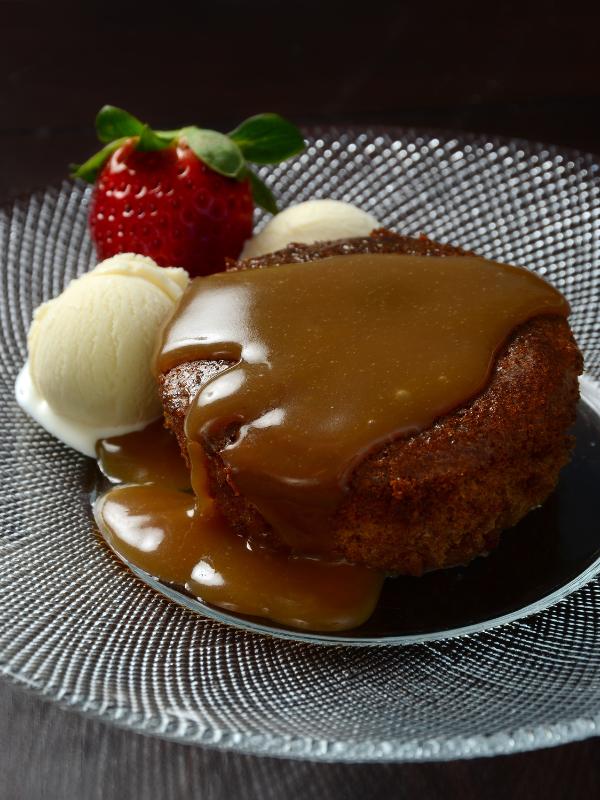 Though said to be invented in the north of England – specifically the Lake District – sticky toffee pud is popular all over the land. It comprises a rich, baked cake-like pudding coated in, or served with, buttery toffee sauce.
Eat at a London pub for dessert. You can often order it served with ice cream, custard or cream – and you'll need this to cut through the sweet richness!
Banoffee pie – Try at a London cafe or bakery
Banoffee pie is another favourite British pud featuring toffee. It's a little like an unbaked cheesecake, with a biscuit base. This is topped with sliced banana, thick toffee sauce, a creamy filling and whipped cream. Look out for this one at London cafes, bakeries, restaurants and pubs.
Fruit crumble – Try at a pub or restaurant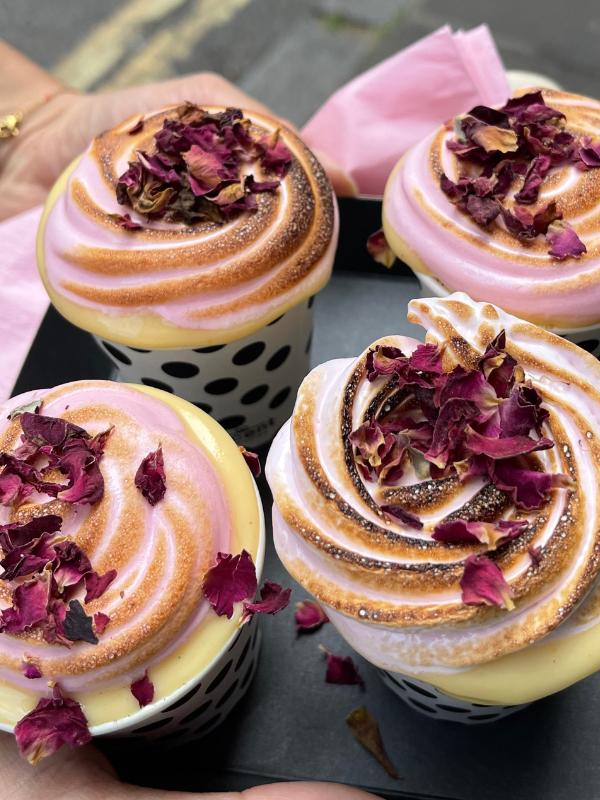 Fruit crumbles are also a popular inclusion on British dessert menus. Apple, blackberry or rhubarb are the most often seen (and eaten). The combination of apple and blackberry is also common.
The crumble topping contains butter, flour and sugar. Sometimes oats are also added for extra crunch and texture. In other parts of the world, such as the US, a crumble is known as a fruit crisp.
Eton Mess – Try at: a restaurant or pub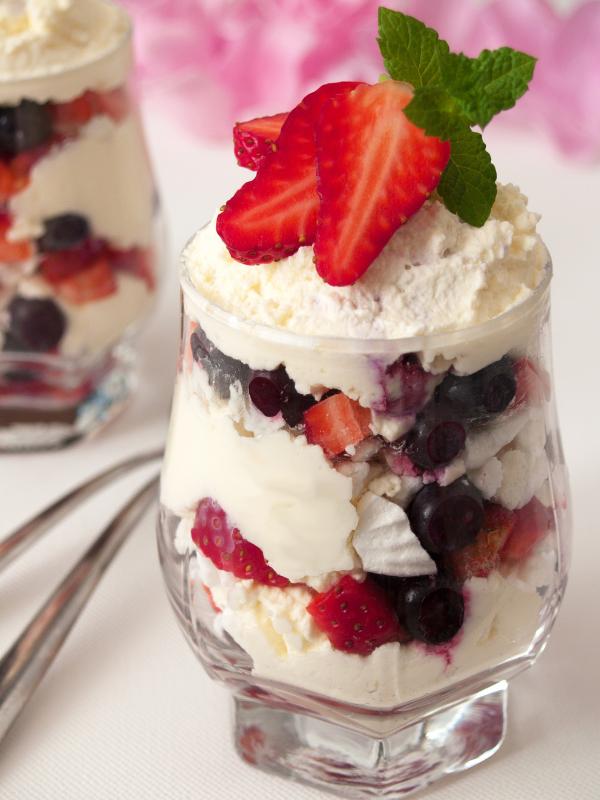 Eton Mess often looks just as the name suggests – a bit of a mess. But don't let this put you off trying it. The dessert is a delectable combination of meringue, strawberries and/or raspberries and whipped cream. Sometimes a little fruity sauce is also added.
Eton Mess is named for where it's said to come from – Eton College. The dessert also dates from the late 19th century.
Pint of beer – Try at a traditional English pub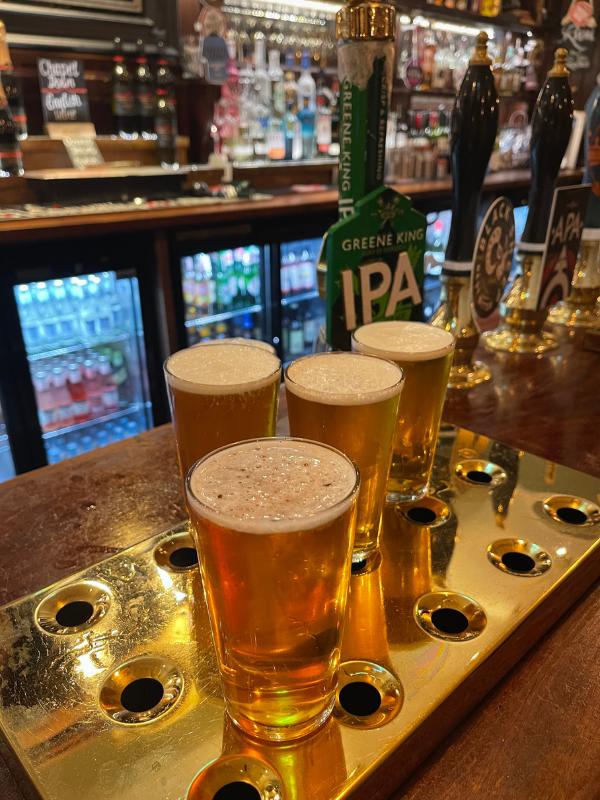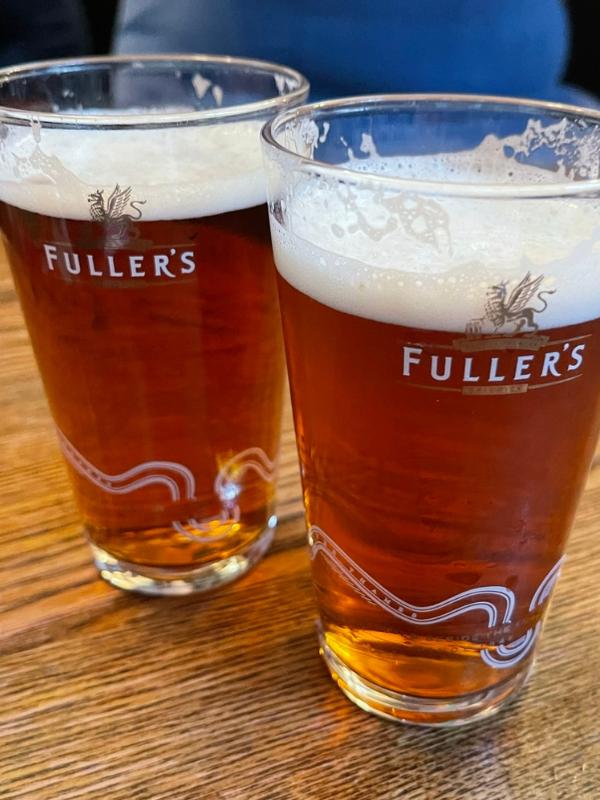 So what do you wash down your cheap eats in London with? A pint of lager, ale or stout, of course. Served in a pint glass, you get 20 ounces – or 568ml – of beer in a British measure. If you crave something sweeter, a pint of cider makes a good and equally traditional alternative.
Gin and tonic – Try at a smart bar or restaurant
Gin is big news in the UK. Many establishments serving the juniper-based spirit offer dozens of options. There are big name brands, small craft makers and just about every fruity flavour combination you can imagine.
The tonic you serve the gin with is now seen as equally important. Fever Tree is a big favourite, and their flavours include elderflower, Mediterranean, aromatic and more.
Pimm's – Try at a London pub in summer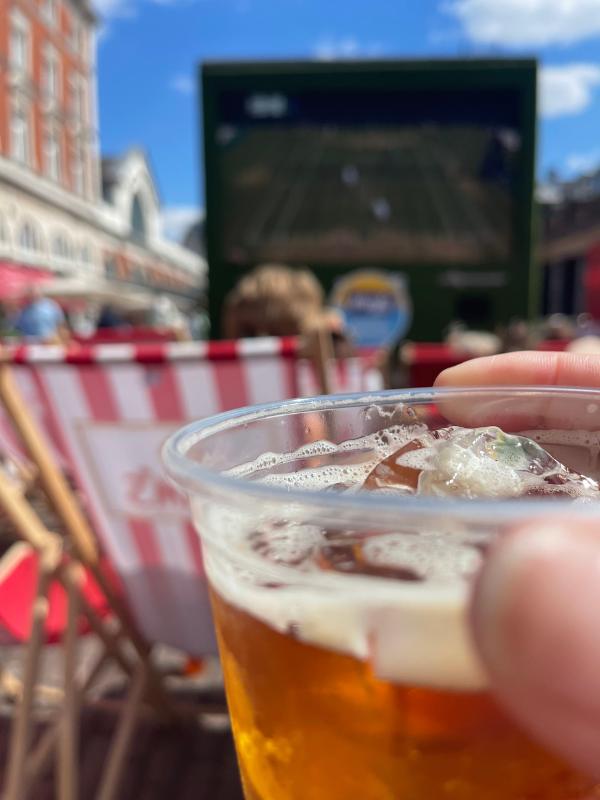 The drink that surely defines British summer time has to be Pimm's. This is known as a 'fruit cup', and it's served with a very specific combination of things. Namely lemonade, strawberries, cucumber, orange and mint.
Drinking a Pimm's in a beer garden in summer is about as British an experience as you're ever likely to get. If you can, pick a riverside pub in a location like Chelsea or Richmond for maximum enjoyment.
Our Top Picks: Best food tours in London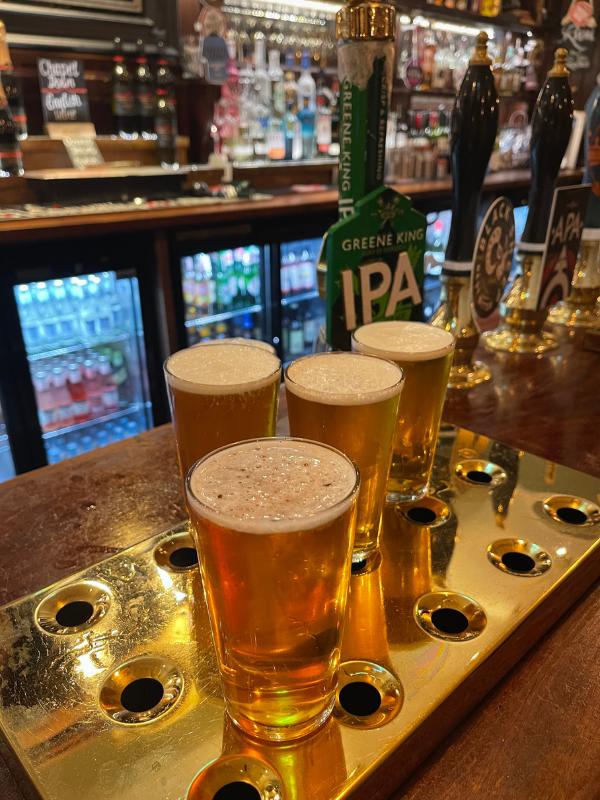 Food Tour of London's Historic Pubs
✔️ Explore 5 historic pubs in the City of London
✔️ Expertly guided small group walking tour
✔️ Enjoy traditional pub fare and a drink at every stop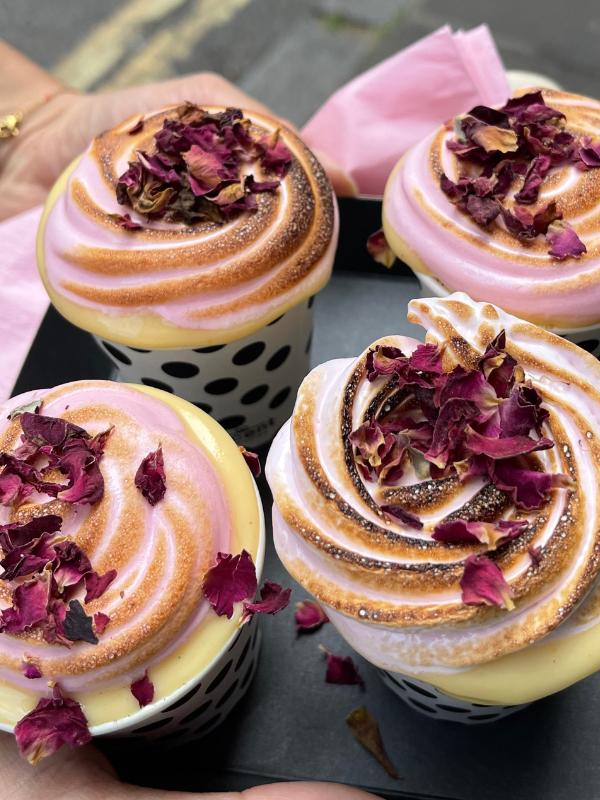 Food Tour of Borough Market & Southwark
✔️ Taste 7 delicious foods and 1 drink at 6 local businesses
✔️ Unravel the fascinating connections between food and history in London's oldest borough
✔️ Expertly guided small group walking tour
Listen to our review of these tours in our UK Travel Planning podcast
🥘 More of the best food tours to try these London foods
Read – Complete guide to the best London food tours
Which London foods will you try?
With so many London foods to try during your trip, which will make your hit list?
Whether you start the day with a full English breakfast, fuel up with Sunday lunch followed by a traditional British dessert or opt for something more adventurous like jellied eels, chicken tikka masala or toad in the hole, there are some truly scrumptious treats waiting for you!
Listen to our podcast all about the best of British foods to try during your trip
London Travel Guide & Itinerary Planner Ebook (+ 4 BONUS ebooks)