Everything you need to know to plan and book your visit to Hampton Court Palace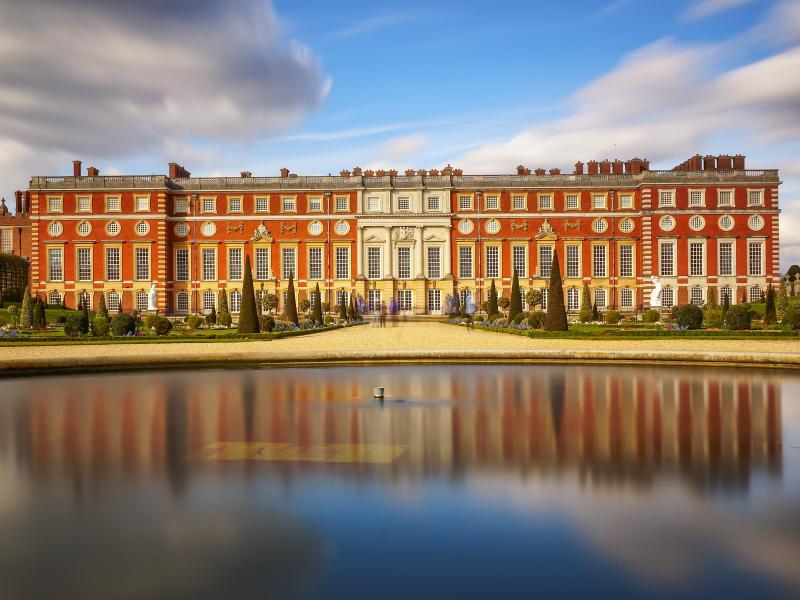 Visiting Hampton Court Palace – Tickets & Tours
Nearest train station – Hampton Court
How long to set aside for your visit?
Allow at least three hours to fully explore Hampton Court Palace and its grounds – you may well want to stay for longer.
---
Tickets
Good to know – Hampton Court Palace entry is included with The London Pass and the Go City London Explorer Pass
---
Combi tours
⭐️ TOP PICK John England Tudor day tour: 8.5 hour private driver guided tour to Hampton Court Palace and gardens plus Hever Castle in Kent, the former home of Anne Boleyn
---
Guided tours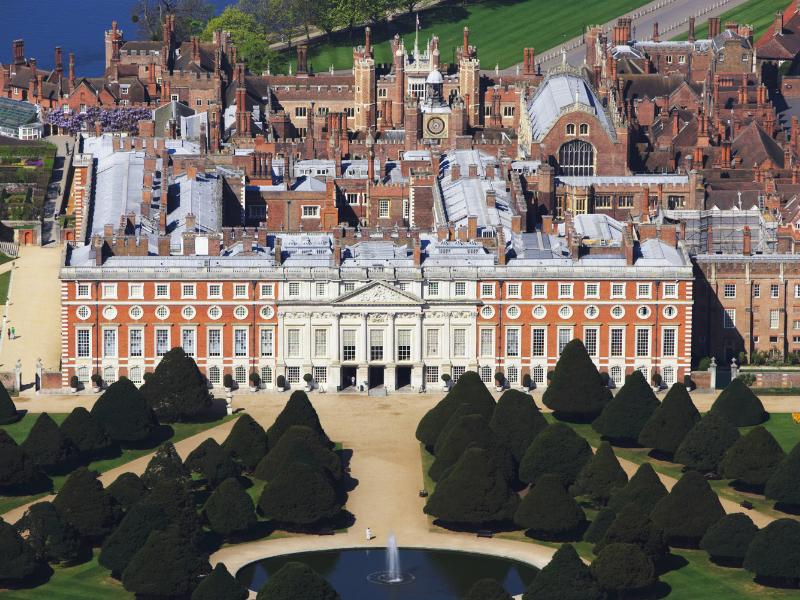 How to get to Hampton Court Palace from central London
Train
There is no London Underground station near Hampton Court Palace.
Instead, you can take a mainline train to Hampton Court train station, which is in zone 6.
Trains leave about twice per hour from London Waterloo.
There is a tube station here connecting mainline trains to the Bakerloo, Jubilee, Northern and Waterloo and City lines.
Tube
The closest tube stations to Hampton Court Palace are Richmond and Wimbledon.
You can then catch a bus to reach the palace.
Bus
From Richmond (where there is a tube station), the R68 bus can take you to Hampton Court Palace.
The 111, 216, 411, 461 and 513 buses also go there from Kingston.
Car
Hampton Court Palace is on the A308, and can also be accessed via the A307 or A309. The A308 can be reached from the M25 junction 12, or you can take junction 10 for the A307.
From the A3, you can take the A309. Brown (tourist attraction) signs will point you in the right direction.
Parking
Parking at the palace is available and is charged hourly. If the main car park is full, there's another at Hampton Court Green. This is around 500 yards from the palace.
Read our comprehensive guide to how to get to Hampton Court Palace from central London (all transportation options covered)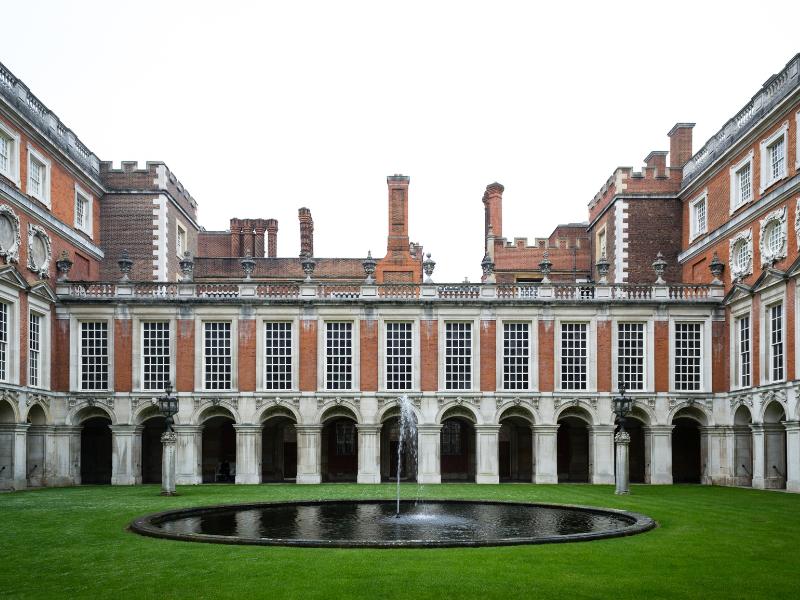 Hampton Court Palace Facts
The famous maze at Hampton Court Palace is the oldest of its type to be found anywhere on earth. It dates back to around 1700, and still puzzles visitors to this day.
Hampton Court Palace is the home of the Tudor feast. Visitors can still see Henry VIII's kitchens, where extravagant spreads were prepared. These date from the 1500s, have half a dozen fireplaces and were used by up to 200 cooks at a time before a big banquet.
It wasn't only about food during Tudor times. Base Court at Hampton Court Palace is where guests would wait to be called inside by Henry VIII. He installed a wine fountain here, so they could enjoy a drink while they waited!
Thomas Wolsey was the one who ordered the palace to be built. He was a prominent advisor to King Henry VIII and a Catholic bishop. Though he commissioned it, he gave it to the King a few years later when both men realised it was finer than any of the King's own palaces.
Queen Victoria was responsible for Hampton Court Palace being opened to the public. This was in 1838. Before that, the palace had been empty from 1760, after the death of King George II. He was the last royal to live at the palace.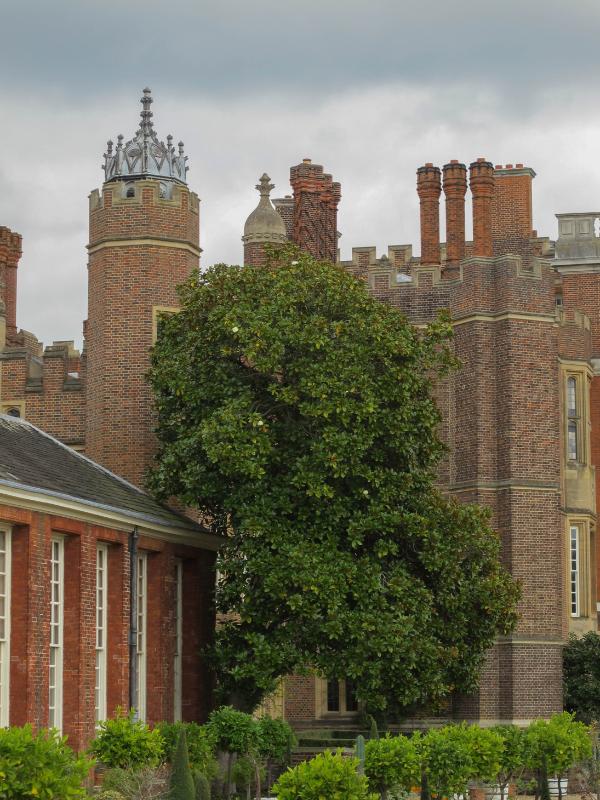 Hampton Court Palace was something of an entertainment and leisure centre in its day. During the reign of Henry VIII, it offered facilities for archery, bowling, jousting and tennis. The gardens occupy 60 acres, and a royal hunting ground can also be found nearby.
Both William Shakespeare, the English playwright, and Vincent Van Gogh, the Dutch artist, have visited the palace. Shakespeare stayed here during the Christmas period of 1603 when his theatre company put on plays for James I. Van Gogh was one of the first visitors once the palace was opened to the public, as he wanted to see the tapestries for himself.
Two of Henry VIII's former wives – numbers three and five of the eight – are said to haunt the palace. They are Jane Seymour, who died during childbirth at Hampton Court Palace, and Catherine Howard. The latter was arrested here before being beheaded at the Tower of London.
In winter, you can ice skate at the palace. Hampton Court Palace Ice Rink opens between mid-November 2022 and early January when members of the public can pay to skate for up to 45 minutes. Season tickets are available to locals, as well as one-off entry.
The Great Hall is the oldest remaining Elizabethan theatre in England. Celebrated architect Inigo Jones designed the scenery. Both Queen Anne and William Shakespeare have acted here too – the former in plays written by Samuel Daniel, and the second in some of his own.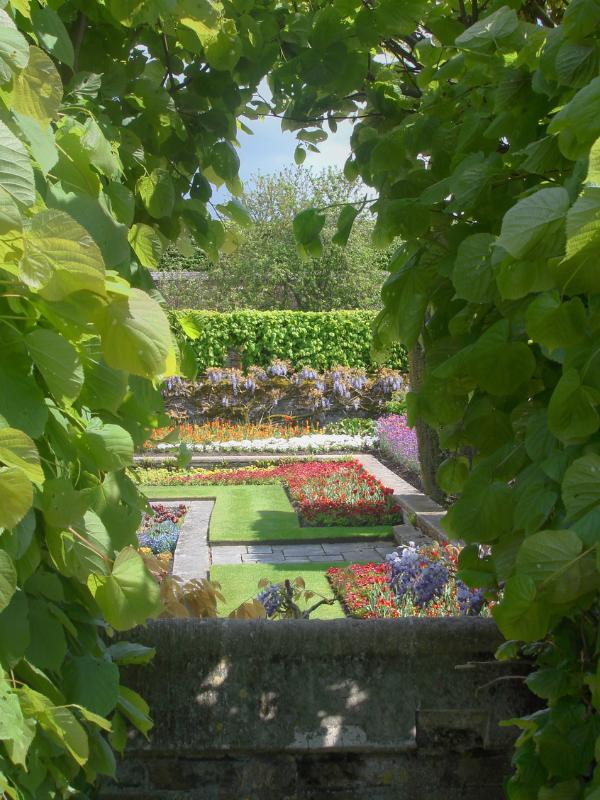 Hampton Court Palace Opening Times
Hampton Court Palace is usually open daily between 10 am and 5.30 pm during the UK's Easter, summer, Christmas and half-term school holidays. At other times, it's open between Wednesday and Sunday only and is closed on Mondays and Tuesdays.
Last admission is an hour before closing. It's worth checking the palace's opening times page for any planned closures before you visit.
The Magic Garden often opens an hour later than the rest of the buildings and gardens.
When is the best time to visit Hampton Court Palace?
Hampton Court Palace is only open to visitors between Wednesday and Friday, except for the school holidays, when it opens daily. The palace opens at 10am and the last entry is at 4.30pm, an hour before closing time.
Though the palace is open during more days per week in school holidays, it also tends to be busier then. If you can, visit between Wednesday and Friday in term-time for the best chance of experiencing a more peaceful palace and gardens.
Though the palace is always popular, it can be less busy between 10 am and midday, so do visit in the morning if possible.
Saturdays and Sundays are busy all year round, which is why a weekday visit is the best option.
The summer season is also a busy time for any tourist attraction in the London area. UK school summer holidays take place between mid July and early September, so the palace will be busy during this time. Tourists from overseas also often visit the UK during summer for drier, warmer weather. European schools also have holidays at around the same time.
What to see at Hampton Court Palace
Tudor sights to see at Hampton Court Palace include the Great Hall with its phenomenal tapestries, Henry VIII's kitchens and the Haunted Gallery in the State Apartments which traces Henry VIII's route from his quarters to the chapel.
At the Great Watching Chamber, you can see where guards controlled who entered the palace: only those of high rank would be permitted to venture within.
You can also see the state apartments of William III and Mary II and the Chapel Royal at Hampton Court Palace. If you're into art, don't miss the Cumberland Gallery, which houses works by some well known artists such as Caravaggio and Rembrandt.
Other things to see in and around the palace include Christopher Wren's Fountain Court and the restored Chocolate Kitchens, which are 3 centuries old.
Hampton Court Palace Gardens
Out on the grounds, there's also lots to discover. Get lost in the 300-year-old maze, or discover the colourful Magic Garden. You can also see the Privy Garden and the tennis courts here.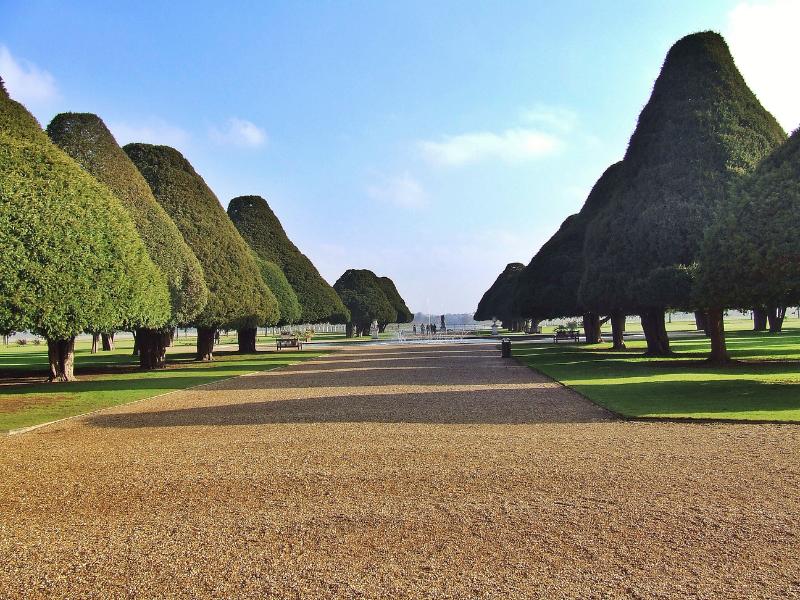 What other UK attractions are located near Hampton Court Palace?
There are no major tourist attractions close to Hampton Court. However if you do find yourself with any free time after taking in the palace and gardens, you could enjoy some time in Bushy Park by the palace.
You could also spend some time in the riverside suburb of Richmond (think Ted Lasso!), or head to Richmond Park. This works particularly well if you take a tube and bus to Hampton Court.
Tips for planning your visit to Hampton Court Palace
Buy Hampton Court tickets in advance if you can. This means you can avoid delays when waiting to get in. It's popular and thus very busy, especially in summer or on weekends.
Try to time your visit for a Wednesday or Thursday morning if you can, for the best chance of avoiding the crowds.
It's best to allow a full day to travel to the palace and explore all the grounds and historic buildings offer. Plus there's also artwork to see.
Don't forget to allow enough time to do the grounds justice. Hampton Court Palace Maze is world-famous, and the oldest of its kind. The Magic Garden, Privy Garden and tennis courts are also worth a look.
Wear comfortable footwear – you'll do a lot of walking while discovering the sprawling site. You only need to look at the pictures to see how vast the palace is!
If you have any questions, do ask the guides at the palace, who are dressed in Tudor costumes. They'll only be too happy to share the history – and any stories they may have.
There are several eateries at the palace for meals and refreshments. Or if it's a dry day, pack a picnic to enjoy the outdoors, instead of waiting in line at the cafe or restaurant.
If you're particularly interested in Tudor history, it's worth booking a private tour with a historian guide who's even been on TV talking about the palace.
Visiting the palace is a bucket list kind of thing, so it's worth the investment for a day that you'll remember forever. There's no finer place on earth to get a real feel for Tudor history.
London Travel Guide & Itinerary Planner Ebook (+ 4 BONUS ebooks)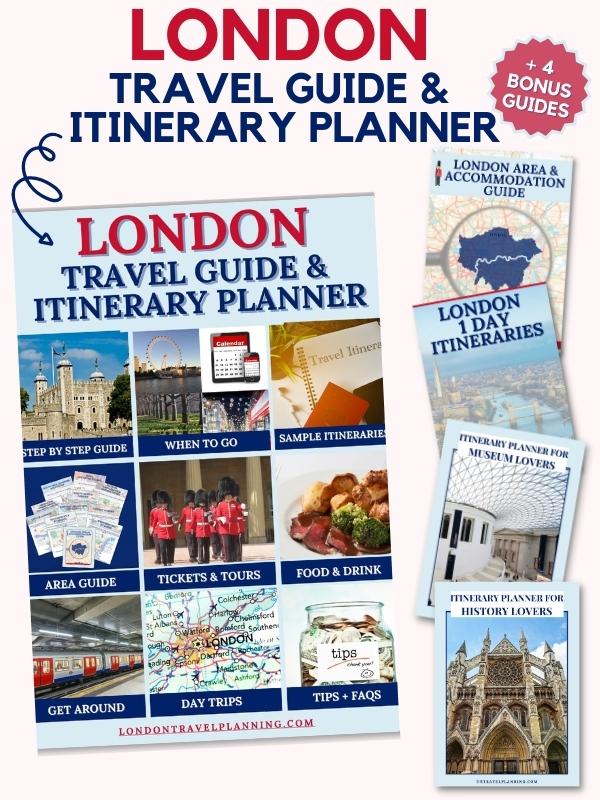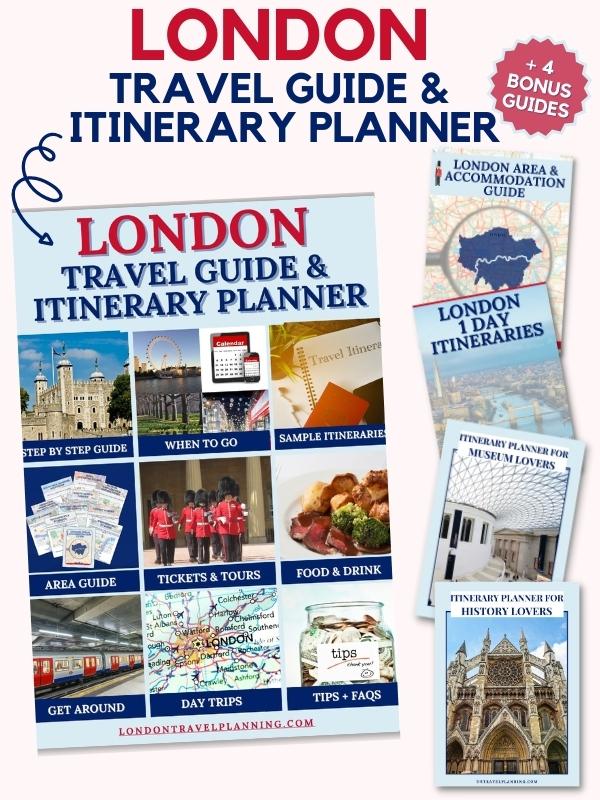 More to see in London