The perfect example 5 day London itinerary for anyone visiting the city for the first time with all the major sites, landmarks and attractions plus practical tips to plan your perfect London visit.
So you've decided to go for a 5 day trip to London? Great choice! That amount of time allows you to get to know the UK capital pretty well.
This 5 day London itinerary for first time visitors suggests what you can see and do in such a time frame – though, of course, it's only for guidance. What your 5 day London trip focuses on is of course a matter of personal preference.
That said, there are sights in London that few first-timers would want to miss. And if you do find you have some spare time at the end of your London trip itinerary, then you could always take one of the many day trips out of the city to visit some other places too.
There are many things to consider when planning your 5 day itinerary for London. You need to plan when to visit, work out how to get around the city, and of course book any accommodation or tickets you'll need.
Don't stress, though! All the info you'll need is covered in this complete 5 days in London itinerary. This site is also packed with other guides to sightseeing in and around London, so if the answer isn't right here then we can certainly point you in the right direction.
Whether you're wondering what to do in London for 5 days or what our top London travel tips are, read on to find out. This guide was put together by a team of keen travellers who've lived and worked in the British capital, all of whom return to visit the city whenever they can.
Let's go to London!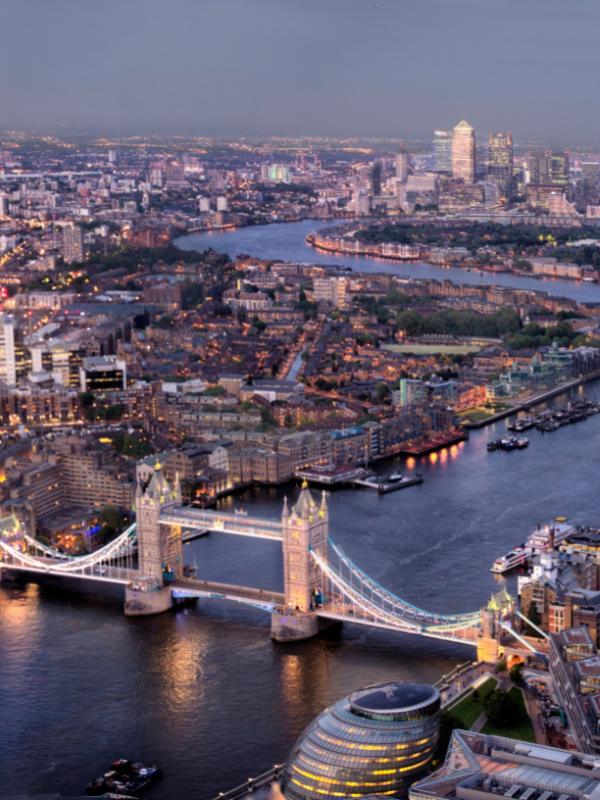 Planning your London trip
So when is the best time to go to London, what's the weather like, when are there public holidays and how long do you need? Find out right here.
Best time of year to visit London?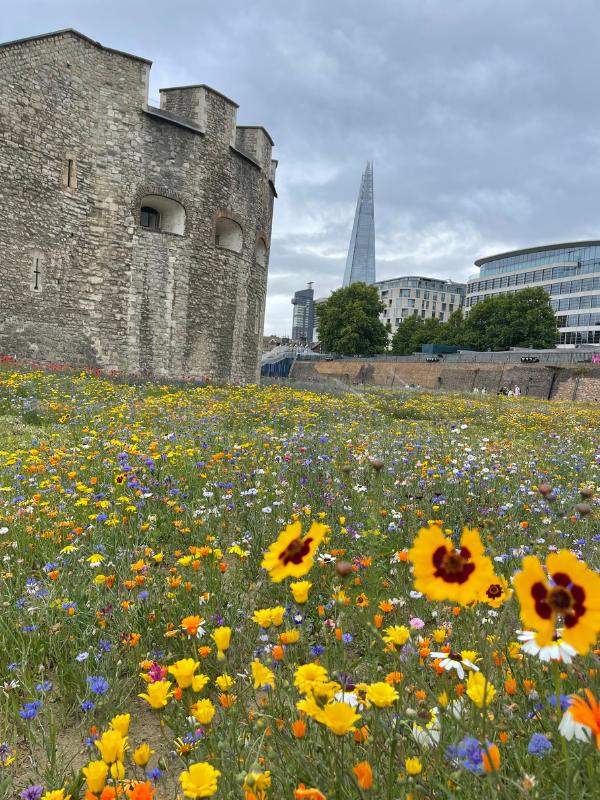 London is always busy during every season, whether it's spring, summer, autumn or winter. The weather and tourist numbers do vary throughout the year though.
London weather
London has four seasons. Spring runs from March to May, then the summer months of June, July and August are the warmest.
Yes, it can be cold and wet in the UK. Yet if there's a heatwave in London, the heat can quickly become overbearing. Particularly on the Victorian London underground train network.
Winter is cold. January and February are the coldest months, closely followed by December. Spring and autumn are milder, when temperatures range between cool and warm. Autumn is darker than spring, so September, October and November can be more chilly, with shorter days.
Peak seasons
July and August usually have the hottest weather – and are the busiest months for tourism. London can also be packed during December, when people flock to the city to see the Christmas lights, shop at the markets and stores, and attend parties and events.
UK bank holidays
Public holidays are called 'bank holidays' in Britain, and London is also busy at these times. UK bank holidays occur at Christmas, New Year and Easter. There are also bank holidays in May and August. Here's a list of the big dates to be aware of.
25th December – Christmas Day
26th December – Boxing Day
1st January – New Year's Day
Good Friday – dates vary
Easter Monday – dates vary
Early May bank holiday – First Monday in May
Spring bank holiday – Final Monday in May
Summer bank holiday – Final Monday in August
Sometimes bank holiday dates vary, especially if an occasion involves the Royal Family. In 2022 the second May bank holiday was moved to June for the Platinum Jubilee of Queen Elizabeth II, and there was an additional bank holiday in September of the same year for her funeral.
If a bank holiday is on a Saturday or Sunday, then Brits get a public holiday on the next weekday in its place. Check all scheduled bank holiday dates at the UK government website here.
When to visit London
If you want London to be a little quieter, then January to June or September to November are a bit less busy. But don't pick the weekend of a bank holiday!
As for winter, well the British climate is pretty mild. Snow isn't as common in London as movies and Christmas cards would have you believe. A White Christmas in London is rare.
If you're not good with the cold, it might be best to visit London during May, June or September. The weather in April and October can be a bit more extreme at times.
You might even manage to pack more into your London itinerary for 5 days if visiting outside the peak tourist seasons. You may save some money on accommodation too, as hotels compete to fill their beds.
How long to spend in London
How long do you really need to see and do London? The answer, of course, depends on who you ask – and what you want to see and do.
3 days in London is a good starting point, but 4 is better and 5 a further improvement. The more time you have the more you can see – and you can allow some time to unwind while you're there too. Day trips from the city are also an attractive option.
Where to stay in London
Our top tip is to stay as centrally as you can when you have just 5 days in London. Here are some helpful links when you're seeking hotels in specific areas. Why not take a look so you can see what the options are?
Westminster accommodation
⭐️ Top accommodation in Westminster
West End accommodation
⭐️ Covent Garden hotels in all price ranges
⭐️ Recommend Soho and Leicester Square hotels
South Bank
⭐️ Great accommodation on the South Bank
Getting around London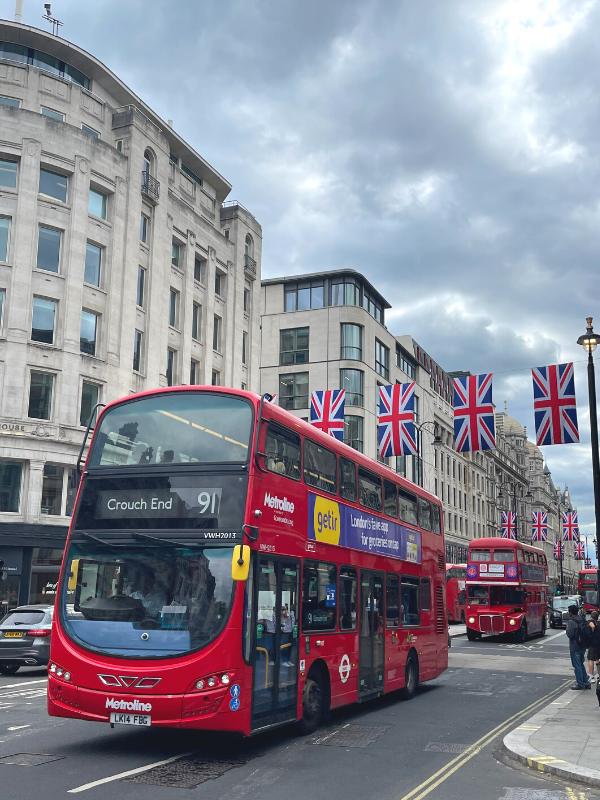 London is big, so it's a good idea to think about getting around the city before you arrive!
Don't rent a car in London. Driving in London is stressful and slow, parking is impossible and the congestion charge makes it a very expensive way to travel too.
Use tubes, buses and trains
London has a fast, efficient and affordable public transport system. This includes buses and underground and overground trains.
Avoid travelling during rush hour if you can. Sometimes you can't even get onto the tube, let alone there being standing room only! These times to avoid are before 9 am and between 16.30 and 18.30 pm on weekdays. Off-peak tickets can also cost less.
Book accommodation in zone 1
Staying centrally will cut travel time and costs. So avoid any hotel that's outside zone 1, unless you want to waste time and money.
Grab an Oyster Card

(or go Contactless)
The Oyster Card is used by London residents and visitors alike. It's used to pay for tube, train, bus, boat and tram trips.
Using an Oyster Card is cheaper than buying tickets separately. As a tourist from abroad, you have the option of using a standard Oyster Card, a Visitor Oyster Card or simply using a contactless method of payment.
You can purchase a Visitor Oyster card (or regular Oyster Card) on arrival at Heathrow or if you prefer you can order it to be delivered to your home so you are set as soon as you arrive.
The London Pass comes with a one-day hop-on, hop-off bus ticket plus entry to more than 90 top London attractions. London Pass holders can also get special discounts across the city at entertainment venues, eateries and more.
Hire a Santander or 'Boris' bike. They're all over the city. You can hire one by downloading the Santander Cycles app and following the instructions given.
The Thames Clippers UberBoat allows you to view the city from the water. You can pay for your boat trip by using an Oyster Card or contactless.
We recommend taking a trip by black cab at least once if you can. It's money well spent: London taxi drivers have passed 'The Knowledge' and know the quickest route to every single street in the capital.
If you see a black cab with its light on, stick out your arm. The driver will then pull over so you can get in. There are taxi ranks around the city too, at locations like train stations.
London cab drivers are known for being talkative. Try asking which celebrities have been in their cab. Or if all else fails, you can always talk about the weather!
5 day London itinerary
5 day London itinerary – Day 1
Now it's time to move on to our suggested five days in London itinerary. The first day involves a 'flight' on the London Eye, exploring the South Bank area and taking a laid-back river cruise.
The London Eye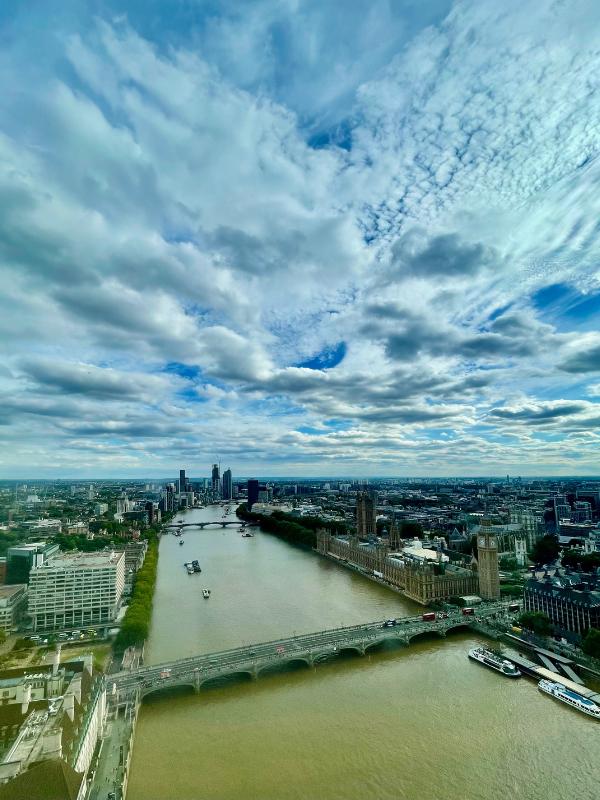 The London Eye is ideal for your first day in London. It gives you stunning views over the city – plus a reason to get out of bed and into Greenwich Mean Time (or British Summer Time) when you might be jet-lagged.
Booking pre-paid tickets means you can skip the line, and taking your 'flight' in the morning means getting there before it's too busy. Seeing the city spread out before you is the perfect introduction to London life.
The London Eye: what to know
How to get to the London Eye
Waterloo is the closest tube station to the London Eye. Closely followed by Westminster, Embankment and Charing Cross. If you're staying near the river or in the West End, you might like to walk there.
A 'flight' on the London Eye
Your 'flight' on the London Eye lasts for half an hour, and at 135 metres tall this is the largest cantilevered observation wheel in the world. It's also the UK's leading paid-for attraction.
Make sure your camera is fully charged, as you'll enjoy sweeping views over the river and city skyline. Don't forget to snap a selfie while you're in there too.
Buying your London Eye tickets via Get Your Guide costs the same as on the official website. When bought through the third party, though, you're allowed to cancel 24 hours before for a full refund. You can also book a fast-track option through the site to save you some time.
Click here to buy your London Eye tickets
The South Bank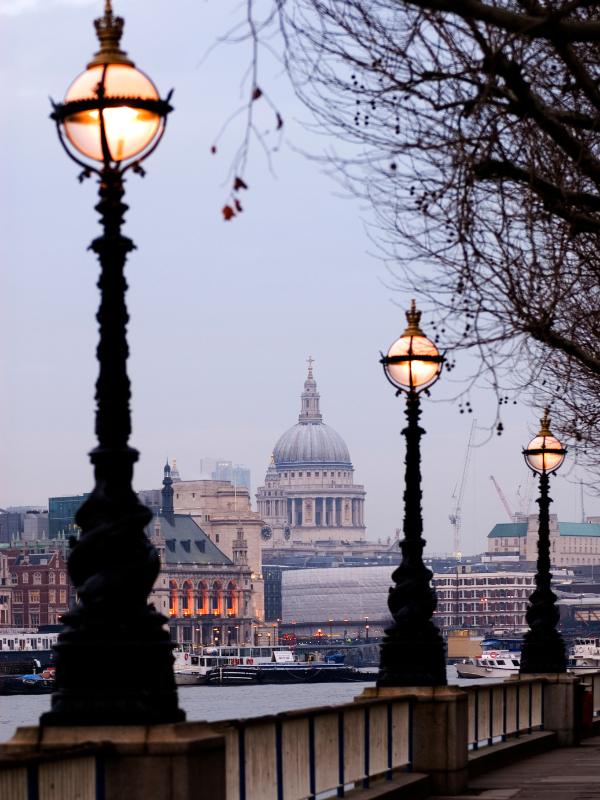 The South Bank lies close to the London Eye, south of the Thames. After disembarking, make sure the river's on your left and you'll hit the South Bank in no time.
This area has plenty of shops, cafes and restaurants for all tastes and budgets. During late November and December there's also a good Christmas market here.
Bankside is also home to Shakespeare's Globe Theatre, the Royal Festival Hall and the Tate Modern. Borough Market is just a short stroll away too, on Southwark Street which is close to London Bridge tube station.
River Thames cruise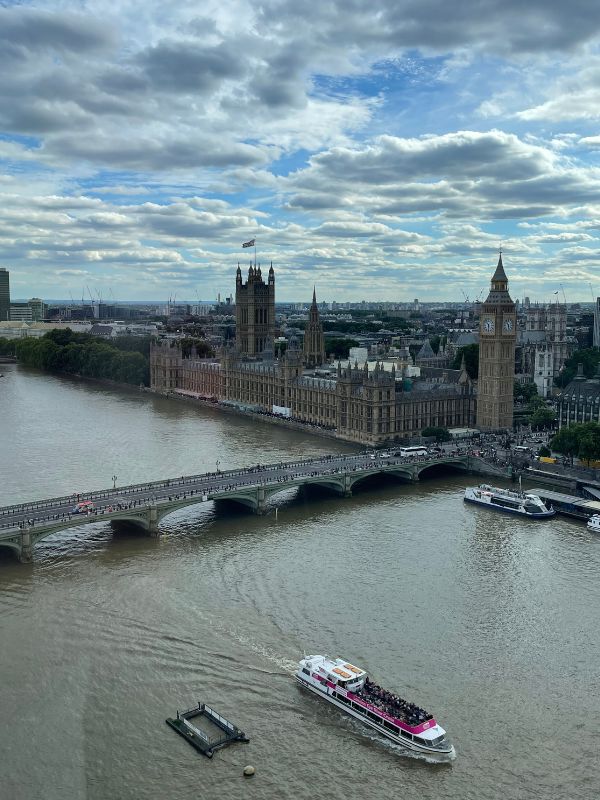 After doing the London Eye and South Bank in the morning, next on the itinerary for London in 5 days is a relaxing river cruise on the Thames. This isn't too taxing for those who feel jet-lagged.
You can book all sorts of Thames cruises, even by speedboat if you're up for that. These may last for just half an hour, take 3 hours plus, or anything in-between. Evening cruises with drinks, dinner and music are also an option.
You can also book a hop-on, hop-off cruise. Tickets for this work like jump-on jump-off bus tickets and last for 24 hours.
5 day London itinerary – DAY 2
Your second day in London is one to spend at the capital's impressive museums. Which interests you most is of course a personal preference, but if you don't have anywhere definite in mind then we suggest South Kensington as it has three world-class options to explore. If you have time later on, we'd say it's time to go to the market!
South Kensington Museums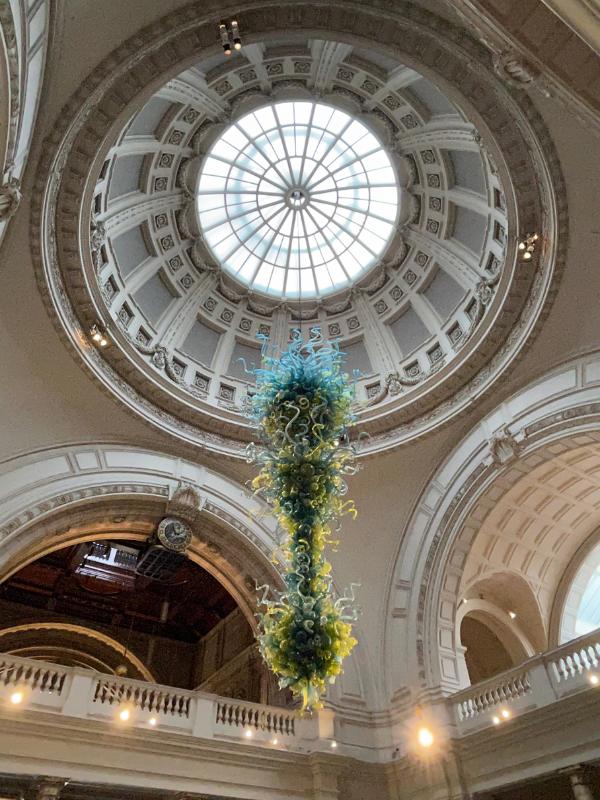 South Kensington is home to The Natural History Museum, the Victoria and Albert Museum and the Science Museum. They can all be found on Exhibition Road, near South Kensington tube station.
The Victoria and Albert Museum (V&A) specialises in art, fashion and design, while the Natural History Museum houses flora and fauna specimens from all over the planet. The Science Museum is all about discovery.
The beauty of coming here is that you can visit any or all of the three. Like all publicly owned museums in London, they're all free to enter.
London Markets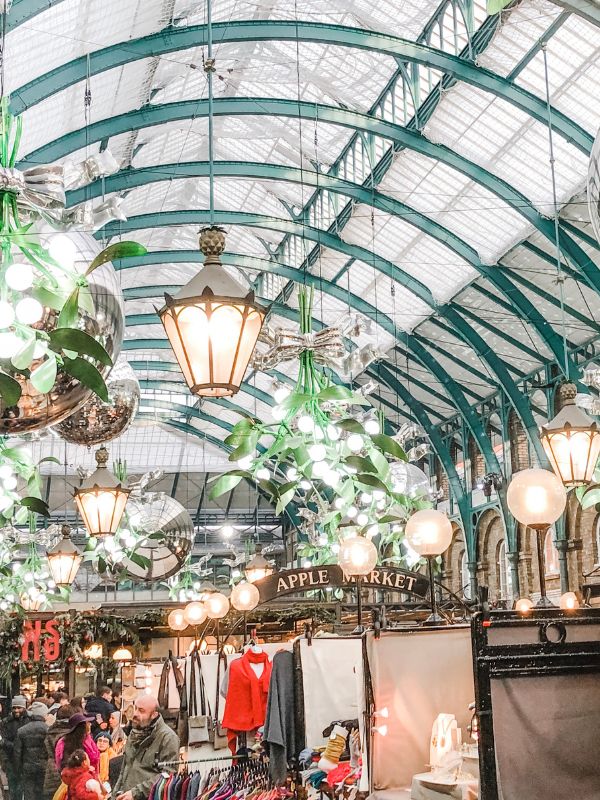 There are some incredible London markets all over the city, and shopping at one definitely belongs on any London 5 days' itinerary! Which to pick depends on your interests – and when they're open, of course.
Our favourites include Borough for food, Brick Lane and Old Spitalfields in East London, Camden or Portobello for an alternative vibe or vintage goods and Covent Garden for just about anything. You can also find bargains at Greenwich or Brixton markets in south London.
5 day London itinerary – DAY 3
Royalty is a big part of London life and there is so much to see. For day 3, we suggest seeing the Changing of the Guard at Buckingham Palace followed by a traditional afternoon tea.
If you have some spare time in between, you can explore an area like Covent Garden, Oxford Street, Piccadilly Circus or Green Park. The hotels we suggest are close to these locations, and The Goring is near Buckingham Palace.
The Changing of the Guard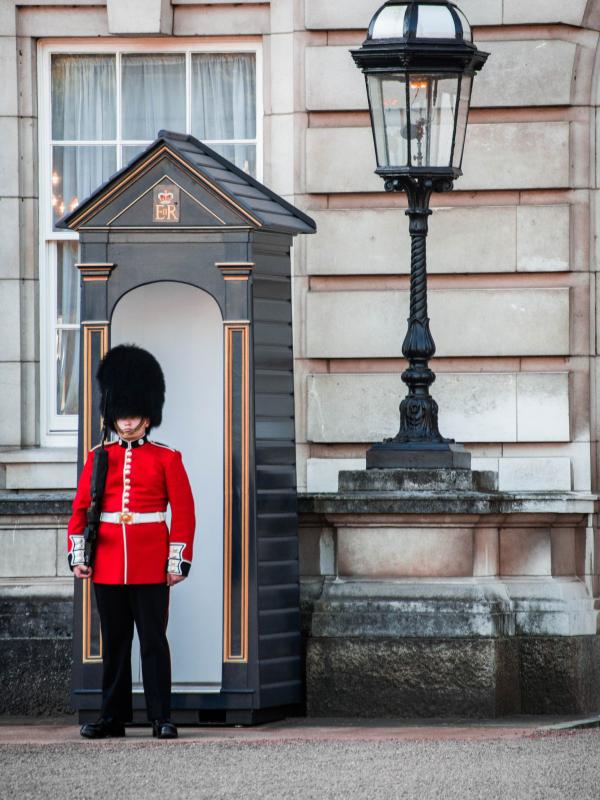 Only in the UK would the Changing of the Guard happen. This takes place several times per week at Buckingham Palace, so you'll see King Charles III's home too.
Unless the weather is extremely bad, the ceremony takes place at 11 am in front of Buckingham Palace. If the Royal Standard of the United Kingdom is flying it means the King is currently staying there!
The Changing of the Guard: what to know
When to see the Changing of the Guard
The Changing of the Guard doesn't take place daily. It's scheduled for every other weekday and Saturdays, at 11 am.
Check here, on the official Household Division website, to make sure the ceremony is going ahead before leaving your hotel.
Getting to the Changing of the Guard
The closest tube stations are Green Park, St. James's Park, Victoria and Hyde Park Corner.
Changing of the Guard times
We reckon you should arrive at least 20 – 25 minutes before the ceremony. Arriving sooner means a lot of standing around but you should get a good view. It is a popular event so expect it to be crowded especially during peak tourist seasons.
Changing of the Guard tours
Unlike other attractions and activities on your London itinerary for 5 days, seeing the Changing of the Guard is free. There is the option, though, of booking a walking tour to help you get the best out of it. Your guide can even direct you to the best place to stand.
Other tour options include attractions like the State Rooms at Buckingham Palace and the Tower of London, or you can take a tour of the whole city.
Click here to check out a Changing of the Guard walking tour with Take Walks
Afternoon tea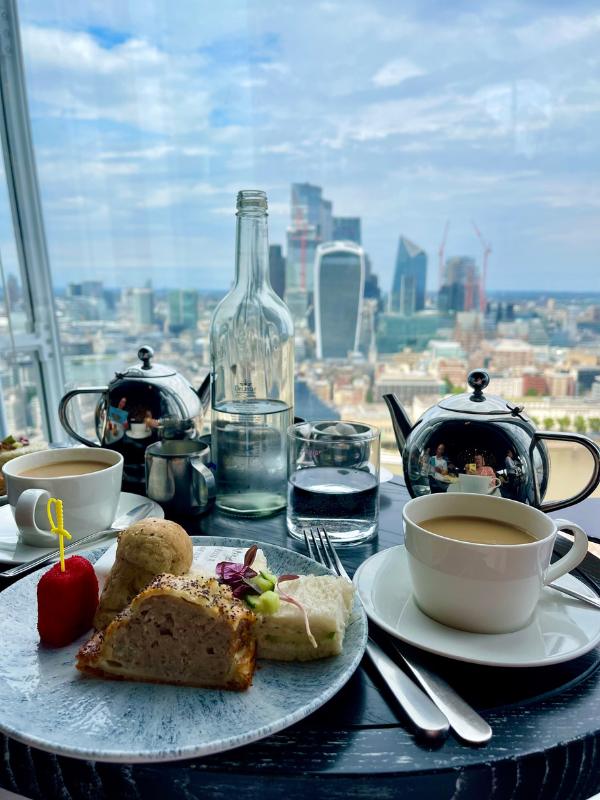 Book your slot at a leading London hotel for a sumptuous afternoon tea. After a walk around the nearby area is a good idea, as you'll need a good appetite!
If you can, blow the budget on afternoon tea at a top London hotel. This way you can experience all the glamour of such a place without forking out for a room there. Everyone has their favourite, but these five are among the top spots.
The Langham is said to have invented the afternoon tea. It takes place in the art deco style hotel within the Palm Court. The hotel is on Portland Place, near Oxford Street.
The Goring is very close to Buckingham Palace on Beeston Place. Afternoon tea has been served here since 1840, and for the full-on experience you can add a glass of fine, French Bollinger champagne.
A bonus of booking afternoon tea here is that you can visit the famous food hall too. The upmarket store is located between Green Park and Piccadilly Circus, and tea takes place in the Diamond Jubilee Tea Salon.
The Savoy is close to Covent Garden, theatreland and the river. The Thames Foyer with a grand piano at the centre is the afternoon tea venue here.
The Ritz on Piccadilly is also in the West End, and you could walk here from Buckingham Palace via Green Park. Afternoon tea is served here in the magnificent surroundings of the ballroom.
3 day London itinerary – DAY 4
Your penultimate day in London involves visiting the historic Tower of London. While you're in this area you can also visit Tower Bridge and the Roman Wall if you'd like to.
Tower of London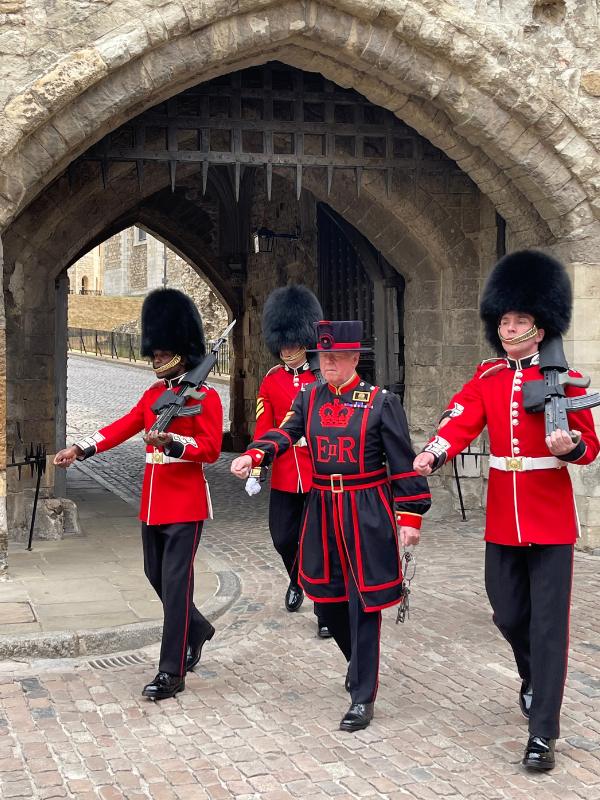 Doing the Tower of London on the last day is like saving the best until last. The reason we suggest doing it this way is because you don't want to rush it. Why hurry when you can linger over the Beefeater guards in red costumes, the Crown Jewels and the ravens who are said to guard the tower?
During your visit you may also tour the Fusilier Museum, see Kings' suits of armour, and discover buildings such as the Mediaeval Palace and the White and Bloody Towers.
The Tower of London: what to know
How to get to the Tower of London
The nearest tube station is Tower Hill. You could also walk from Liverpool Street, Charing Cross or London Bridge stations in under half an hour.
Your Tower of London tour
Arrive at the Tower of London as early as you can to avoid the crowds. Sometimes the tower shuts as early as 4.30 pm, and if you get there with plenty of time to spare then you won't need to rush.
Buying tickets for the Tower of London in advance saves time. If you book via Get Your Guide (GYG) they're the same price as on the Tower of London website, but you can get a full refund when cancelling up to 24 hours before. You can also skip the queue!
Entry to the Tower of London is also included in the London Pass.
Click here to buy your Tower of London tickets via GYG or for exclusive early access to the Crown Jewels we recommend this small group tour with Walks tours.
Tower Bridge and the Roman Wall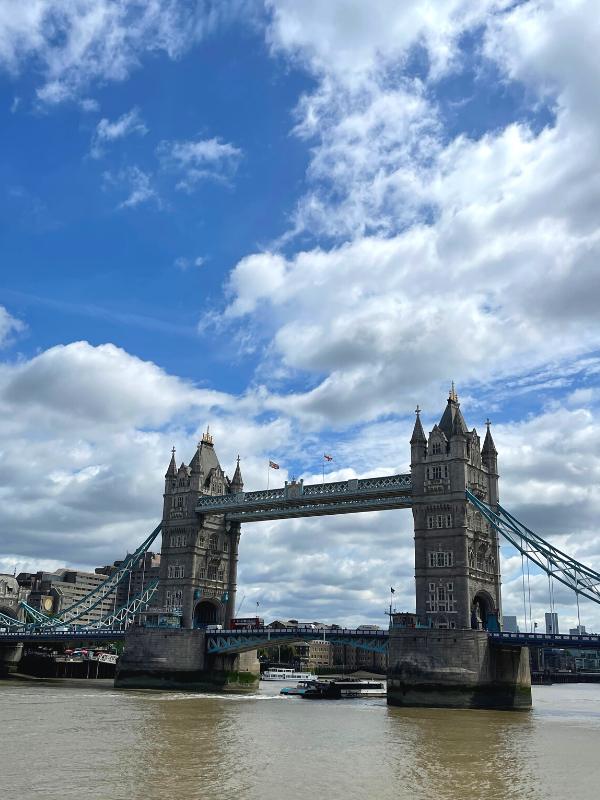 Not everyone knows that there's a Roman Wall you can see in London, but it's right there in the centre at Tower Bridge. In fact you can see sections of what once stretched across the city in other spots too, but it's easiest to include it in a visit to Tower Bridge.
The bridge itself offers the opportunity of climbing the North Tower, heading across the high-level glass walkways, discovering more of London's rich history and of course savouring magnificent city and river views.
It's a must for history fans, as the Tower is grade I listed and dates back to the late 19th century. As for the Roman Wall, it goes back to an astonishing AD 200!
3 day London itinerary – DAY 5
Today you can visit Westminster, Big Ben and the Houses of Parliament, before having some free time to spend as you wish for your final afternoon.
Westminster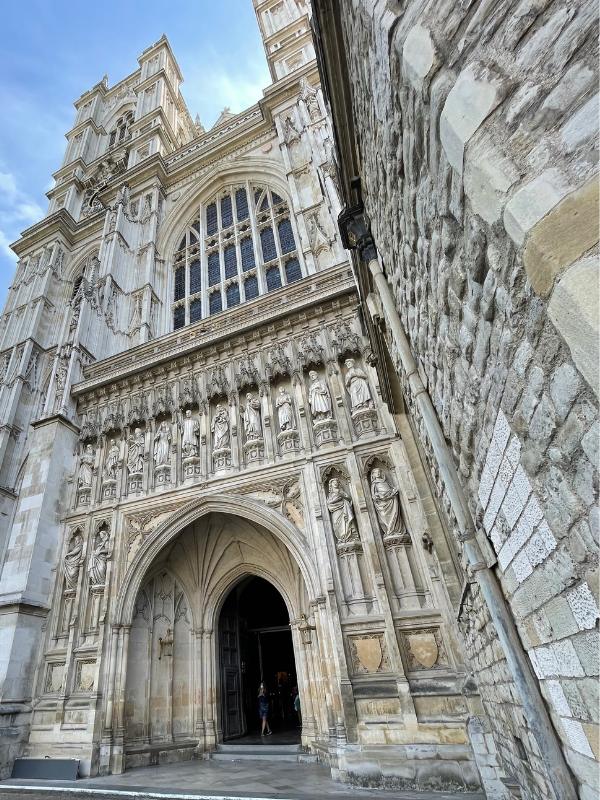 You will have seen Westminster from the London Eye and your Thames cruise on the first day of your 5 days itinerary in London, but now it's time for a closer look. It's up to you what you want to do in this area, as there are a few options.
Take pictures of yourselves by a row of classic red telephone boxes, or book tickets in advance if you want to see inside Westminster Abbey. Getting up close to the Gothic architecture at the Houses of Parliament is quite something.
Big Ben is of course an iconic sight too. The name actually refers to the bell rather than the tower or clock.
Click here to book Westminster Abbey tickets
Your London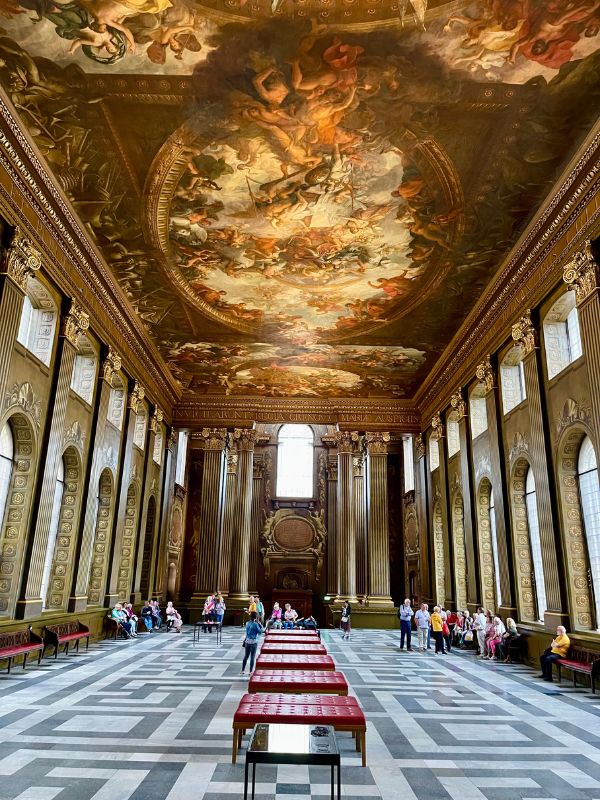 If you end up with some free time today, think about how you want to spend your final half day in London.
The possibilities are endless, but here are a few ideas!
A hop-on, hop-off bus tour
If you're not sure what you might have missed or simply want to go with the flow, why not book a jump-on, jump-off bus ticket for your final day? These allow you to travel all day long – or even for multiple days.
This way you can relax while taking in the sights properly for one last time before leaving. If something catches your eye along the way, simply jump off and visit it before catching the next bus to explore more of the city.
Click here to book hop-on, hop-off bus tickets
Hyde Park, Harrods & Knightsbridge
If you love shopping, then you simply cannot miss upmarket Knightsbridge! The famous Harrods department store is here, and fashionable Harvey Nichols too. There are also plenty of designer stores such as Lulu Guinness, Lacoste, Ted Baker, Jimmy Choo and Burberry here.
Hyde Park is at the top of Knightsbridge, and is a large, often peaceful place in which to picnic on goodies bought from the food hall at Harrods.
Take a sightseeing walking tour
A walking tour is an alternative way to see the city from ground level instead of up high.
Many walking tours are available, and all are guided by local experts.There are both themed and sightseeing walking tours to take.
There's so much to see and do that it's easy to spend a whole day in Greenwich. Or an afternoon, if that's all you have to spare. A great market and a top pie and mash shop are just the start.
Then there's the Meridian Line, the O2, the Cutty Sark and the historic buildings. Plus there's the lovely 74-hectare Greenwich Park. This is a lovely spot in which to enjoy your last day in London – and it has a more laid-back vibe than the centre of the city.
If you want to escape the city after four-and-a-half days, you could take a tour instead. You might be surprised at what you can see in half a day – or a full day if you prefer. Sites like Stonehenge or Windsor Castle, for example, can be seen in half a day.
Click here to take a look at day trips from London
Need to know when planning your 5 day London itinerary
Food in London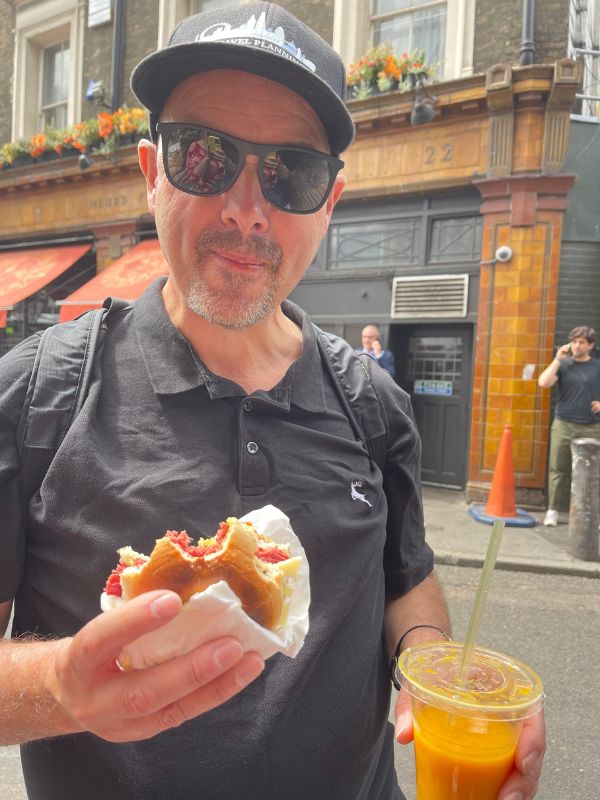 The reputation of British food wasn't the best in the past, but thankfully that's all changed for the better now. Dining out truly is one of the highlights of spending time in London. You can try foods from all over the globe in the city, but here are some British dishes and traditions not to miss.
Fish and chips is now enjoyed all over the world. In London, this is best eaten in a pub as beer battered fish with chips and mushy peas. Don't forget to add some salt and vinegar.
A full English breakfast is a great way to stay the day when you need plenty of energy for exploring the city. So pile your plate high with bacon, eggs, sausages, beans, mushrooms, tomatoes, toast and more.
Pie and mash is a real London thing, especially in the east of the city. It's a cheap, filling meal that can be found all over the place and in various forms.
Do sample a Sunday roast at a London pub if you'll be in the capital over a weekend. Make sure you try Yorkshire pudding – a savoury batter that's baked and traditionally served alongside roast beef.
brave, some pie and mash shops also sell jellied eels, a true cockney classic.
Head to the Brick Lane area and pick out a restaurant you like the look of, or ask hotel staff which is their favourite. East London is one of the world's culinary capitals when it comes to the food of the Indian subcontinent.
Afternoon tea is a must when in London. This comprises finger sandwiches, pretty cakes and scones piled high with jam (jelly) and clotted cream. A top five star hotel is the best venue if your budget can accommodate that. Make sure you go when you're hungry, and if you can't finish it you can ask to take the rest away.
The food halls at Harrods in Knightsbridge, Fortnum & Mason on Piccadilly, and Selfridges on Oxford Street are some of the finest you'll find anywhere, with delicacies from all over the world sold.
Borough Market is the star of many TV shows and movies. It's near London Bridge, south of the river Thames. On a fine day, pick up a picnic here to enjoy in one of London's leafy parks.
Marks and Spencer sandwiches
For a quick, affordable meal, pop into a branch of Marks and Spencer (M&S) for a sandwich. All sorts of fillings are available, and their food is a firm British favourite.
5 day London itinerary – Top Tips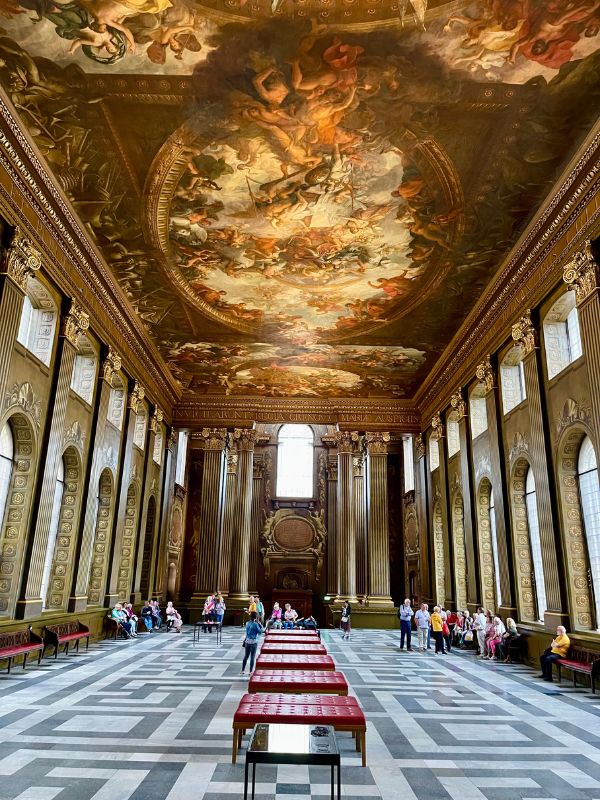 Here are our insider tips for making the most of your trip to London. Don't pack your bags until you've checked it out!
A super simple way to save loads of time is to pick London accommodation in a central spot. Take a look at a map to work out where you can walk to from your hotel, and make sure there's a tube station close by!
If you walk or take short tube trips, you can save on travel, which can make up the difference in price for your accommodation.
Our recommended areas to stay in include the West End which includes Covent Garden, Leicester Square and Soho. Another good choice is somewhere near Westminster, or just south of the river Thames in Waterloo or South Bank.
You don't have to tick every must-see in London in 5 days. Think about what really matters to you – and of course having some fun!
Save time by booking skip-the-line attraction tickets in advance – and let this London five day itinerary be your guide. Based on the suggestions given, what do you really want to see and do? Focus on what interests you most so you don't miss out.
You can save precious time and money by doing a little forward planning. Definitely buy entry tickets and travel passes early. Don't worry that your plans might change. Using a supplier like Get Your Guide means you can often claim a full refund if cancelling 24 hours or more before.
Some things in London are free
London is known for being an expensive city – yet some of the capital's sights are totally free. The city is packed with parks and museums that are free to enter, and you can stroll by the Thames without spending a single penny.
People watching is also free of charge – though you might like to buy a coffee to enjoy as you watch the world go by on Bond Street, in theatreland or in a classic city square.
Pack a rain jacket and/or an umbrella
Rain happens in London. A lot, sometimes. So definitely make room in your daypack for a hooded packable jacket and/or a small umbrella.
Comfortable shoes surely make any day more enjoyable. Leave any high heels for a night out when you'll take a taxi, or dinner in the hotel.
You'll do so much standing and walking, and even jumping on and off buses and tubes isn't easy in unsuitable footwear.
Visiting a group of neighbouring attractions in one day makes total sense – and can even cut down on tube fares. Clearly it saves time too.
For example, visit Trafalgar Square, Covent Garden, Leicester Square and Piccadilly Circus at the same time, as they're clustered fairly close to one another. If you're planning a trip to the theatre, this can also be found near these London hotspots.
See the city from above the ground
The tube is often the best way to get around London, but try to walk, use a cab or catch a bus when you can. It's a great way to see more of the city while on the move.
5 day London itinerary – Frequently Asked Questions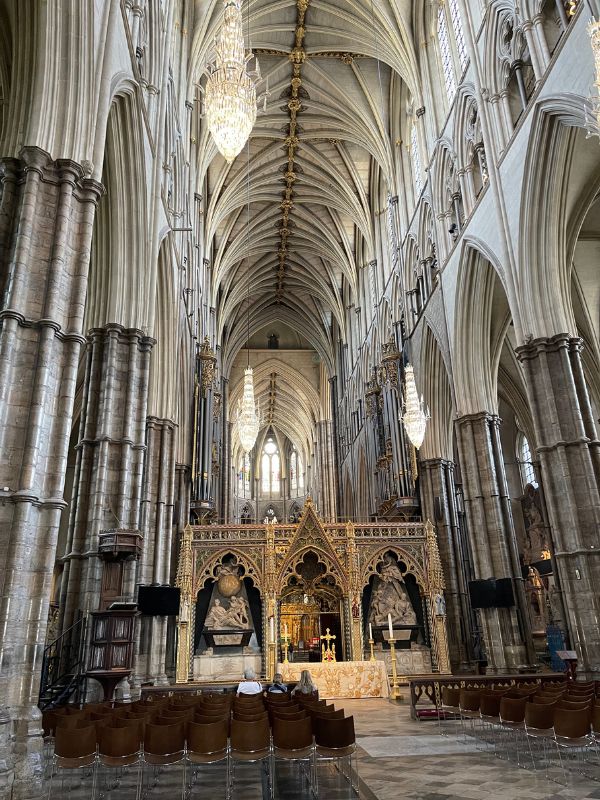 Is 5 days enough in London?
First-timers visiting London should spend around five days or more in the capital if they can. This allows you to do enough sightseeing while getting a real feel for the city and its people. Stay centrally and plan carefully, and you could do so much with a five day stay in London!
How can I cover London in 5 days?
What belongs on your London 5 day itinerary really depends on what you want to see and do. Popular places to visit in that time scale include the Tower of London, the South Bank, the London Eye, Buckingham Palace, Westminster, the museums, the markets and much more.
How do I plan an itinerary for London?
We suggest a set of simple steps when planning which places to visit in London in 5 days. First, decide when to visit, then book central accommodation. Next, plan your itinerary and how to get around, and think about where you might want to eat. The final step is to consider whether you want to take any day trips from London.
What can you not miss in London?
Whether you're trying to see London in 5 days – or less or more – sights not to be missed include the South Bank, the London Eye, Buckingham Palace, the Tower of London, Westminster, markets, museums and more.
You could also include sites such as Hyde Park and Knightsbridge, Greenwich and Tower Bridge with its section of Roman Wall.
5 day London itinerary – Final thoughts
If you've been wondering how to spend 5 days in London, we hope this suggested itinerary has been helpful! It is difficult working out what to visit in London in 5 days, so we hope this guide has helped you do some forward planning.
No, five days in London will never be enough. But then some say a lifetime isn't long enough to truly discover the UK capital! The good news is that it is possible to visit London in 5 days – and to come away with a strong sense of what the city is all about.
Don't forget that this itinerary is only a guide to what to see in London in 5 days. Not everything is open daily, and the weather may play a part in your plans.
The most important point, though, is that it's your 5 day itinerary for London. No one else's. What you see and do is up to you – and above all make sure you prioritise enjoying your stay in this incredible destination!
London Travel Guide & Itinerary Planner Ebook (+ 4 BONUS ebooks)