What to expect when you visit London in December – weather, what to see and do, what to pack and answers to frequently asked questions!
If you're thinking about visiting London in December, then this guide will tell you everything you need to know. From London at Christmas weather to things to do in London in December, by the end of this article you'll know how cold it should be, when it gets dark, what to pack and much more.
For many people, travelling to London in December is all about the festive atmosphere, and decorations. Some of the best places to visit in London in December are also covered, as is how to dress in London in December.
Whether you're wondering what to do in London in December or are asking is December a good time to visit London, read on to find out all the answers. Plus top tips, the weather you can expect and what to take with you.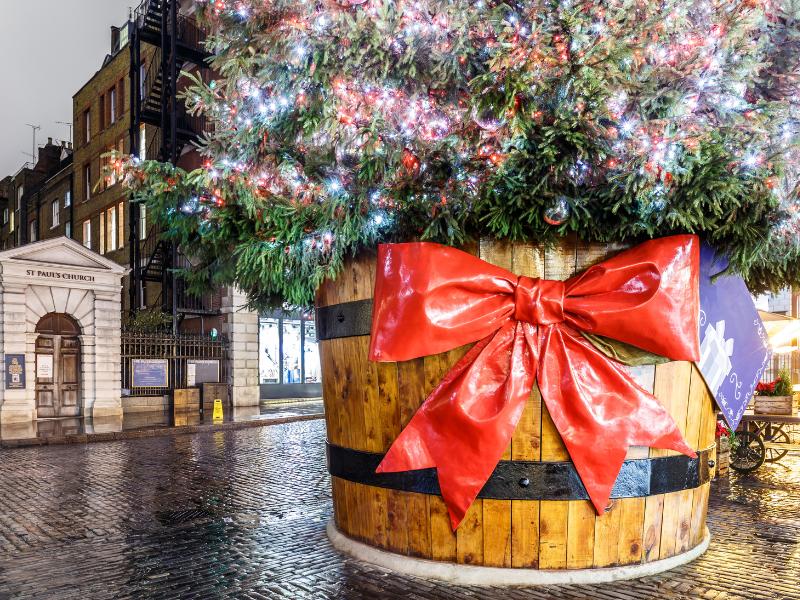 Visiting London in December – What to Expect
Weather
The weather in London in December is mild, but it's also chilly and humid. Expect cold temperatures, rain every 3 days on average. The weather can also change very rapidly, but there are few extremes in the UK.
Average high: 9°C / 48°F
Average low: 5°C / 41°F
Average days of rain: 10
So what is London like in December, weather-wise? Depending on where you come from, you may well think of the UK as a country with a cold and wet climate. In fact the UK does have a humid climate, so it can rain quite a lot.
Mild weather
That's the bad news. The good news, though, is that the British climate can also be described as temperate – meaning mild. There are generally no extremes here, and major storms are rare. You can expect to experience no earthquakes or wind events like hurricanes and tornadoes in London. Though flash flooding can happen every now and then.
Changeable weather
When planning places to go in London in December, you can expect it to be cold and/or wet. So do pack warm and waterproof items: but more on that later. The other thing to know is that the UK has a maritime climate, which means that the weather can, and does, change very quickly!
☔️ Wet weather
Average temperatures are pretty mild – London is one of the UK's warmest places. However frosty mornings are not uncommon in the city during December. There is some chance of snow – but generally this happens more during January and February. Rain is far more likely!
So don't come to London expecting a White Christmas, as you're fairly likely to be disappointed. January is the coldest month, and it doesn't tend to snow in the UK more than just a few times per winter.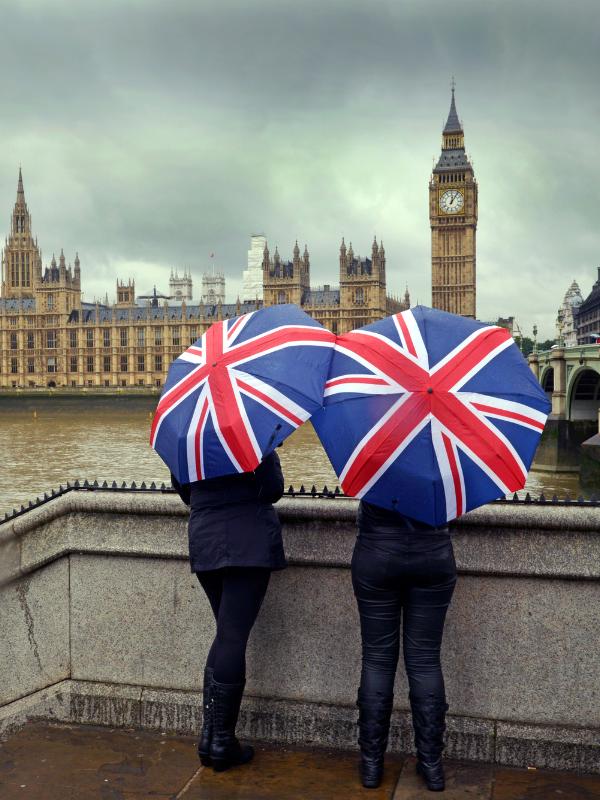 Daylight hours
The shortest days of the year take place during December. So the skies will only be bright between around 9 am and 3 pm to 4 pm. Sunrise is at about 8 am, and sunset takes place around 4.30 pm.
Sunrise: Between about 07:45 and 08:10
Sunset: Between about 16:30 and 16:40
When planning your trip to London in December, one thing worth knowing is how dark it will be. The UK experiences the winter solstice – or shortest day – a few days before Christmas.
Sunset
So the sun sets long before 5pm in December. In reality, the skies start to darken from late afternoon, so expect fading light between 3pm and 4pm and total darkness by 5pm.
Sunrise
In the morning, the sun rises between about 7.45am and 8.15am. Again, it's a gradual lightening of the sky rather than a sudden burst of bright sunlight. So before 9am in December, don't expect full daylight.
What to pack
When packing for London in December, lots of layers, a wind and waterproof jacket, sturdy shoes or boots and a compact umbrella are essentials to take along with you.
When visiting London, England in December, expect anything from mild weather when a jumper and a light jacket will suffice to a full-on blizzard with snow and gale-force winds! That way, you'll be prepared for anything.
Footwear
Wet weather gear is very important if you'll be spending a lot of time outdoors – and many of the top London places to visit in December are outside.
That extends to footwear, so if you're buying new trainers or walking boots for your London trip then go for waterproof ones if you can.
Outerwear
A waterproof jacket is also a necessity. Layering is also key. So ideally, something like a waterproof, windproof jacket with a removable fleece inner would be ideal.
If it does get warm – and in the city temperatures can rise fairly rapidly – you might want to remove layers, so think about a daypack that has space to carry extra clothing.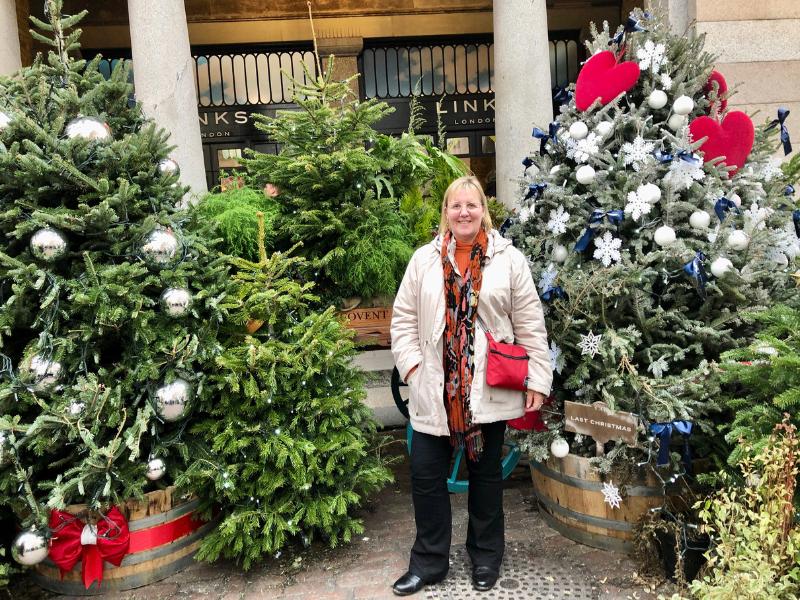 Layering
Dressing in layers such as a t-shirt and a sweater, cardigan or hoodie plus a winter jacket should be just right for most days, and you can adjust the layers if required.
Jeans are an obvious choice for your bottom half, but remember that they can get sodden and take ages to dry if there's heavy rain. So some sort of quick-drying active trousers are a better option.
Accessories
Take a woolly hat, a warm, cosy scarf, a pair of thermal gloves and some insulating socks with you. Keeping your head, neck, hands and feet warm when it's really cold can make all the difference to your comfort levels when it's bitterly cold in London.
Essentials
A warm packable jacket, a lightweight and comfortable daypack and a compact travel umbrella are great items to have when you're packing for a December trip to London. Don't forget a hat, scarf, gloves and warm socks too.
Visiting London in December – FAQs
Is December a good time to visit London?
December in London is magical! There are Christmas markets, lights and celebrations everywhere, and the streets are thronged with festive shoppers.
Various London venues like Hyde Park, Southbank and Trafalgar Square also hold special events.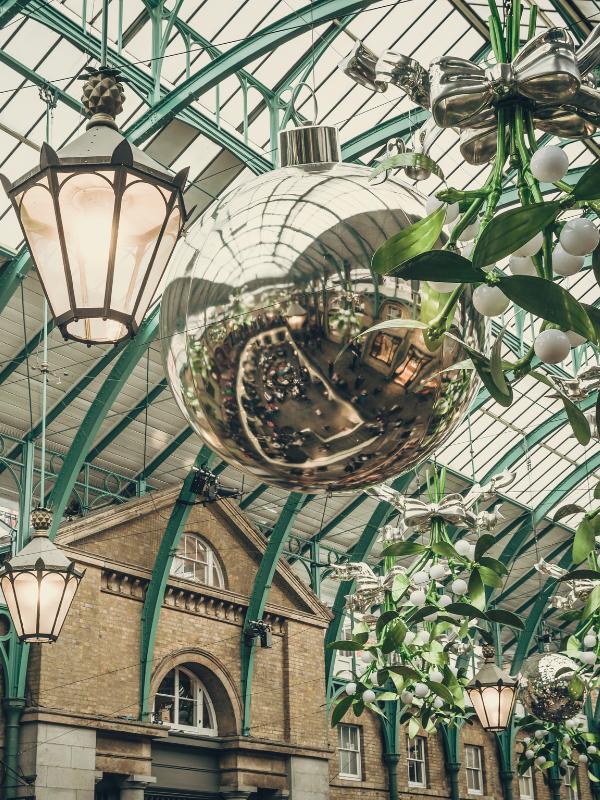 How busy is London in December?
Book early for a December trip to London, as it can be very busy! This is one of the most popular months to visit the UK capital, due to all the illuminations, markets and other events held in the city. It's also a popular place to shop for Christmas gifts.
Does it snow in London in December?
Weather-wise, London is cold in December, but snow is fairly rare. Rain is far more likely, with about 10 days on average. Temperatures vary from mildly cold to freezing. If you do experience snow at Christmas in London, then you're in the minority, as this is unusual.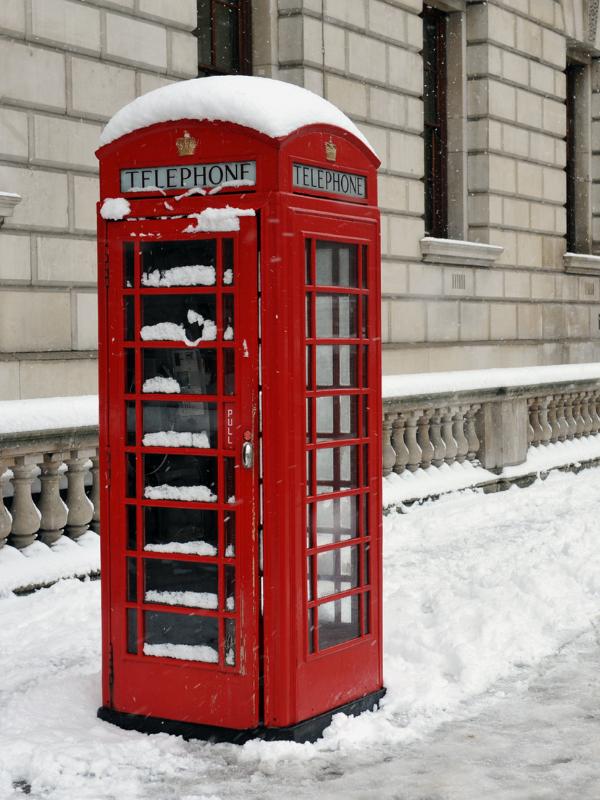 How do people dress in London in December?
London is cold in December – but can also be fairly mild when the sun's out. Wear lightweight layers, and bring a waterproof jacket plus a hat, scarf, gloves and warm footwear along to ward off the winter chills. Bring a backpack to carry unwanted layers in too!
7 Top Things to do in London in December
There are so many things to do in December in London. Here are a few suggestions – including some very seasonal options.
Enjoy the Christmas tree & carol singers at Trafalgar Square
When: throughout December
Where: Trafalgar Square
Closest tube: Charing Cross
Did you know that Norway kindly donates a massive Christmas tree to the UK each year? This takes pride of place in Trafalgar Square and is decorated with many thousands of fairy lights. Each tree is over 20 metres tall and about 50 to 60 years old.
Carol singers serenade shoppers as they walk the streets of central London, creating a magical festive atmosphere.
Find out more about this year's Trafalgar Square carol singing programme here.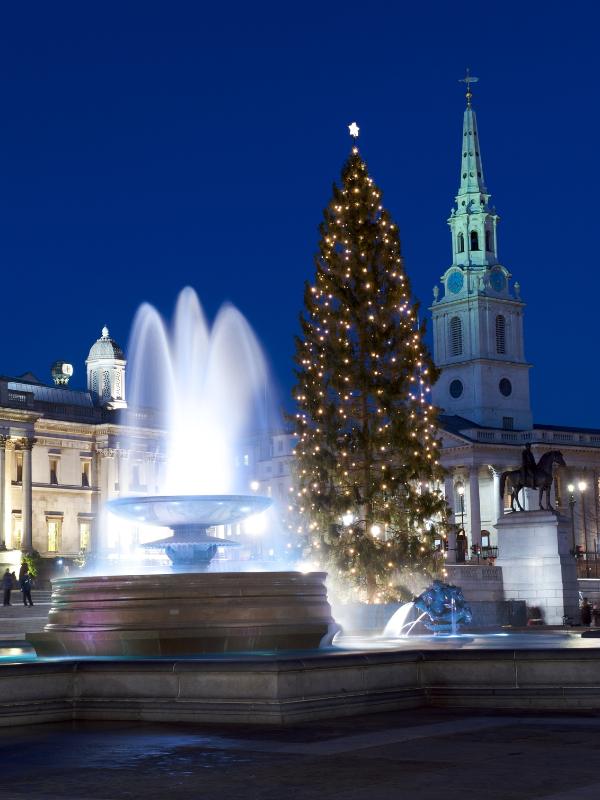 Attend the Southbank Winter Festival
When: early November to early January
Where: Southbank
Closest tube: Waterloo
Head to the south of the Thames for a Christmas market, lots of lights and many other forms of festive entertainment. Expect to see artworks, shows, street entertainment, professional performances and of course the stalls selling all sorts of food and drink, gifts and decorations.
Explore the Southbank Winter Festival here.
Visit Hyde Park's Winter Wonderland
When: mid-November to 2nd January
Where: Hyde Park
Closest tube: Hyde Park Corner
Hyde Park puts on a spectacular festive show each year. You do need to pre-book for this. There are entry fees at peak times, but it's free during off-peak hours. Shows, rides, entertainment, markets, ice skating and even Santaland await.
Discover more about the Winter Wonderland here.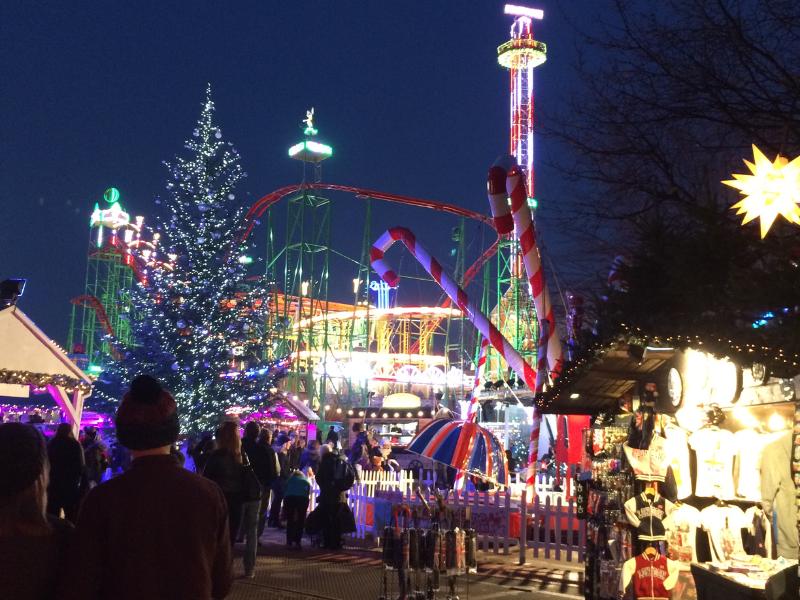 Take in London's Christmas lights
When: mid-November to mid-January
Where: all over London
Seeing the Christmas lights is one of the top free things to do in London in December. Take your own walking out if you like, or book onto an organised trip that will show you the city's finest illuminations. Locations range from Oxford, Carnaby, Regent and Bond Streets to Covent Garden, Southbank, King's Cross and more.
Discover 17 London Christmas lights locations here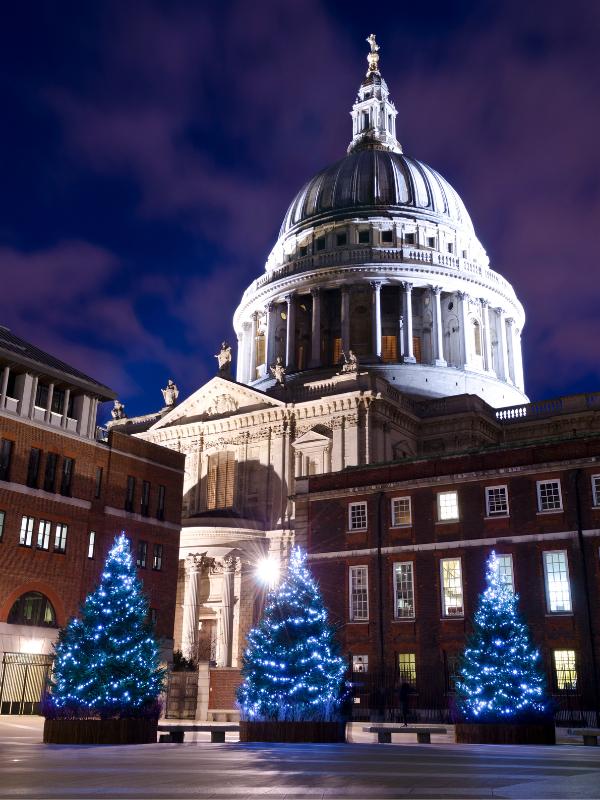 Experience Christmas at Kew
When: mid-November to early January
Where: Kew Gardens
Closest tube: Richmond
Christmas at Kew is held annually in southwest London. The illuminations here are out of this world, and though it's busy there's plenty of outdoor space and fresh air for everyone. Expect a glittering lake, flickering flames, sparkling trees, twinkling tunnels and food stalls – plus lots of festive good cheer.
Read all about Christmas at Kew here.
See Hogwarts in the Snow
When: mid November to mid January
Where: Harry Potter studios
Head out of London for one of the day trips from London in December. The Warner Brothers Harry Potter studios north of the city allows visitors to see Hogwarts in the Snow in December. The sort of realistic snow used in movie-making blankets everything in sight, transforming the sets into a truly magical winter landscape.
Find out more about Hogwarts in the Snow here.
Join a Christmas tour of London
When: throughout December
Where: all over London
If you want an insider's perspective on the city at Christmas, let an expert introduce you to the top December events in London via a guided tour. You can book walking tours, or explore the city from way up high on an open-top bus. From festive markets to church services and Thames cruises, there are lots of exciting options to choose from!
Click here to discover 22 of the best Christmas tours in London.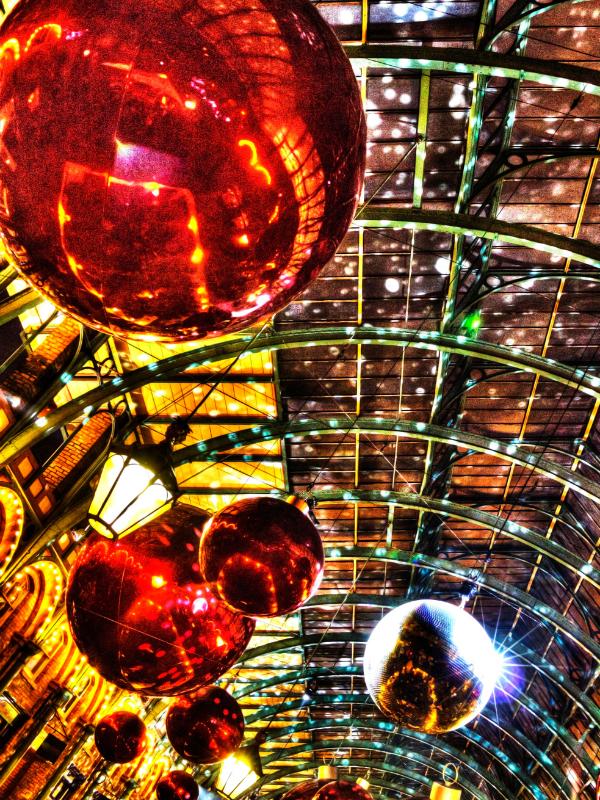 How will you enjoy London in December?
Is December the best time to visit London? If you love Christmas and all the sparkling lights, decorations and celebrations that go with it then yes, absolutely. Seeing the city in all its festive finery is an experience you'll never forget.
There are so many places to visit in and near London in December. As well as the capital's usual abundance of attractions and activities, there are plenty of special Christmas events to choose from.
Even if you simply wander the streets, dipping in and out of shops and enjoying the happy atmosphere, December in London is for many the most magical time of the year!
More resources for your trip
London Travel Guide & Itinerary Planner Ebook (+ 4 BONUS ebooks)