If you'll be visiting the UK capital and will be carrying more than a lightweight daypack with you, then you might well need to know where to leave luggage in London. Knowing where to store bags in London can literally take a load off your mind, as well as your body!
The options regarding where to store luggage in London include your hotel, left luggage facilities at train stations and airports, specialist storage companies, and even storage at the city's museums and galleries.
From left luggage facilities in London to 24 hour luggage storage in London or even long term luggage storage in London, you can find all the best luggage storage in London listed right here. Read on so you'll be in the know about where to store your bags in London!
Where to Leave Luggage in London
Specialist Storage Companies
Nannybag
Locations: Shops all over London
Prices: Flat fee of £6 per bag per day
Nannybag offers a simple solution to the problem of left luggage storage in London. They offer locations all over the capital. The fact that Nannybag charges a flat rate is also attractive, especially if you have heavy or large items to stow. At the time of writing, the rate is £6 per 24-hour period, so using Nannybag won't break the bank.
Cancellation and luggage protection cover is even included with these competitive rates. For bag storage in London, this price is pretty unbeatable. You'll need to book online or via the app, and pay in advance, as you cannot pay at the storage facility itself.
Nannybag does just what the name suggests – takes care of your bag when you don't want to. If you want London Underground luggage storage near a tube station, or a spot close to a landmark, the service is like a cloakroom for London. With Nannybag, your luggage may be safely stored at places like a shop, postal facility or supermarket.
Click here to book London luggage storage with Nannybag
Stasher
Locations: Hotels and shops all over London
Prices: From £4.99 per bag per day
Stasher was previously known as CityStasher and remains a very popular service for leaving luggage in London. Their slots tend to book up fast, so don't delay if you know when and where you want to stow your bags.
It's a pretty professional outfit, with free cancellation, plus full refunds offered should you be unhappy with the service you receive. Your luggage is safe as it's fully insured against damage, loss or theft too. It only takes a few minutes to make a booking, and 24/7 customer service support is available.
At the time of writing, current costs for left luggage in London start from £4.99 per day, per bag. Stasher locations across London include hotels, stores, newsagents and other local businesses. Stasher lockers for left luggage in London are snapped up quickly, so do book as far ahead as you can.
Click here to book luggage storage in London with Stasher
Train Stations and Airports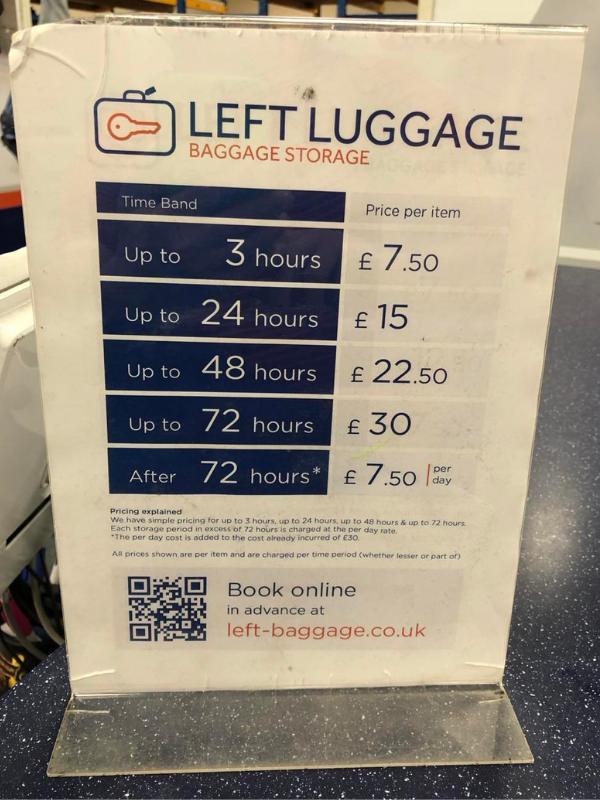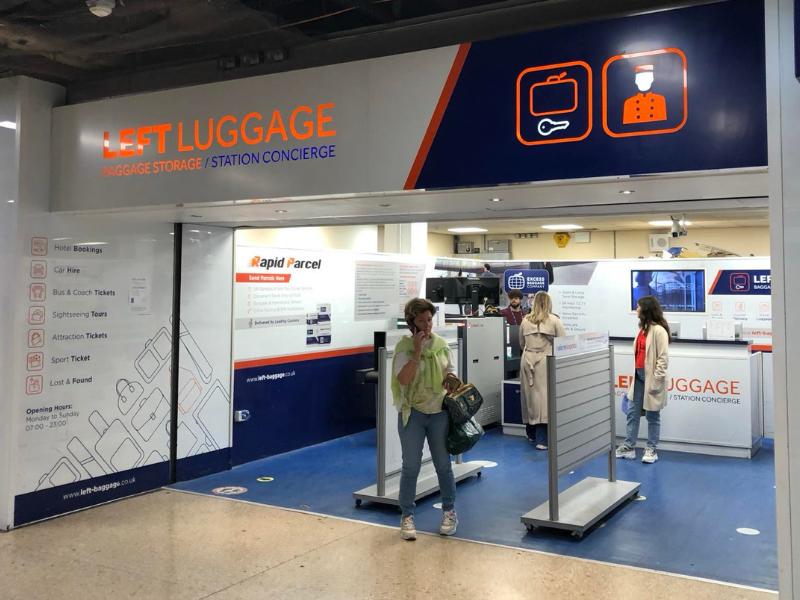 *Note these prices are from 2022
Locations: London train stations and airports
Prices: From £7.50 per bag for 3 hours
The Excess Baggage Company can help you out if it's London left luggage at an airport or train station that you seek. From Waterloo left luggage opening hours to storage at King's Cross, Victoria, St. Pancras International and more, you can find it all on their website.
Look for the Left Luggage signs at the major stations, too, and you'll access the storage lockers in central London and beyond that are operated by the Excess Baggage Company.
This company also offers luggage lockers in London airports, including Heathrow, Gatwick and Stansted. Prices vary according to the location, but train station and airport fees typically range from £7.50 for three hours or less to £30 for 72 hours and £7.50 per day thereafter.
Click here to book London Airport or train station luggage storage
Museums, Galleries and Attractions
If you only want to store your bags for a short time, or while you explore a London museum or gallery – then some of these locations do actually offer luggage storage in central London. You might need to use these anyway, as some museums don't allow backpacks or bags beyond a certain size for security reasons.
Here are some guidelines to follow for some of the major London galleries and museums. As well as their locations, so you can work out whether these might work for you.
📍 Location: Kensington
There is a free-to-use left luggage service here operated on a first-come, first-served basis.
📍 Location: Covent Garden
The cloakroom here is free to use, and has no weight or size restrictions.
📍 Location: Trafalgar Square
Find the cloakroom behind the information desk. Size restrictions apply, and you'll be charged £1.50 for each bag.
National Portrait Gallery
📍 Location: Charing Cross Road
The lockers here cost £1 to use, or a £2 donation is requested to use the cloakroom. You can store items for two hours maximum.
📍 Location: South Kensington
The Natural History Museum has a couple of cloakrooms. You can store bags until 5.45pm, and costs range from £3 to £6 depending on the weight.
📍 Location: South Kensington
You can keep luggage here until 6pm, and costs range between £2 and £4.
📍 Location: Millbank, City of Westminster
The Tate Britain cloakroom requests a donation of £4, and there are no bag size restrictions.
📍 Location: Southbank
Like the Tate Britain, the Tate Modern asks for a £4 donation to use its cloakroom. There's also lockers, which require a refundable £1 deposit.
Victoria and Albert Museum (V&A)
📍 Location: South Kensington
The V&A has a couple of cloakrooms, with a size restriction. You'll pay between £3 and £5, depending on your bag size.
Hotels
You may well be able to leave your bags at your hotel, before checking in or after checking out. Just ask at the front desk. Or you could contact them in advance if you want to make sure before leaving for London.
If this isn't an option – or you want to find a luggage hold in London in a more convenient spot – then you could use Stasher to find another hotel that will keep hold of your bags for you.
Where to Leave Luggage in London FAQs
Where can I store luggage in London?
You can find London lockers and other luggage storage in London via private companies such as Nannybag and Stasher. These use shops, hotels and other businesses to safely store your bags.
Airports and train stations also offer facilities to deposit luggage in London, and most of these are operated by the Excess Baggage Company. You may also find short-term luggage drop-off in London at an attraction, museum or gallery, or be able to leave bags at your hotel.
Do London tube stations have luggage storage?
Major train stations tend to offer an option such as left luggage at Victoria Station, as well as other main hubs. This is usually operated by the Excess Baggage Company. Underground stations don't offer locker rental in London, or any other kind of bag storage facility, however.
Some tube stations are attached to main stations though, so you can use, for example, Victoria station luggage storage.
Can I leave my suitcase at King's Cross?
There is a luggage drop in London at Kings Cross. Look for the Excess Baggage Company office on the main station concourse. This opens daily from 8 am to 9 pm.
The same company also offers bag storage at Charing Cross, Euston, Liverpool Street, London Bridge, Paddington, St. Pancras, Victoria and Waterloo.
Is luggage storage safe in London?
If you're concerned about the safety of your bags while they're out of your sight, then use a reputable London luggage storage company such as Stasher or Nannybag. Both offer cover for your luggage, included within their competitive rates.
Otherwise, your bags may be stored at your own risk – such as at your hotel. It might be worth checking the small print of your travel insurance policy in this case, as that might provide cover for lost, damaged or stolen luggage.
Where Will You Leave Your Luggage in London?
The good news is that there are some really safe and affordable ways to stow your bags safely in London.
From convenient luggage storage in Victoria Station or at an airport to short-term storage at a museum, there are options all over the city. You can also store your bags at a location such as a shop or hotel, when using a luggage storage company like Stasher or Nannybag.
So there's absolutely no need to lug those bags around all day! Leaving you free to get on with the important business of enjoying your time in the grand old city of London. And that's what you really want to do, right?