What to expect when you visit London in March – weather, what to see and do, what to pack and answers to frequently asked questions!
London is a fascinating city that is filled with rich history, diverse culture, and a host of incredible sights and attractions including amongst others Buckingham Palace, the London Eye, Trafalgar Square, the National History Museum, and the Tower of London.
Popular all year round London always has plenty to offer visitors. From the incredible displays and events during the festive season to the wonderful festivals and activities during the summer months, there's always something going on.
If you are planning to visit London in March you will be happy to learn that there are lots of fun activities to look forward to. In this article, we'll look at what you can expect when you visit plus tips to ensure you make the most of your time in London in March.
Visiting London in March – What to Expect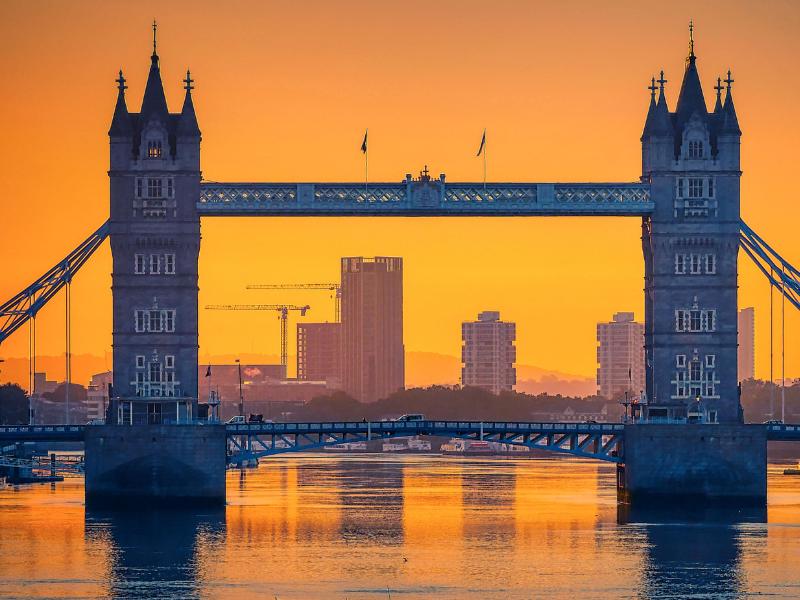 It is important to do your research if you're planning to head to London in March. This will help with everything from preparing yourself for the London weather and forming an itinerary to deciding what to wear, where to eat, and how to make the most of your time when visiting London.
So, let's take a look at some of the main things to consider when you're planning a March trip to London.
Weather
Of course, the good old British weather can be unpredictable at the best of times. However, you can still get an idea of what to expect in terms of average temperature if you come to London in March.
While it's the start of the spring season, the weather in London in March can still be pretty cold. Average daily temperatures in London during March can range from 4°C and 10°C. This means you need to wrap up warm most days, so don't put away your autumn and winter clothes just yet!
The majority of days should be dry when you visit London in March, but there's still likely to be some rain during the spring season, with an average of five days of rain. So, in addition to some warm clothes, make sure you pack an umbrella.
Daylight Hours
When spending time in London in March, you probably want to make the most of the daylight to enjoy the sights and attractions. It can help to know how many daylight hours you can expect when you visit in addition to the average temperature.
At the beginning of the month, sunrise is at 6.46 am with sunset at 17:40 pm. By the end of the month, sunrise is at 6:38 am* and sunset at 19:31 pm. This means you get between 11 and 13 hours of daylight to enjoy your time exploring London.
*Keep in mind, also, that on the last weekend of March, clocks go forward by an hour across the UK. This is Daylight Saving Time and helps to provide you with longer days by 'borrowing' an hour from the morning.
What to wear in London in March
As mentioned earlier, it can still be pretty cold in London at this time of year, so you need to pack accordingly to stay warm. Among the items you should pack are:
Warm coat
Sweaters or cardigans
Scarf, gloves, and hat
Clothes with long sleeves
Jeans or long trousers
Comfortable footwear such as sneakers or boots
Thick socks
Umbrella
Of course, you never know – you might be lucky enough to get a warmer day if you're visiting London in late March and early April. So, it's worth considering clothes that you can layer just in case temperatures do rise.
Also, remember that there's much to see and explore in London. With this in mind, make sure you pack warm clothing and footwear that is comfortable as well as practical.
Read more – Packing guides for visiting the UK in all seasons
Visiting London in March – FAQs
Is March a good time to visit London?
March is a great time for coming to London, as there's a lot going on. If you want to enjoy spending time outdoors but you want to avoid the crowds and heat of summer, March is a great option.
It's still cold, but there is plenty of daylight, particularly at the end of the month when the clocks move forward. You can, therefore, spend lots of time exploring the city and enjoying the many attractions and festivities, including the boat race, pancake day races, and the Irish culture and excitement of St Patrick's Day events.
Is the weather in London bad in March?
London's weather still tends to be cold, but it's also mostly dry in March, with just a few days of rain. So, as long as you don't mind wrapping up warm, you can spend lots of time out and about.
As you explore London, you can take in major attractions such as the British Museum, the Science Museum, Buckingham Palace, the London Eye, the Tate Modern, Sir John Soane's Museum, and much more.
Where can we go in London in March?
You'll find plenty of places to go when you visit London in March, and you can get around with ease using public transport such as the Tube, buses, Uber boats etc.
There are fun activities no matter what part of London you stay in.
From the St Patricks Day parade and West End theatre shows to the National Gallery at Trafalgar Square and Westminster Abbey, you will have plenty to add to your itinerary. Other places of interest include:
Buckingham Palace
Piccadilly Circus
Borough Market
St Paul's Cathedral
Tower of London and Tower Bridge
Are there many events in London in March?
March is a great time to head to London if you want to enjoy a host of events and festivities. The famous St Patrick's Day parade is one such event where you can immerse yourself in culture and excitement.
You can also enjoy celebrating Mother's Day and Pancake Day in the capital as well as enjoying events such as the London Games Festival and International Women's Day.
Best things to do in London if you visit in March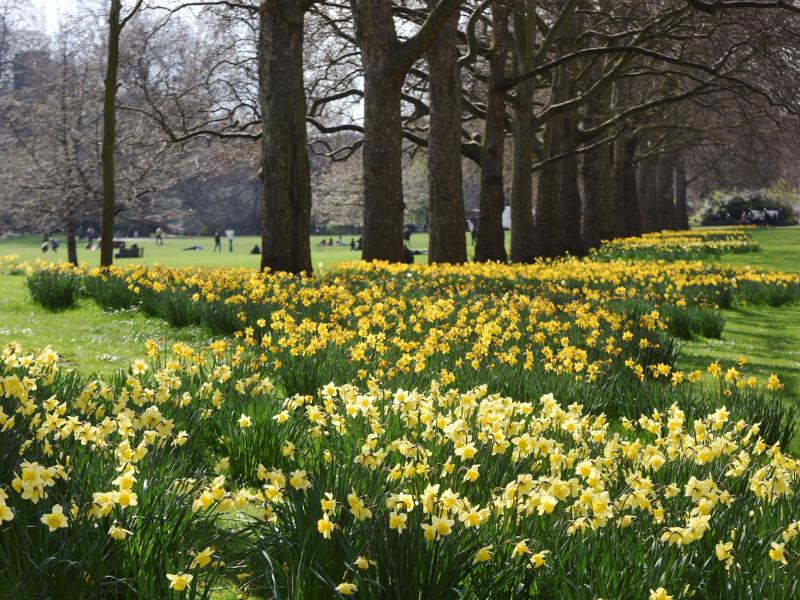 Gardens to visit
There are many beautiful gardens to enjoy when you head to London in March. This is one of the best months to take in the beauty of the gardens as they enter the spring season. Some of the options include:
Royal Botanic Gardens, Kew
Kensington Gardens
Syon House & Gardens
Hampton Court Gardens
Eltham Palace and Gardens
There are also some wonderful rooftop gardens you should pay a visit to, including the Sky Garden at Fenchurch Street and the Queen Elizabeth Hall Roof Garden.
London Parks
London has become known for its incredible green parks, and you should make a point of visiting at least a few when you come to London in March.
Some of the best-known ones to enjoy spring flowers such as crocuses and daffodils are:
Regent's Park
Hyde Park
Green Park
St. James' Park – daffodils
Greenwich Park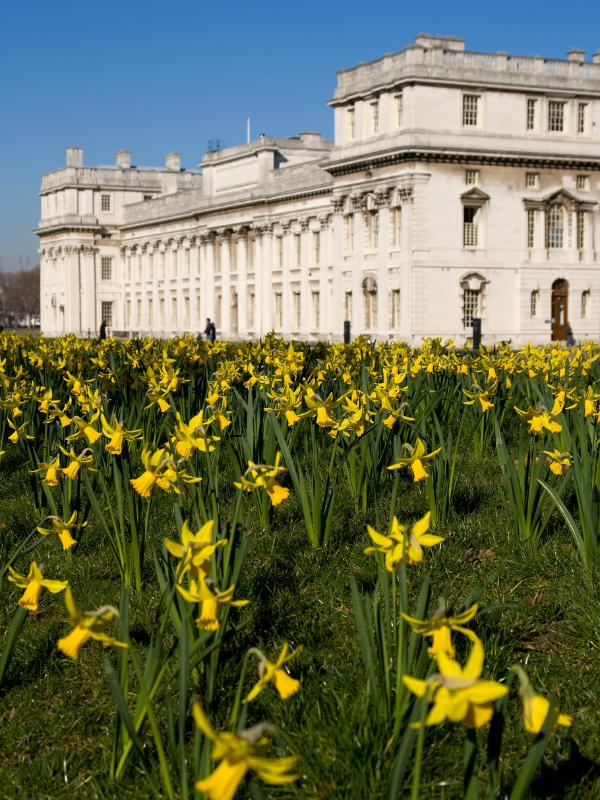 Events and Festivals
March is a perfect time to enjoy London, as it plays host to many events and festivities. Let's take a look at some of the options when you are in London in March:
Boat Race – Sunday, March 23rd 2023
Taking place along the famous River Thames in southwest London, the charity Boat Race has become a long-standing tradition that draws in hundreds of thousands of people.
Crowds flock to the banks of the Thames to watch the river race between Cambridge University and Oxford University.
Mother's Day – Sunday, March 19th 2023
Celebrating Mother's Day when you're in London in March is perfect, as there are so many options to choose from.
You can head to the theatre and enjoy one of the many West End shows, enjoy fine dining at one of the many upmarket restaurants, or indulge in one of a wide range of Mother's Day afternoon teas at places such as The Ritz, The Savoy, and Claridge's, to name but a few.
St Patricks Day Parade and Festival – Sunday, 12th March 2023
If you want to enjoy delicious Irish food and immerse yourself in rich culture, March is an ideal time to visit London because of the St Patrick's Day celebrations.
With parties, parades, and a host of activities, there is no end to the Irish cheer! London usually hosts a variety of celebrations and activities over two days in mid-March, so there is plenty of opportunity to get involved.
Orchid Festival at Kew Gardens – 18th Feb to 5th March 2023
If you're in London in early March, you can enjoy the outstanding beauty of the Kew Gardens Orchid Festival.
There are some stunning horticultural displays to view in the Princess of Wales Conservatory, and you can take in the incredible flower sculptures as well as the fantastic array of beautiful orchids.
Other Festivals held in London in March
During March you can also enjoy access to a host of other great festivals and events. Some of the ones you might want to add to your itinerary are:
Country to Country Music Festival – 10 Mar to 12 Mar 2023
London Handel Festival – 23 February-18 March 2023
The Other Art Fair – 9th to 12th March
Eat & Drink Festival – 17th March to 2nd April 2023
The London Games Festival – 29 March to 8th April 2023
A Wonderful Time to Enjoy the Capital
As you can see, March is a wonderful time to enjoy all that London has to offer. It is a hive of activity with a variety of exciting events and festivities taking place, so you can expect a fun and memorable London experience when you visit London in March.
London Travel Guide & Itinerary Planner Ebook (+ 4 BONUS ebooks)