Everything you need to know to plan and book your visit to St Pauls Cathedral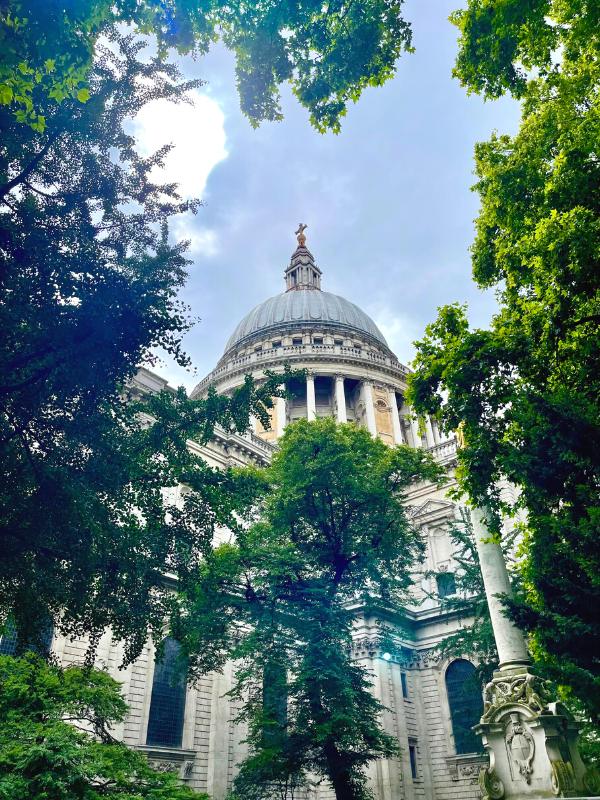 Visiting St Pauls Cathedral – Tickets & Tours
Nearest Tube station – St Paul's (Central line)
How long to set aside for your visit?
It will take about two to three hours to fully explore the cathedral, the crypt, the dome and the artwork.
---
Entry Tickets
Good to know – St Paul's Cathedral entry is included with The London Pass and the Go City London Explorer Pass
---
Combi tours
Private Combi Tours
Visiting St Pauls Cathedral FAQs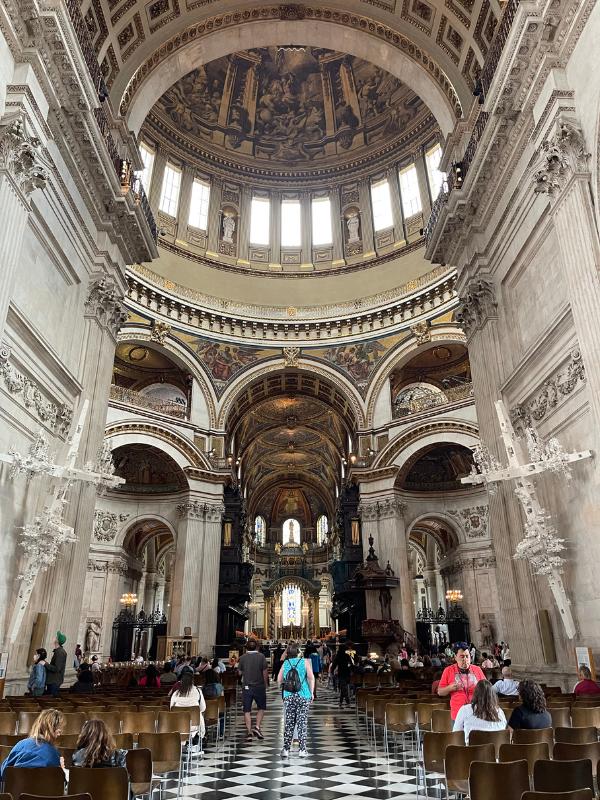 St Paul's Cathedral Facts and Figures
St Paul's isn't only a cathedral, it's also an art gallery. There are artworks on display here from various periods – and there are more than mere paintings. These include a Henry Moore sculpture, modern art, Victorian mosaics and many more.
Nowadays, St Paul's displays various art installations at the cathedral. Recent ones have included works by Angel of the North sculptor Antony Gormley and a Swarovski scientific collaboration.
The cathedral is also something of a movie star, and has also inspired various works. It's been seen on screen in the Harry Potter films, Lawrence of Arabia, Sherlock Holmes and more. The church has also been reproduced by various artists throughout history within their works.
St Paul's isn't the original church to stand on this site. In fact it isn't even the second or third, but rather the fourth. The one before was ruined by the Great Fire of London, and the current building is architect Sir Christopher Wren's masterpiece.
The location was chosen because Ludgate Hill is the City of London's highest point. Before London became as built-up as it is today, this meant the large church literally loomed over the city.
In fact Sir Christopher Wren was the first person to be buried at St Paul's. He died in 1723, and his tomb is inscribed in Latin. 'Lector, si monumentum requiris, circumspice' translates as 'If you seek my monument, look around you'.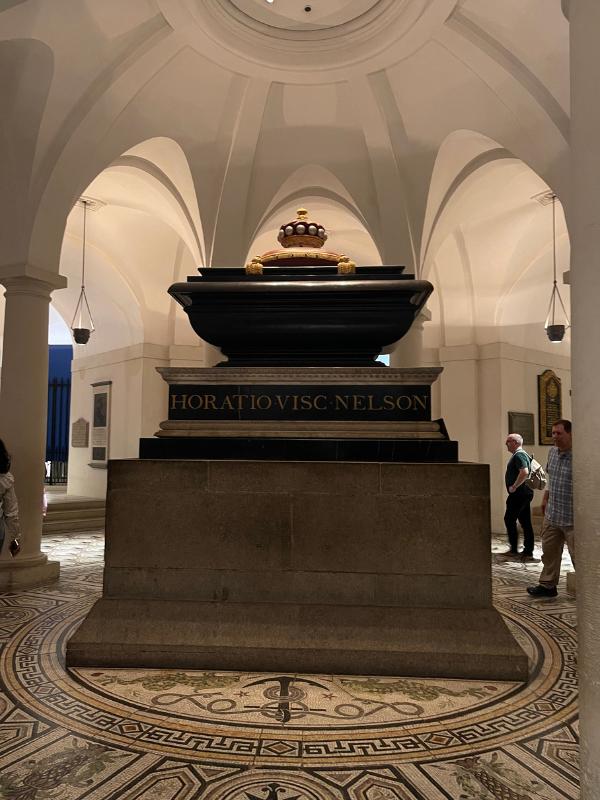 The crypts at St Paul's were also constructed for a reason other than housing the dead. The position close to the Thames meant the ground was marshy, so the crypts were built to hold up the structure. As well as to provide a final resting place.
The Whispering Gallery really does exactly what it claims to. At 30 feet (or 10 metres) above ground level, the walkway really does have the power to transmit even a whisper across the area under the dome. Why not see – or rather, hear – the magic for yourself when you visit?
St Paul's has one of the world's biggest domes, and is up there with the likes of the Pantheon in Rome. The dome is around 1,200 feet high – or 366 metres. You'll have to ascend hundreds of stairs to reach the top, but can stop for a rest en route at the Whispering Gallery.
Martin Luther King once gave a sermon at St Paul's Cathedral. This took place in 1964, four years before his assassination. There were over 3,000 people in the congregation. The famous Baptist minister and civil rights movement activist addressed the crowd with a sermon called Three Dimensions to a Complete Life
Being interred, celebrated or remembered at St Pauls is a great honour. A number of prominent British figures have been honoured here via a monument or funeral service. The list of luminaries includes wartime Prime Minister Winston Churchill, whose funeral was held here. Poets William Blake and John Donne, trailblazing nurse Florence Nightingale and the man who discovered penicillin – Sir Alexander Fleming – are all interred at the cathedral.
Suffragettes fighting for women having the right to vote once plotted to blast the cathedral to smithereens. Fortunately the battery-powered bomb they planted in 1913 was faulty, so it was all to no avail. Equal rights to vote were introduced around 15 years later, in 1928.
St Paul's was also bombed by the German Luftwaffe during the Blitz of the Second World War. Luckily the cathedral escaped relatively unscathed.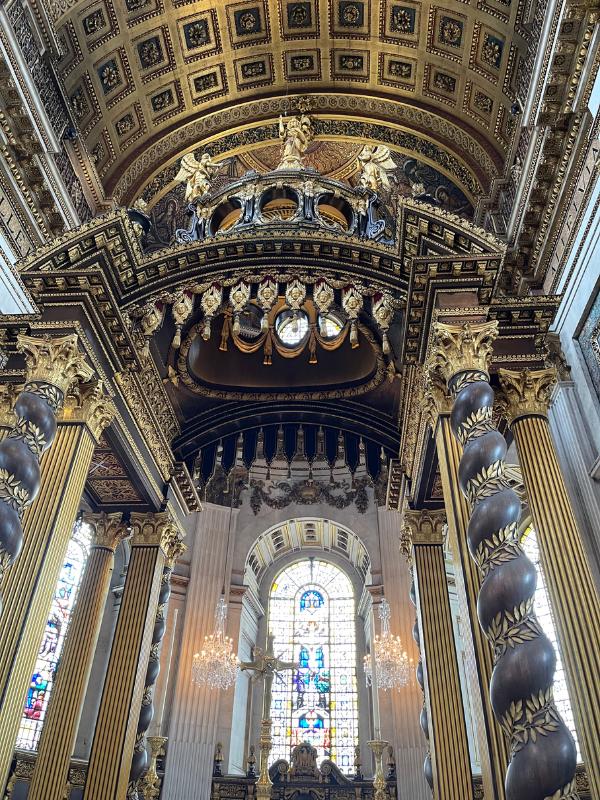 St Paul's Opening Times
St Paul's Cathedral is open between Monday and Saturday to visitors for sightseeing.

Typically the doors open at 8.30 am on these days, except for Wednesdays when they open a little later, at 10 am.
The last entry is usually at 4 pm.
Opening times can vary, especially when special services are planned. You can check the cathedral's What's On page to make sure it will be open when you visit.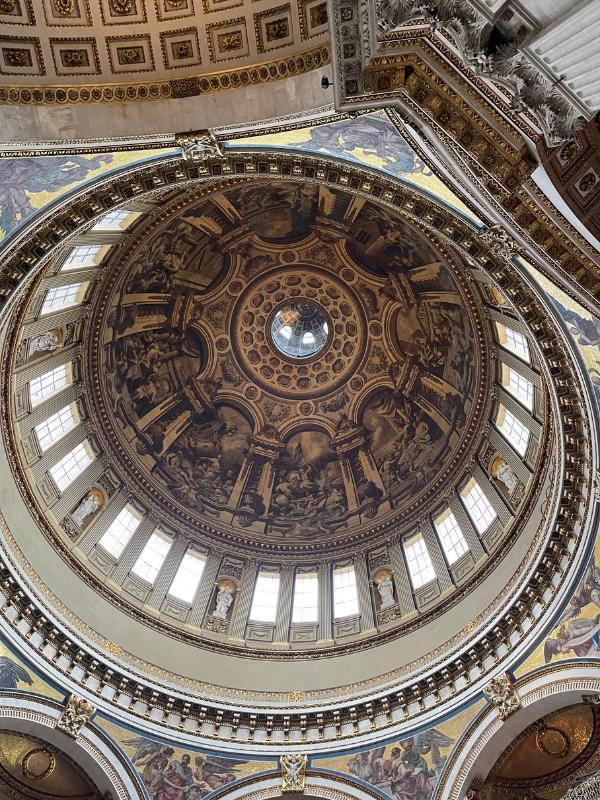 When is the best time to visit St Paul's?
St Paul's is open to visitors daily, except for Sunday. It normally opens at 8.30 am, or 10 am on Wednesdays, with the last entry at 4 pm.
If you can, visit on a Monday, Tuesday or Thursday. You can also visit on Wednesdays but do bear in mind the later opening time. The cathedral is less busy before midday, so visit in the morning if you can.
Unless you have no choice, Fridays and Saturdays are best avoided. This is because these are the busiest days.
The summer season also tends to be busier. In the UK, summer school holidays take place between mid-July and early September. You can expect St Paul's to be busy during this period. Tourists from other countries often visit the UK in summer for better weather, and European school holidays also take place at a similar time.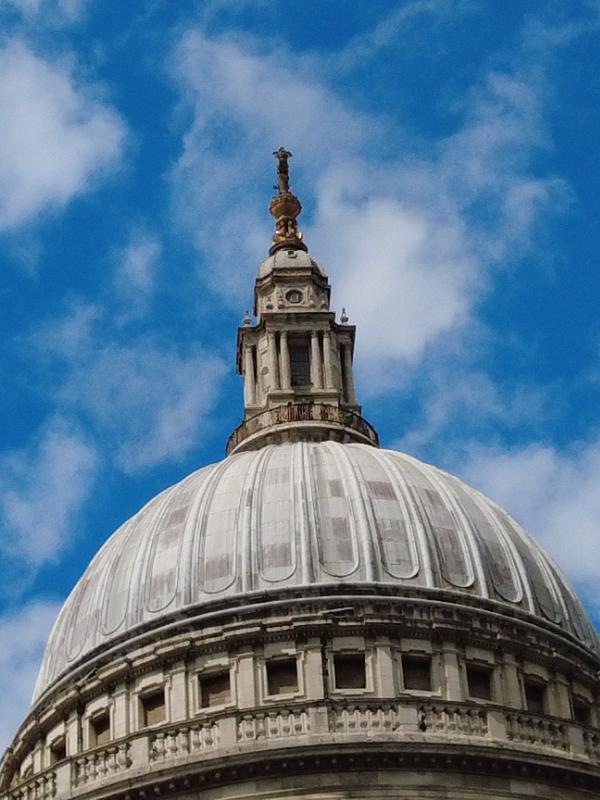 What to see at St Paul's
Though it's a notable landmark and an iconic part of the London skyline, there's more to St Paul's than its famous dome.
During a visit, people will typically explore the main cathedral area, discover the secrets of the crypt and scale the dome – via the Whispering Gallery.
Art at St Paul's
As mentioned above, there's a large collection of classic and contemporary art at St Paul's. This spans various eras and genres. As you might expect, the artworks displayed here tend to have a spiritual theme.
Notable works include William Holman Hunt's The Light of the World painting and the modern Henry Moore Mother and Child sculpture.
Services at St Paul's
You can also attend services and special events at St Paul's. By doing so you can see this London icon as a working cathedral. You can also hear the choir sing and listen to other musicians. Services are free to attend and are open to people of all beliefs.
Members of the public are also welcome to pray in St Dunstan's chapel whenever it is open. You can find the current St Paul's programme of services here, which includes those for morning prayer, Eucharist, Choral Evensong and more. Do note that some special events and services are ticketed.
What other UK attractions are located near St Paul's?
If you are visiting St Pauls Cathedral why not include some other attractions located in the vicinity?
Great Fire of London monument
Tips for planning your visit to St Paul's
Buy tickets for St Paul's in advance if you can. This means you can avoid queueing up – or waiting in line – to get in. It's often very busy, especially on weekends and in summer.
Ideally, try to visit on a Monday, Tuesday or Thursday before noon. On these days you can usually enter the cathedral from 8.30 am.
Do allow extra time for the artworks if these interest you. They're one of the hidden treasures of St Paul's, which acts as a prominent gallery as well as a church.
If you can and want to, attend a church service at the cathedral free of charge. This will give you an insight into how the famous building works as a house of worship. Services are open to people of all faiths and beliefs, and you may get to hear the choir sing.
Wear decent footwear if you plan to scale the mighty dome. There are hundreds of steps to climb before reaching the top – though it is well worth the effort. Don't forget to stop on the way up (or down) at the Whispering Gallery.
Oculus – or the 'eye to St Paul's' – is capable of delivering a quick history lesson. Stop by if you want a whistle-stop tour of the cathedral's past.
If you're in the vicinity on a Sunday, you cannot enter the cathedral for sightseeing. But what you can do is hear the church bells ringing out across London's rooftops. It's music to the ears of locals and tourists alike.
There's a City Thameslink station almost as close to St Paul's as the tube station named after it. Walking from here only takes a minute or so longer than from the underground, and it may be more convenient depending on where you're coming from.
An audio guide is included with your entry ticket and is available in a number of languages. By using this, you can take a self-guided tour of the cathedral.
The cathedral has a cafe and a gift shop. Ideal for taking a break, refuelling or picking up souvenirs of your time in London.
Finally, do check the What's On calendar before you go. As a working church, opening times for sightseeing here can vary.
London Travel Guide & Itinerary Planner Ebook (+ 4 BONUS ebooks)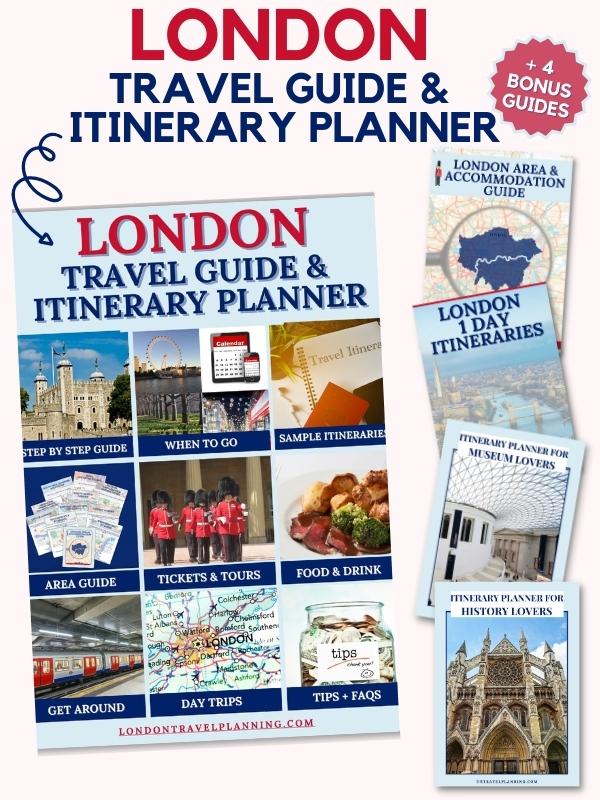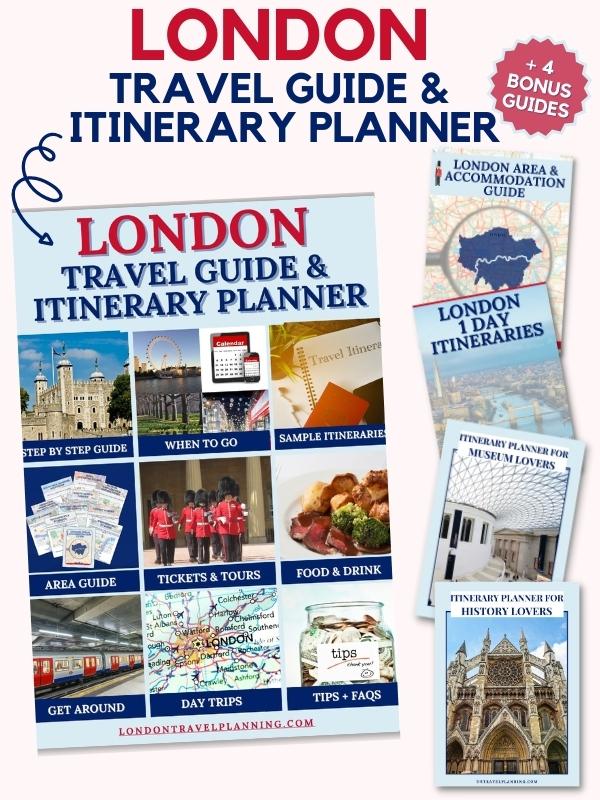 More to see in London