🇬🇧 Looking to promote your brand to thousands of UK-bound travellers? We can help!
London Travel Planning and its sister site UK Travel Planning are quality travel resources which provide practical information, resources and inspiration to people from all over the world planning their trips to, and around London and the UK. We provide a wealth of information about London and the UK to help our audience plan their UK trip from start to finish.
We aim to remove the overwhelm of trip planning by providing practical tips and advice such as how to get around London and the UK, what sim card to buy or even what to pack for a London or UK holiday.
Our destination-focused travel guides provide inspiration as well as practical advice including easy-to-follow itineraries, best tour options, and recommended places to stay.
We are dedicated to producing top-quality content for our readers. In addition, we are very strong in SEO and reach people who are searching for UK destination information.
Between our websites, podcast, social media channels and email list, London Travel Planning and UK Travel Planning provide a great way to reach thousands of travellers all interested in UK travel.
We can help promote your brand to our audience (Want to know what our audience has to say about us? Read audience reviews here)
What can we do for you?
We aim to create win-win relationships and offer multiple ways to reach a valuable audience of over 38,000 travellers every month.
The exposure and influence we provide your brand will ensure that our readers think of you first when planning their London and UK travel.
Benefits of our partnership
Increase your destination/brand awareness and ensure our readers think of you when planning their UK travel.
Our readers will associate your brand with our trusted brand.
Reach a targeted audience – our audience includes people travelling to and in the UK. Our audience comes from all over the world with the majority from the UK, USA, Canada and Australia.
We are highly skilled at SEO and ensure our articles have the best chance of ranking in search engines. We often rank on the first page for search terms which translates to increased search engine visibility and rankings for your brand or destination (please note all links are no-follow/sponsored)
Continual content marketing as our reviews and articles stay on our site forever. They will continue to influence future travellers to the UK for years to come.
How can we work together?
There are many ways we can work together from reviews to advertising. We are also available for paid press trips.
Here are some details about the common ways brands can choose to work with us, but we will consider whatever you have in mind.
⭐️ Sponsored content packages
⭐️ Affiliate Marketing
⭐️ Partnerships
⭐️ Sponsored Podcast episodes
Contact us for our media kit and information on each of the services we offer. Let us know your preferences, goals and budgets and we can create a promotional package for you.
Contact us – info@uktravelplanning.com
Recent partnerships (with UK Travel Planning)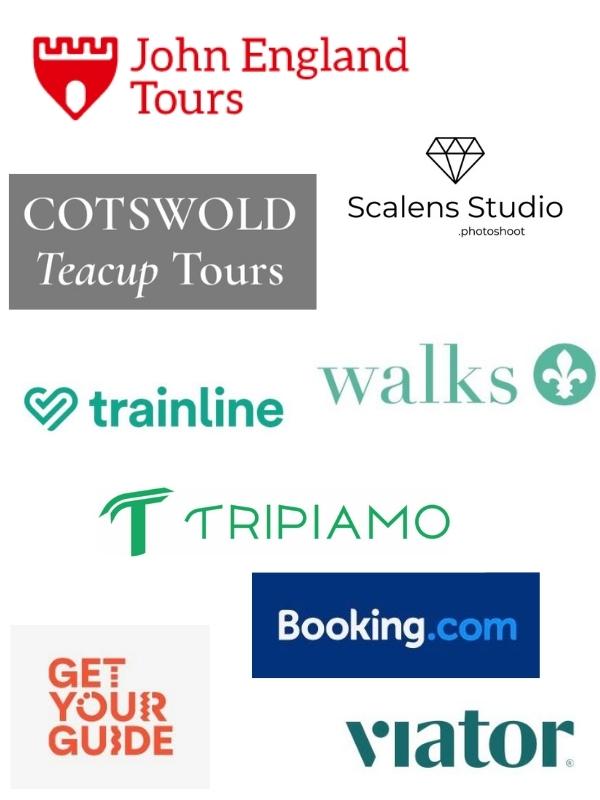 Monthly stats (UK Travel Planning)
Website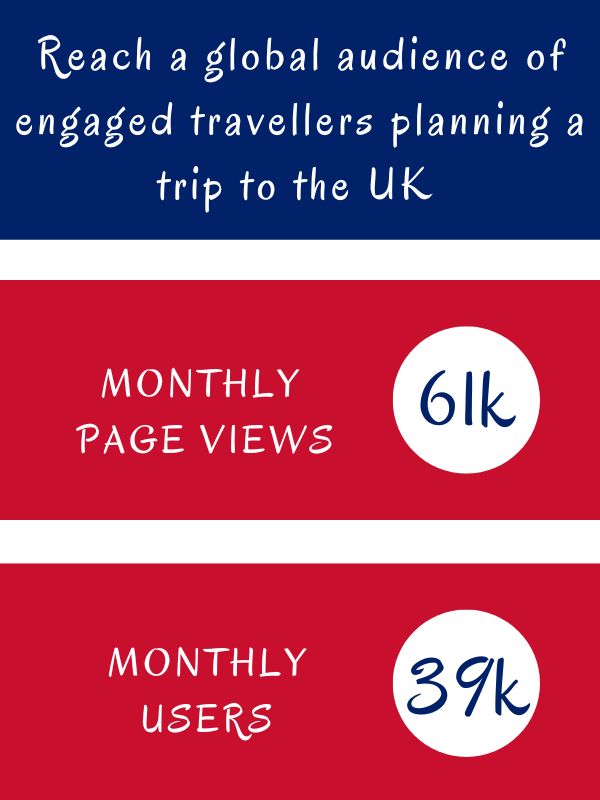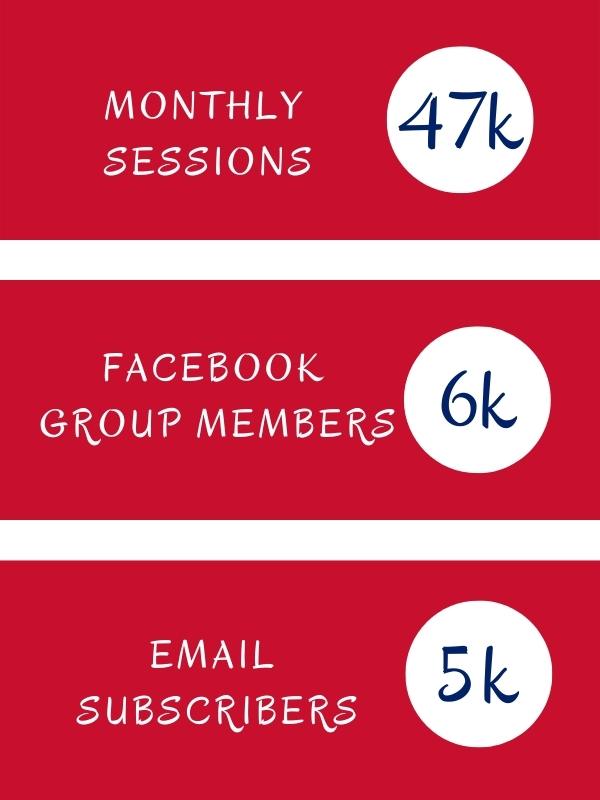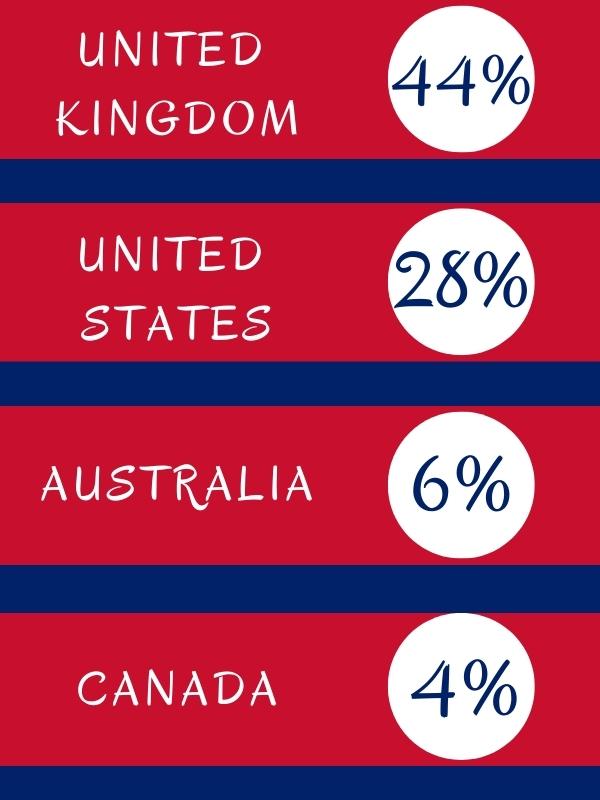 UK Travel Planning Podcast
New podcast episodes are released weekly.
Average downloads are around 1000 per week and growing rapidly.
We have listeners around the world with the majority US based.
Opportunities for brand promotion include a mention during the episode, insertion of a pre-recorded segment or sponsorship of an episode/s.
Contact us for further details.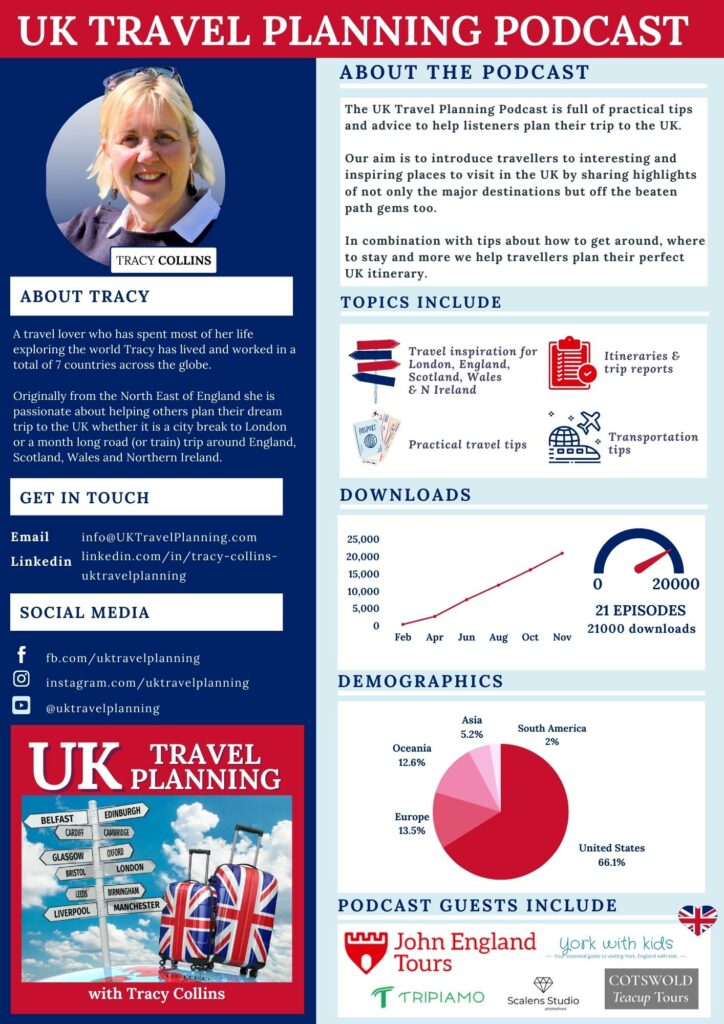 👫 About Us
We are Tracy and Doug Collins, a British couple who love to show off the beauty and diversity of the UK and help travellers plan their perfect UK vacation.
Our content is aimed at all types of UK-bound travellers including solo, couples, groups and families whether they prefer tours or are on a tight budget.
We have both travelled extensively around the UK and combine our wealth of knowledge and experience with detailed research to make sure we provide the right information for our readers.
Contact us
We can be contacted via email at info@uktravelplanning.com
We will then discuss various options with you. We look forward to hearing from you!
Please note: We DO NOT sell links on this site and all emails about this will be ignored or marked as spam. You can find our privacy policy here.