London is a fantastic and diverse destination to visit but to fully appreciate all that the UK has to offer, you need to take day trips from London to visit other locations around the country.
Taking a day trip from London will allow you to visit the British countryside or a traditional seaside town as well as historic market towns, cathedral cities and quaint villages across the country. You will learn so much more about the UK and British culture and history than if you just stay in London.
You can travel to iconic locations such as the White Cliffs of Dover or Oxford University, ancient castles such as Windsor Castle or Hampton Court Palace, dip your toes in the sea at Brighton or learn about British history in Viking York, Elizabethan Stratford Upon Avon or at Neolithic Stonehenge.
London has excellent road, bus and rail links which makes all of these sites – and many more – accessible on a day trip from the capital. Whatever your travel preferences or interests, there is a day trip from London to suit you.
Day trips from London by car or by tour
Some rural or spread out locations are best reached by car from London or as part of a tour.
You can travel to the following locations by public transport but it will involve multiple changes or using taxis. Plus, self-driving or a tour will allow you to combine several locations in one day trip to make the most of your time in the U.K.
The Cotswolds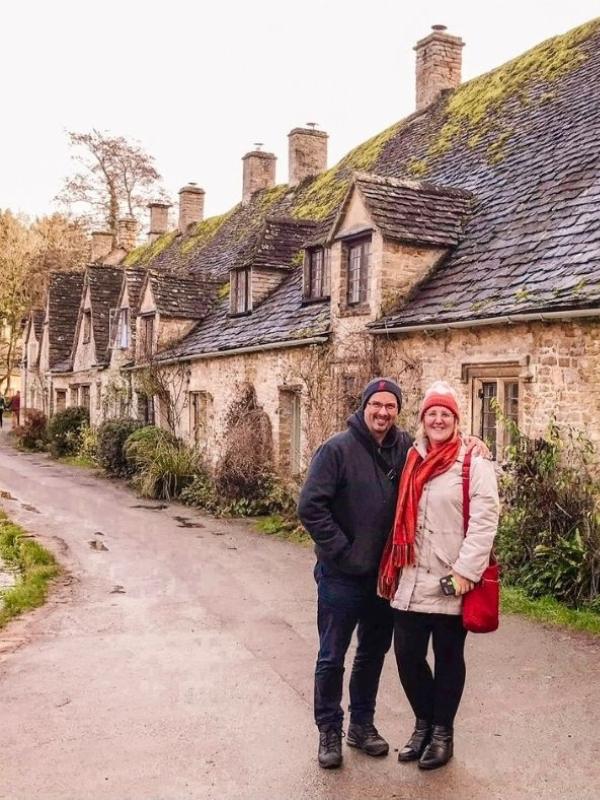 The Cotswolds is an Area of Outstanding Natural Beauty that covers over 780 square miles and parts of several English counties. It is known for its idyllic stone villages and rolling green landscapes and perfectly encapsulates the traditional image of rural England.
Visiting the Cotswolds involves several different towns and villages rather than just one village. This is best done by car or on a tour though you can also walk between some Cotswold villages on rural footpaths.
Highlights of The Cotswolds include a wander along Copse Hill Road in Lower Slaughter or a visit to the picture-perfect thatched weavers cottages on Arlington Row in Bibury. Tour the Model Village or the Motoring Museum in Bourton on the Water or cross its famous, much photographed stone bridges. Don't miss Stow on the Wold, Chipping Camden or the idyllic Castle Combe.
Attractions for kids include the Cotswold Wildlife Park, Birdland and the Gloucestershire Warwickshire Steam Railway.
Unmissable attractions in the Cotswolds are Blenheim Palace, the UNESCO listed birthplace of Winston Churchill, plus 1,000-year-old Sudeley Castle and the 11th-century Warwick Castle.
How to get to the Cotswolds from London
The best way to get to, and explore, the Cotswolds is by car or by tour.
Self driving from London to Bibury in the heart of the Cotswolds will take approximately 2 hours.
Public transport between the Cotswolds villages is limited.
⭐️ Our recommended tour – enjoy a private driver guided tour of the Cotswolds with our preferred partner Victoria of Cotswold Teacup Tours
Victoria has been a guest on the UK Travel Planning podcast on a number of occasions (listen here) – Click here for more information about Cotswold Teacup Tours.
Highclere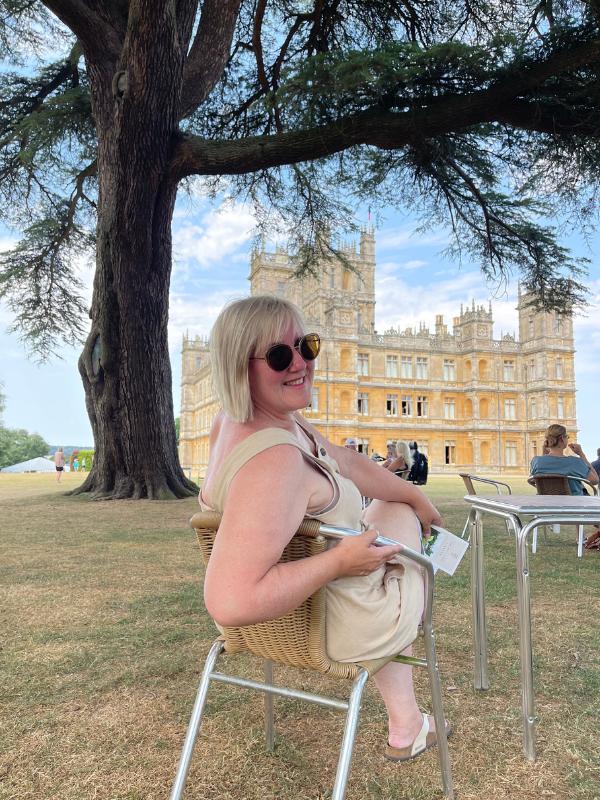 Highclere Castle is a must visit for fans of 'Downton Abbey.' The Hampshire stately home dates back to the 17th century and has also featured in 'Robin Hood Prince of Thieves' and 'The Missionary'.
The 5,000 acre estate and Grade I listed castle is currently owned by the Earls of Carnarvon. The 5th Earl of Carnavaon is best known as the financial backer behind the expedition that found the tomb of Tutankhamun in 1922. Today, Highclere Castle cellars hosts an exhibition all about the famous expedition.
Visitors can tour fully furnished bedrooms, state rooms and entertaining rooms as well as the original staff quarters; most of which you will recognise from 'Downton Abbey.'
Make sure you leave time to explore the formal castle gardens and parkland which were designed by the famous landscape architect Capability Brown and contain six follies.
Tip – To avoid disappointment we recommend booking as far ahead as possible for Highclere as tickets are snapped up quickly!
How to get to Highclere from London
It is a 1 hour 20 minute drive from London to Highclere. Alternatively, you can take a train from London Paddington to Newbury (a 40 minute journey) but you will need to take a taxi for 8 miles to reach Highclere.
Popular tour options include
Stonehenge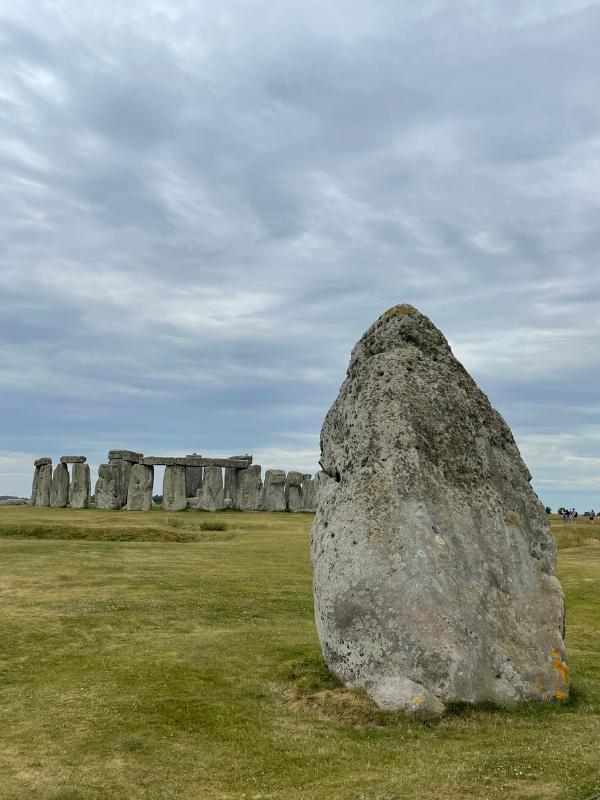 The UNESCO listed Stonehenge is one of the UK's most famous and most recognisable landmarks. It is situated on Salisbury Plain in Wiltshire.
Stonehenge was built between 3000 and 2000 BC but experts are still not sure why – or how- it was built. What we do know is that Stonehenge was constructed to align with the sunrise on both the winter and summer solstice.
The ancient site consists of an outer ring of standing stones with horizontal stones on top; how the 25 ton stones were lifted into place in Neolithic times is unknown. The inner ring of stones has mostly freestanding stones.
There is an excellent visitors centre on site which helps to explain the history and theories around Stonehenge. It is a 30 minute walk to the stones from the visitor's centre but there is also a free bus available.
How to get to Stonehenge from London
Self driving from London to Stonehenge will take around 1.5 hours, depending on traffic.
A trip to Stonehenge will only take a couple of hours so you can combine your trip with a visit to nearby Bath or Salisbury.
It is possible to get to Stonehenge by a combination of train and bus but it is time-consuming. You will need to catch a train from London Waterloo to Salisbury (1 hour 20 minutes) from where you catch a bus to Stonehenge (a 30-minute journey plus waiting time).
If you choose to travel to Stonehenge by public transport, you could spend time in Salisbury to make the most of your day trip from London.
Popular tour options include
Day trips from London by train – under 1 hour
Hampton Court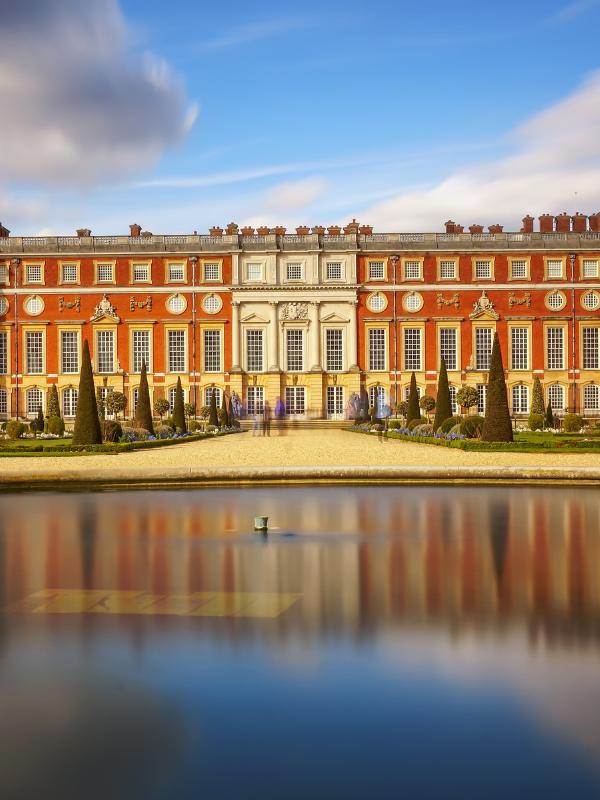 This world-famous royal palace is situated southwest of central London in Richmond upon Thames. The 16th century Grade I listed building has been home to royal monarchs for centuries; Henry VIII is its most famous resident.
Highlights of the palace include the Great Hall with its highly decorated roof and wall tapestries, the elaborate state apartments of William III, the Haunted Gallery and the enormous palace kitchens.
Hampton Court Gardens are as famous as the palace and feature the formal Privy Garden, the Kitchen Garden and a huge 300 year old maze.
After exploring the palace, enjoy a cruise along the River Thames or take a stroll in Bushy Park, a 15 minute walk from the palace.
Alternatively, catch a bus from outside Hampton Court to nearby Richmond town centre (a 40 minute journey). Richmond is an attractive riverside town and the filming location for the hit TV show 'Ted Lasso'.
Go for a walk on pedestrianised paths by the River Thames or in Richmond Park which is famous for its deer herds. To return to central London, you can catch a District Line tube from Richmond station.
How to get to Hampton Court Palace from London
Catch a train from London Waterloo to Hampton Court station (a direct journey of around 35 minutes) from where it is a five minute walk to the palace entrance.
If you have time, you can also catch a slow but scenic boat from central London all the way to Hampton Court with Thames River Boats.
Read more about how to get to the Palace in our dedicated article which compares the various transport options.
⭐️ Our recommended tour – enjoy a private Tudor day tour to Hampton Court Palace and Hever Castle with John England Tours our preferred partner for historic tours of South East England
John has been a guest on the UK Travel Planning podcast on a number of occasions (listen here) – Click here for more information about John England Tours.
Other tours available include
Kew Gardens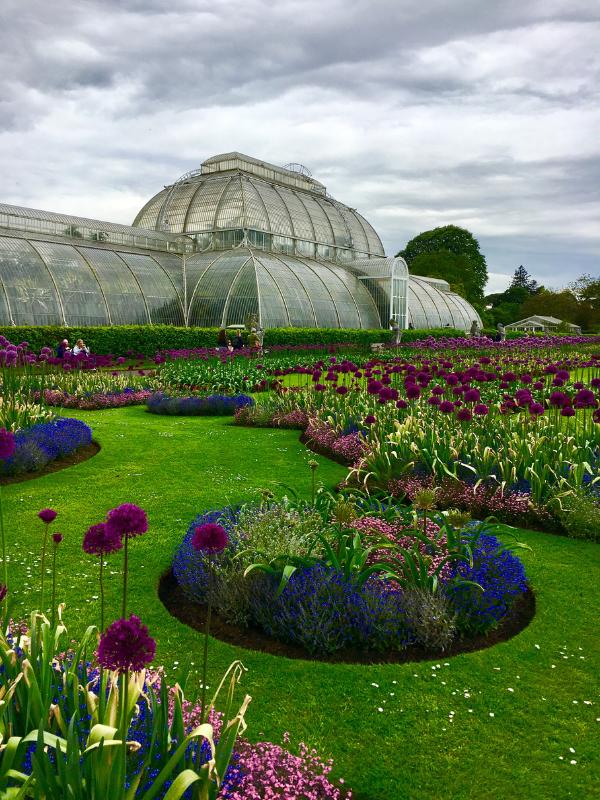 If you like plants, the Royal Botanic Gardens (colloquially known as Kew Gardens) is a must visit.
The UNESCO World Heritage Site is home to over 50,000 plants; 10,000 of which are situated in the Temperate House, the world's largest Victorian glasshouse.
Other highlights include the Great Pagoda, the Edible Garden, the Palm House, and my personal favourite, The Rose Garden.
There is a land train for visitors with limited mobility and a daily programme of talks and tours that are included in your admission ticket.
How to get to Kew Gardens from London
Catch a train from London Waterloo or Clapham Junction to Kew Bridge Station, a 28 minute journey. From here it is an 800 metre walk to Kew's Elizabeth Gate entrance.
Alternatively, take a District Line tube from central London to Kew Gardens station from where it is a 500 metre walk to the Victoria Gate entrance.
Ticket options include
Harry Potter Studios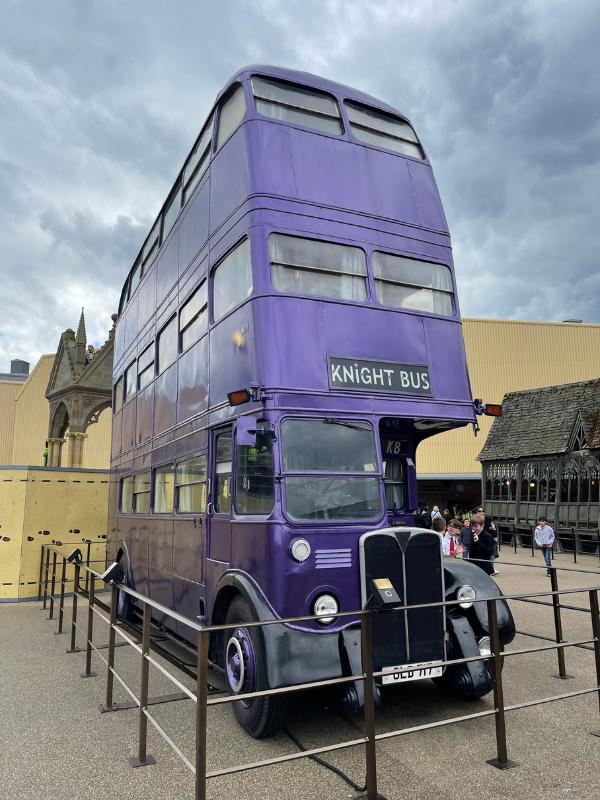 Whether you are travelling to London with kids or not, the Making of Harry Potter Studio Tour is a fantastic and fun day trip from London.
During the self guided tour you can see various sets from the movies including the Great Hall, Privet Drive and Diagon Alley as well as an array of costumes and props.
You will discover the clever special effects used in the movies and see original storyboard drawings and models in the Art Department. Don't miss the Creatures Effects to learn how magical creatures such as Buckbeak were brought to life in the movies.
The Studios have special themed events for Christmas and Halloween but whatever time of year you choose to visit, pre booking well in advance is essential.
How to get to Harry Potter Studio Tour from London
The Studio Tour is in Leavesden, Hertfordshire, northwest of London. Catch a train from London Euston to Watford Junction, a short 20 minute journey.
Exit the station and pick up a Warner Bros shuttle bus for the 15 minute ride to the studios.
Popular tour options include
Windsor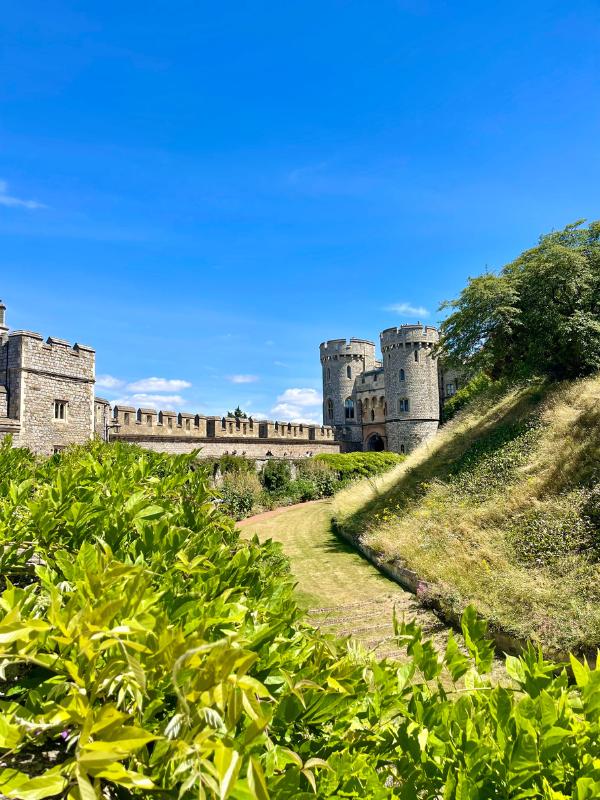 The historic town of Windsor is west of London in the county of Berkshire. It is the home of Windsor Castle, which is still used as a royal residence today.
The castle dates back to the 11th century and was built by William the Conqueror. It is one of the worlds' largest and oldest royal residences and is everything you imagine a castle to be with thick stone walls, turrets and imposing entrances and gateways.
Visitors can tour the opulent State Apartments, the Semi State rooms and the ornate St George's Chapel where the royal family have been married and buried for centuries.
Highlights of the Castle include Queen Mary's fully furnished doll's house (complete with electric lights) which is a fascinating mirror of its time. Make sure you time your visit to coincide with the ceremonial Changing of The Guard.
Allocate time in your day trip from London to explore the town of Windsor which offers pedestrianised streets, quirky buildings (including The Crooked House) and boutique shops.
If the weather is good, take a stroll along the Long Walk in Windsor Great Park or enjoy a scenic boat trip along the River Thames.
How to get to Windsor from London
Take a direct train from London Waterloo station to Windsor and Eton Riverside; a journey of around 25 minutes. There is a faster train from London Paddington but you will need to change trains at Slough to reach Windsor Central.
Tours to Windsor Castle are often combined with other popular destinations including
Day trips from London by train – over 1 hour
Brighton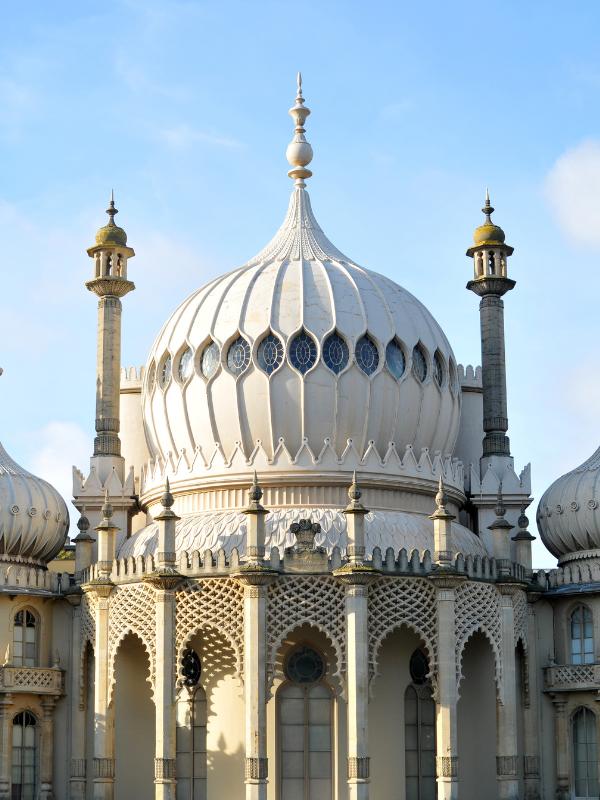 Escape busy London for a breath of fresh sea air at Brighton on England's south coast.
Brighton is a colourful, laid back town with a quintessential British yet bohemian vibe.
Take a stroll along the promenade, sunbathe on the pebbly beach and visit the Victorian era Brighton Pier. Pop into the Brighton Museum and Art Gallery and go shopping in the independent shops along The Lanes. If you love vintage fashion, don't miss the shops on North Laine.
An unmissable Brighton attraction is the quirky and historic Royal Pavilion which was built as a summer home for King George IV in the early 19th century.
The exterior of The Pavillion looks like it belongs alongside the Taj Mahal. The interior has a very different Oriental style decor and visitors can see lavish state rooms, luxury bedrooms and the opulent Saloon and Banqueting Room.
How to get to Brighton from London
Catch a train from London Victoria to Brighton station, a journey of approximately 1 hour. There is a slightly longer 1 hour 15 minute train from London Blackfriars station.
Brighton Pavillion is a 12 minute walk from the train station whilst Brighton Pier is 25 minutes on foot.
Tour options & activities in Brighton include
Dover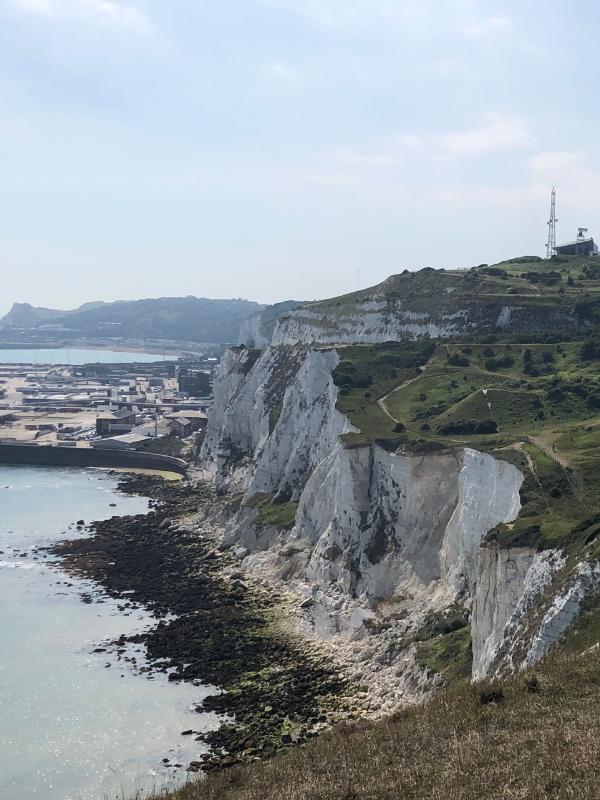 If you want to visit one of the most iconic sights of the U.K – the White Cliffs of Dover – take a train to Dover in Kent, southeast of London.
The imposing chalk white cliffs are etched into the British psyche and are today managed by The National Trust. Visitors can walk scenic cliff top paths for fantastic views of the cliffs, visit South Foreland Lighthouse or explore Fan Bay Deep shelter tunnels, a remnant from World War II.
Also worth a visit is the 2,000 year old Dover Castle featuring a Norman keep and a Saxon Church, the free to enter Dover Museum and the moving Battle of Britain Memorial.
If you are travelling in the summer months you can also visit the Roman Painted House. These ruined remains date back to AD200 and contain elaborate wall murals and an almost complete underfloor heating system.
Dover can be combined on a long day trip with nearby Canterbury or, if you are self-driving or part of a tour, with Canterbury and Leeds Castle.
How to get to Dover from London
Catch a train from London St. Pancras International to Dover Priory, approximately 1 hour 10 minutes by train.
From the train station it is a 10 minute walk to Dover Museum, 20 minutes to Dover Castle and a steep 45 minute walk (or 5 minute taxi ride) to the white cliffs.
Popular tour & ticket options include
Canterbury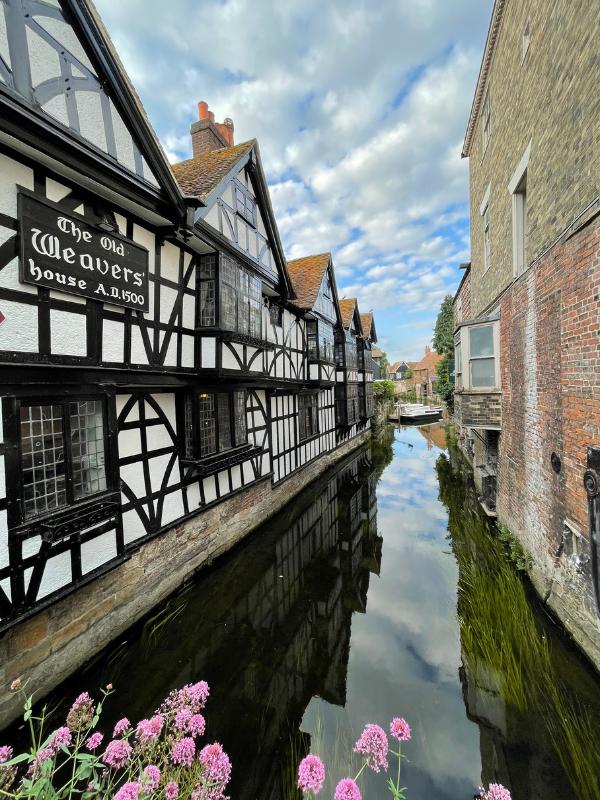 Canterbury is a historic pilgrimage site and the home of the UNESCO listed Canterbury Cathedral. It is situated in Kent, south east of London.
The compact city has a pedestrianised city centre which is lined with attractive mediaeval era buildings culminating at West Gate, the last of the city's mediaeval era gateways.
At the heart of the city lies Canterbury Cathedral, home of the head of the Church of England. Established by St.Augustine in 597 AD, the cathedral became a pilgrimage site after the murder in 1170 of the then Archbishop, Thomas Becket, inside the cathedral. It is also the burial site of Henry IV and Edward the Black Prince.
There are also two other UNESCO listed sites in the city – the remains of St Augustine's Abbey and St. Martin's Church, England's oldest still in use church.
If you have any time left in your busy day trip, take a boat trip on the River Stour, visit the Roman Museum or the eclectic Beaney House of Art and Knowledge.
How to get to Canterbury from London
Catch a train from London St. Pancras to Canterbury West, a short 1 hour trip.
However, I recommend taking the longer 1.5 hour train from London Victoria to Canterbury East as Canterbury East is the closest station to the cathedral (a short nine minutes walk away).
Popular tour and ticket options include
Salisbury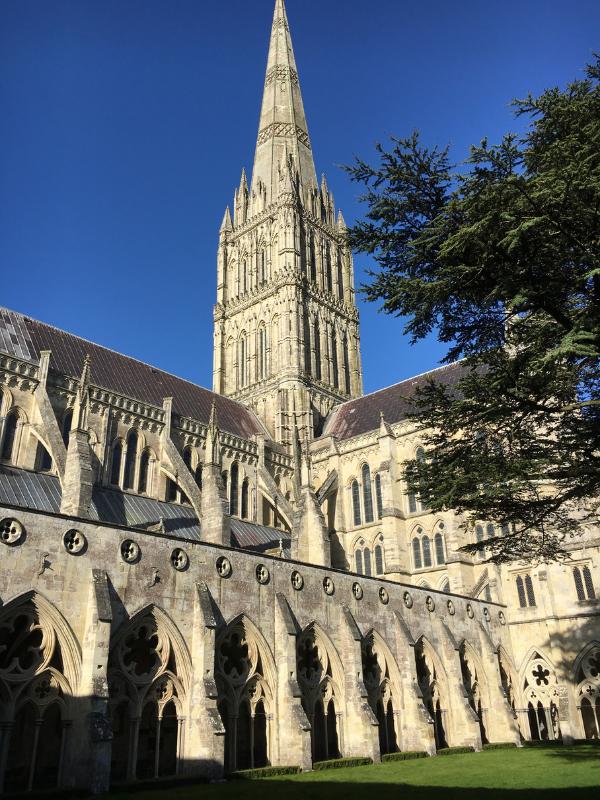 A day trip to Salisbury should start at the city's 13th century cathedral which boasts the tallest church spire in England (123 metres tall). The cathedral's Chapter House is home to one of only four copies of the Magna Carta which is on public display.
Explore the 80 acre Cathedral Close and visit the late 17th century Mompesson House. See the Bronze and Iron Age artefacts at the Salisbury Museum or complete the 2 mile circular walk around Harnham Water Meadows, a favourite painting spot of John Constable.
How to get to Salisbury from London
Catch a train from London Waterloo to Salisbury, a journey time of 1 hour 20 minutes.
As previously mentioned, you can combine Salisbury with Stonehenge on a day trip from London. From Salisbury, catch a public bus for 30 minutes to reach Stonehenge.
Popular tour options include
Stratford Upon Avon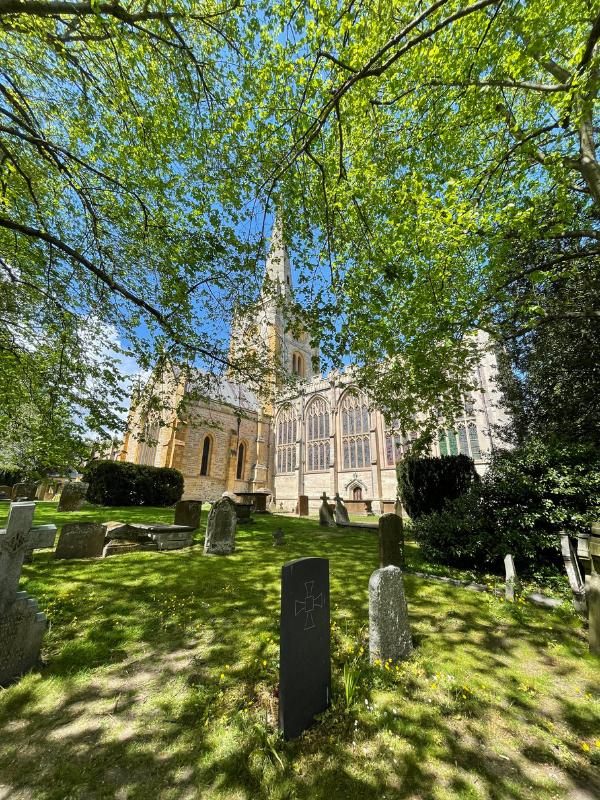 This historic Warwickshire town is the birthplace of William Shakespeare.
Many of the timber buildings in the town date back to the 16th century when the celebrated playwright lived here. The town is small and easily covered on foot so you can pack a lot into one day.
Start at Shakespeare's birth home with its fully furnished rooms showing what life was like in the 1500's. Then visit the adjacent Shakespeare Centre which is a great introduction to the life and works of the Bard.
Don't miss Anne Hathways's thatched roof cottage (the family home of Shakespeare's wife) or Shakespeare's grave at Holy Trinity Church. Kids will enjoy the dressing up opportunities at Tudor World and depending on timings, you could catch a play at the Royal Shakespeare Theatre.
How to get to Stratford Upon Avon from London
Catch a train from London Marylebone station to Leamington Spa where you will change onto a train for Stratford Upon Avon. The entire journey will take around 2 hours.
Popular tour options include
Oxford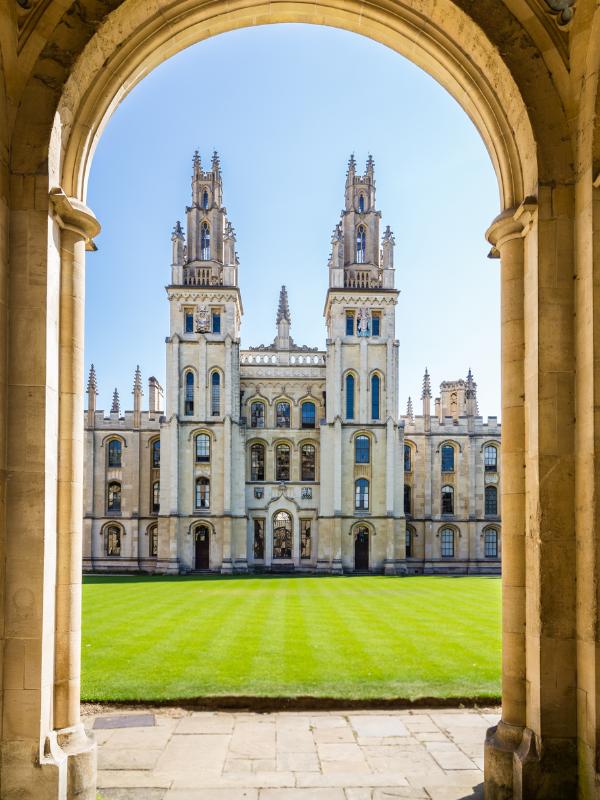 The 'city of dreaming spires' is a quick and easy day trip from London. You may recognise various locations in Oxford as it is a popular filming location and has featured in the Harry Potter movies, 'Inspector Morse', 'Endeavour' and 'Brideshead Revisited'.
Explore some of the city's world class museums such as Oxford Museum, the Oxford Museum of Natural History, the Museum of the History of Science or the Pitt Rivers Museum. The unmissable 17th century Ashmolean Museum is the oldest public museum in England.
Alternatively, visit the city's ornate University colleges such as Christ Church College or All Souls College. Some colleges are closed to the public whilst others have restricted opening hours so check in advance of your visit if the college you wish to see is open.
Make time in your day trip to include the iconic Bodleian Library and, if you are a fan of the 'Dark Materials' trilogy, a visit to the Botanic Garden is a must.
How to get to Oxford from London
Catch a train from London Marylebone or London Paddington station to Oxford, a journey time of 60 – 90 minutes.
Popular tour options include
Cambridge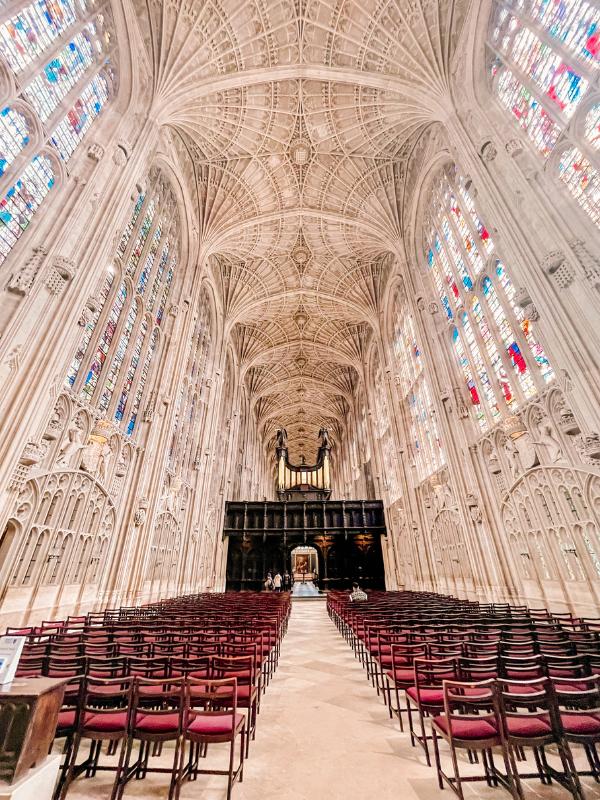 Cambridge is a city made for wandering and its principal sites are easily covered on foot.
Highlights of Cambridge include the Mathematical Bridge and the Bridge of Sighs at St. John's College and the ornate 15th century King's College Chapel with its impressive stone fan vault ceiling.
If you have time, visit one of the city's world class museums such as the Polar Museum (about Arctic and Antarctic explorers and expeditions), the Folk Museum or the Fitzwilliam Museum with exhibits ranging from Egyptian artefacts to Japanese porcelain.
Rest weary sightseeing feet with a trip on a punt on the River Cam. The motorless punts are a little like the gondolas in Venice (only flatter) and are a relaxing and scenic way to view the city; just make sure you rent a punt with a punt chauffeur!
How to get to Cambridge from London
Catch a direct train to Cambridge from London Kings Cross or London Liverpool Street Station. Journey times vary from 1 hour 10 minutes to 1.5 hours.
Popular tour options include
York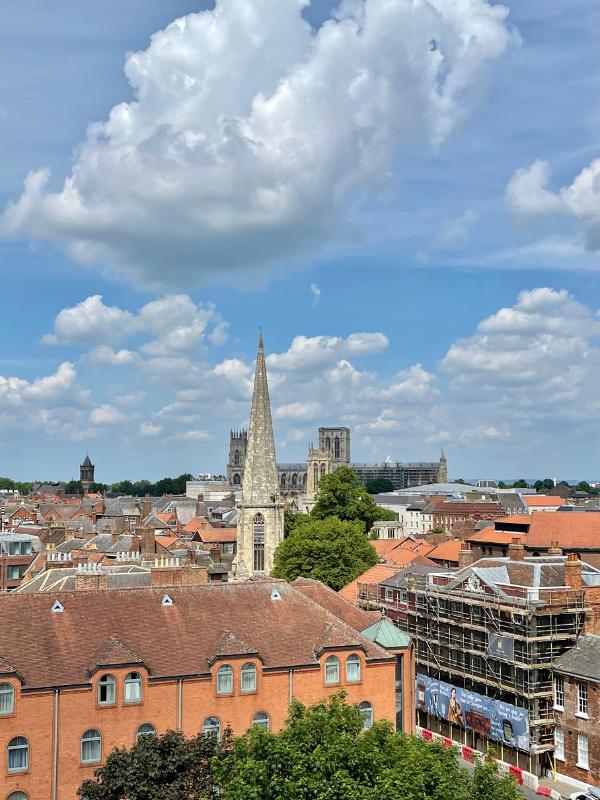 At first glance on a map, many visitors might think that York is too far to visit on a day trip from London. However, although it is a five hour drive from London, the City of York is only two hours away from London by train so it is easily doable on a day trip.
Plus, York is a small city with most of its major attractions situated within a short walk of each other and the city centre is only a 10 minute walk from York rail station.
Start your day trip at York Minster, the largest Gothic cathedral in northern Europe before walking some of the city's mediaeval era walls, which are the longest city walls in England.
Walk down the cobbled street, The Shambles, said to be the inspiration for Diagon Alley in the Harry Potter movies and admire the Georgian and Victorian buildings on pedestrianised Stonegate and Petergate.
Visit the famous Jorvik Viking Centre to learn about York's Viking past and the excellent York Castle Museum has a life size replica of a Victorian street. Train buffs won't want to miss the free to enter National Railway Museum, the largest train museum in the U.K.
Climb Clifford's Tower for a fantastic 360 degree view of the city before taking a stroll on the pedestrianised paths alongside the River Ouse.
How to get to York from London
LNER and Grand Central trains regularly depart from London Kings Cross. Both companies have an average journey time to York of 2 hours.
Popular tour and ticket options include
Bath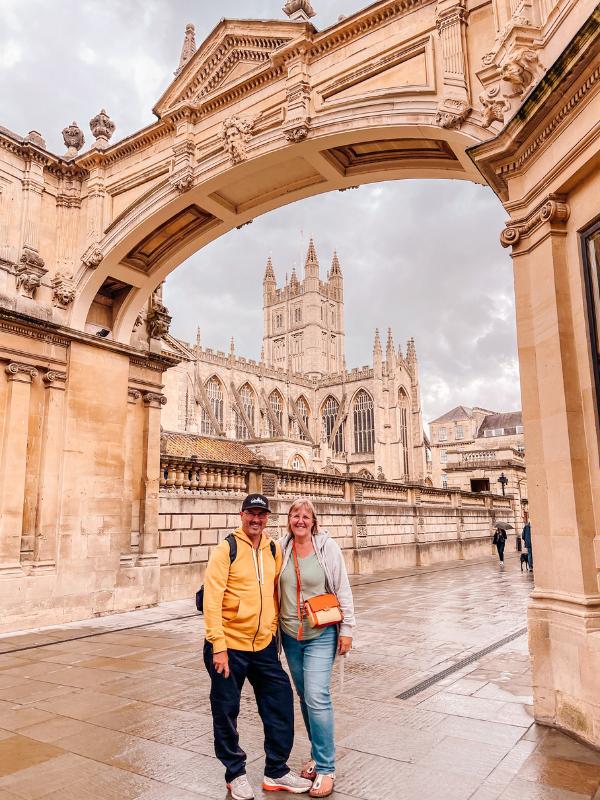 The spa city of Bath is another of the U.K's UNESCO World Heritage sites. This Somerset city is best known for its Roman baths and for its elegant Georgian architecture.
The Roman baths date back 2,000 years and are fed by natural hot springs. It takes around 2 hours to fully explore the Sacred Spring, the Roman Temple, the Roman Bath House, the on-site museum and the 19th century additions such as The Pump House.
You cannot swim in the baths but you can swim in the nearby Thermae Spa which uses the same water source as the Roman Baths.
Other historic attractions include the 15th century gothic style Bath Abbey, Pulteney Bridge and weir.
Visitors can admire Bath's Georgian era buildings at The Royal Crescent (you can enter No.1 on the crescent to discover what the houses were like in Georgian times) or at Lansdowne or Cavendish Crescents.
How to get to Bath from London
Catch a train from London Paddington station to Bath Spa, a quick and easy 90 minute journey.
Popular tour and ticket options include
Liverpool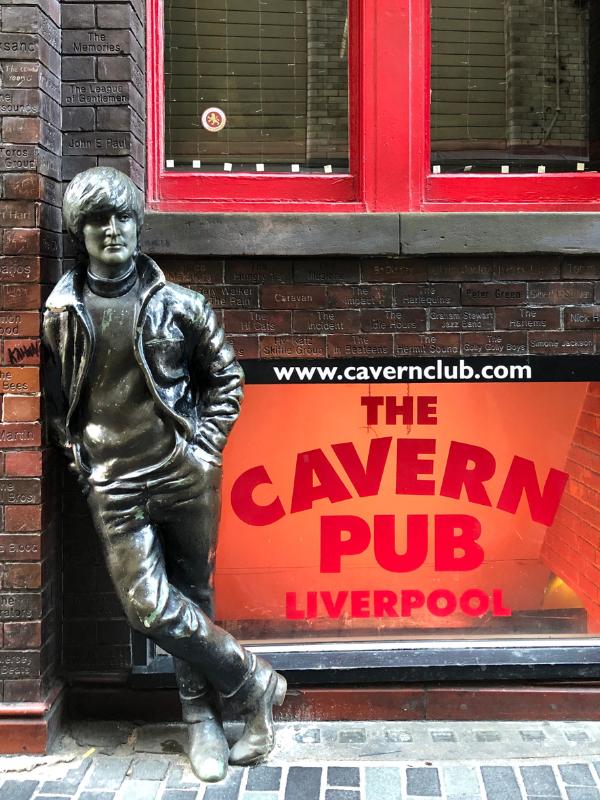 If you love The Beatles, a day trip to the northern city of Liverpool is unmissable. Although it will be a long day of travel, you will be able to see a lot of Beatles sites during your day trip.
You can tour The Beatles Story which houses the largest collection of Beatle memorabilia anywhere in the world, visit the iconic Cavern Club and have your photo taken with The Fab Four statue on the waterfront.
If you have time, take a Beatles-themed tour of the city which includes stops at the childhood homes of the band and other iconic locations such as Strawberry Fields.
Other Liverpool attractions include the Albert Docks (home to the Maritime Museum, TATE Liverpool and the Slavery Museum), Europe's oldest Chinatown, the charming Georgian Quarter and the historic buildings along Pier Head.
You can also visit Liverpool's two cathedrals or take a sightseeing trip on the River Mersey.
Alternatively, if you love football more than music, you can take a tour of Anfield, home to Liverpool FC or Goodison Park, home to Everton FC.
How to get to Liverpool from London
Catch a train from London Euston to Liverpool Lime Street Station, a journey time of 2.5 hours. Once in Liverpool, you can visit most of the major attractions on foot.
Read – How to take a day trip from London to Liverpool
Popular tour and ticket options include
Paris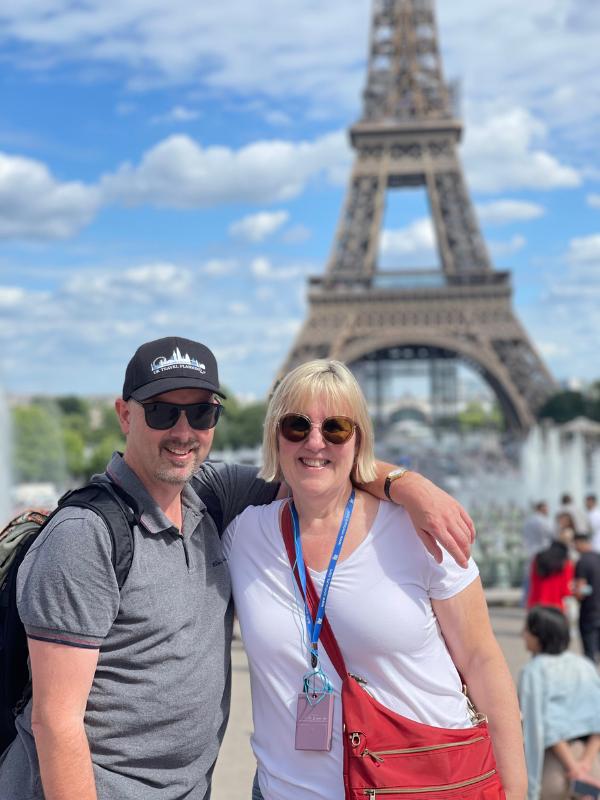 Is it possible to visit Paris on a day trip from London? Yes, it is – but you will need a very early start to get the most out of your day.
You won't be able to cover Paris in-depth or spend time exploring its world-famous museums but you can still fit a lot of iconic sites into one day.
See the Eiffel Tower, walk along the Champs Elysee to the Arc de Triomphe, visit the Louvre and enjoy a picnic in the Tuileries Gardens. Take a leisurely boat trip along the Seine to see Notre Dame and the Sacre Coeur and explore Montmartre.
How to get to Paris from London
The earliest Eurostar train departs from London St Pancras around 6 am, arriving at the Gare du Nord in Paris 2 hours 20 minutes later around 9.20 am. The last train of the day leaves Paris just after 9 pm arriving back into London around 10.30 pm.
Trains run regularly throughout the day but timetables change according to the days of the week and peak/low seasons so check before travelling. Eurostar tickets are cheaper online in advance than on the day of travel.
Popular tour options include
Which day trips from London will you choose?
There are so many amazing, scenic and fascinating places to visit on easy day trips from London.
If you are only visiting London and do not plan to explore the rest of the UK, I recommend allocating time in your London itinerary to get out of the capital and explore all that the UK has to offer.
You won't regret it.
London Travel Guide & Itinerary Planner Ebook (+ 4 BONUS ebooks)